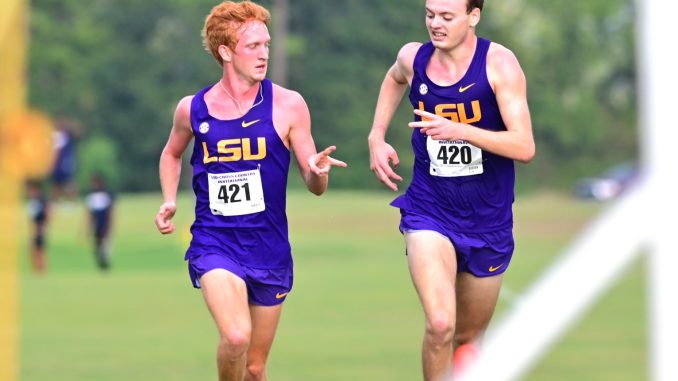 The LSU women's cross country team crossed the finish line Friday in its own LSU Invitational with Montana Monk leading a 1-5 finish for the Tigers and a team championship at the University Club.
The men's team was almost as equally dominant with six of its top eight runners in the top 10 – led by Jack Wallace in first place – to capture the team title.
"Montana had a fantastic race," LSU cross country coach Houston Franks said. "We've seen this coming in practice a little bit and she's been working out really, really well. I was not shocked at all based on what I've seen in practice. She had a really tough freshman year and got knocked off the horse, but now she's back on it and working on her confidence and being really aggressive."
Monk covered the 5K course in 17 minutes, 21.7 seconds and finished ahead of teammates Callie Hardy (17:54.4), Gwyneth Hughes (18:06.1), Carly Nicholson (18:11.1), Adele Broussard (18:24.5) and Katie Johnson (18:26.4) to give LSU the event's top six finishers.

The Tigers won the meet with 15 points followed by Nicholls State (63), Alcorn State (85), Southeastern Louisiana (112) and Northwestern State (128) rounding out the top five.
"We took control of the race early and did a pretty good job of sticking together throughout the race," said Franks, who continued to rest his top two runners – Lorena Rangel Batres and Michaela Rose.
Wallace covered the 6K course in 18:18.20 to win the men's division over teammate Tyler Stephens (18.18.30). Rob Buisson (19:01.10) was fifth, Will Dart (19.02.60) sixth, Casey Goetschel (19:03.20) seventh and Dylan Nimmers (19:05.30) eighth.
LSU scored 21 points and outpaced Nicholls State (75), Southeastern (94), Southern (101) and Xavier-New Orleans (113).
"Tyler and Jack worked really well together and separated themselves from the other competition at the latter part of the race," Franks said. "Our men have to do a little bit of a better job keeping our grouping together and keeping it together for a longer time going forward. Our results this meet were almost reversed of our last meet, which is exciting. I like that anybody on anyway can be up in the front, but we have to be able to keep the grouping a little longer since the races will get longer going forward."
Results – LSU Invitational
Women
Team Scores
1. LSU – 15
2. Nicholls State – 63
3. Alcorn State – 85
4. SE Louisiana – 112
5. Northwestern St. – 128
6. Southern – 153
7. Dillard – 168
Individual Times (5K)
1. Montana Monk – 17:21.70
2. Callie Hardy – 17:54.40
3. Gwyneth Hughes – 18:06.10
4. Carly Nicholson – 18:11.10
5. Adele Broussard – 18:24.50
6. Katie Johnson – 18:26.40
9. Hailey Day – 19:03.60
11. Addison Stevenson – 19:13.90
13. Annie Fink – 19:29.90
14. Sophie Martin – 19:48.60
16. Svenya Stoyanoff – 20:02.40
17. Shelby Spoor – 20:19.40
Men
Team Scores
1. LSU – 21
2. Nicholls State – 75
3. SE Louisiana – 94
4. Southern – 101
5. Xavier-Louisiana – 113
6. Alcorn State – 129
Individual Times (6K)
1. Jack Wallace – 18:18.20
2. Tyler Stevens – 18:18.30
5. Rob Buisson – 19:01.10
6. Will Dart – 19:02.60
7. Casey Goestchel – 19:03.20
8. Dyllon Nimmers – 19:05.30
10. Hugh Carlson – 19:07.20
12. Alex Holbrook – 19:15.30
14. Rhen Langley – 19:30.80