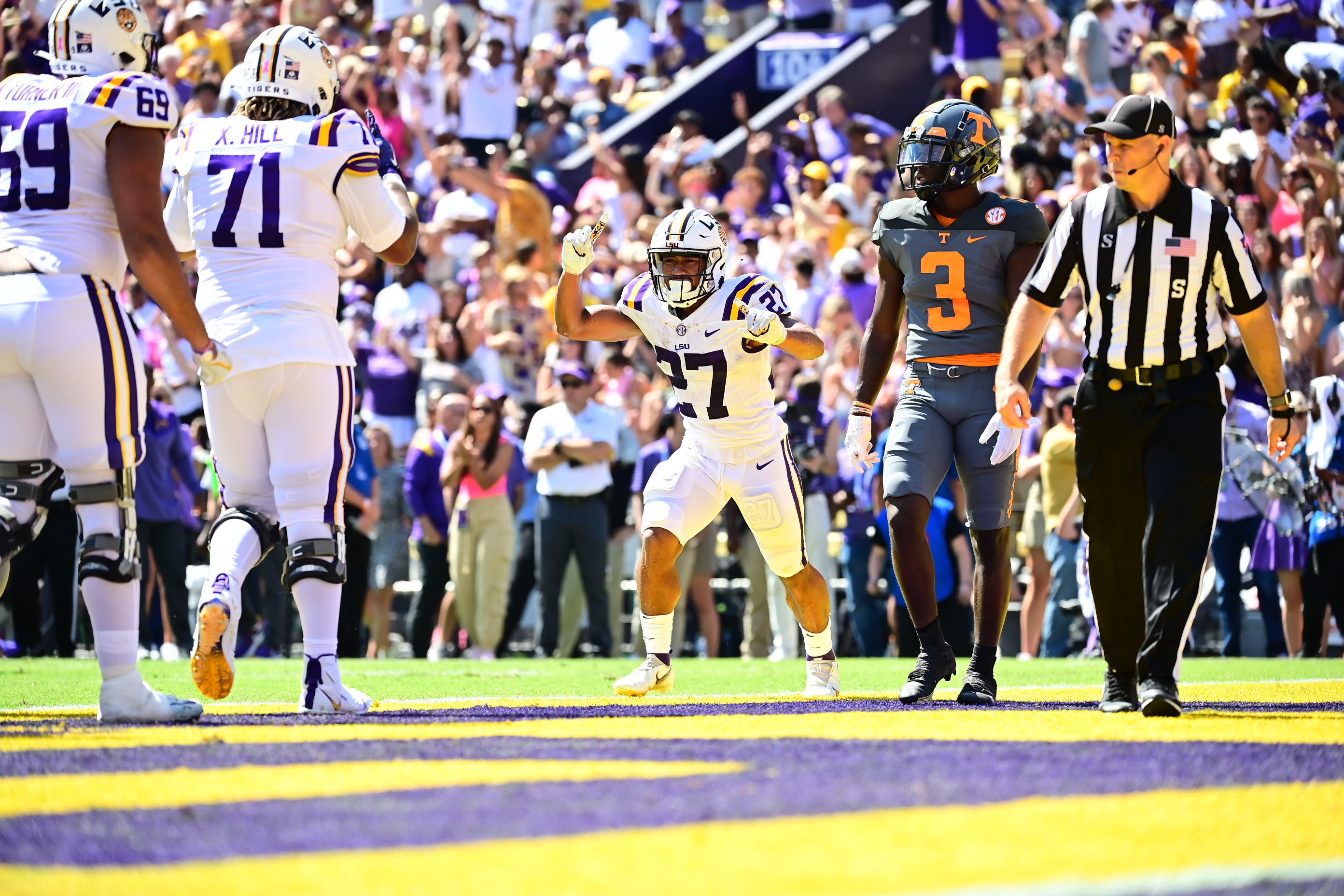 LSU found a degree of difficulty too steep after weeks of making a living as a high-wire act.
Eighth-ranked Tennessee more than lived up to its billing, jumping out to an early 20-point lead and buried No. 25 LSU 40-13 Saturday before a sell-out crowd at Tiger Stadium of 102,321.
LSU had rallied earlier this season from deficits of 13-0 against Mississippi State and 17-0 at Auburn to register potential program-building wins.
Tennessee (5-0, 2-0 in SEC), though, proved to be a formidable challenge for LSU (4-2, 2-1) at this stage of coach Brian Kelly's first season rebuild.
"You put yourself in a huge hole, that's what we did," LSU football coach Brian Kelly said. "And then our, our details were not very good. I could stand up here all day. That's on me and the coaching staff. We've got to coach better. We've got to coach our team better.
"That's the group we have," Kelly added. "And we've got to coach better. Congratulations to Tennessee, they played well today. They were the better football team, and they certainly deserve the win today. But I have to coach this football team better. That's the bottom line."

Tennessee scored the game's first 20 points before LSU had an answer. The visitors added a pair of third-quarter touchdowns to extend their lead 37-7 and well out of reach of a patent comeback by the Tigers in their wins over Mississippi State and Auburn.
LSU finally stopped a stretch of 17 unanswered points with 11:32 remaining to be played that left the Tigers facing a 37-13 deficit. The combination of Jayden Daniels-to-Kayshon Boutte worked for their first touchdown of the season, a 5-yarder on second-and-goal, followed by an unsuccessful try for two points.
"At the beginning, everything was on us," LSU defensive back Greg Brooks Jr. said. "We beat ourselves and allowed them to get points on us. That can't happen as we keep going into SEC play. Tennessee is a great team, but we beat ourselves."
Tennessee's top-rated offense put up 502 total yards, led by Heisman Trophy candidate Hendon Hooker with 295 total yards and two touchdowns. He completed 17 of 27 passes for 239 yards and two touchdowns. The Vols' ground game amassed 263 yards on 49 attempts with Jabari Small leading the way with 22 carries for 127 yards and a pair of touchdowns.
LSU's defense allowed season highs in points scored, total yards allowed and rushing yards allowed.
Daniels bounced back from a subpar throwing effort a week ago to complete 32 of 45 passes for 300 yards with a touchdown and his first interception of the year. The Tigers, who had nine different players catch passes, were led in receptions by Malik Nabers (6-80) and Boutte (6-33-TD).
LSU's offensive line, which has been a revolving door most of the season, was dealt two major blows with the loss of starting left tackle Will Campbell on Friday and starting left guard Garrett Dellinger, who left early in the second quarter with right knee strain.
Tennessee recorded five sacks of Daniels for minus-34 yards.
Kelly said Campbell had an "episode" during the team's walk-through that required EMS taking him to a local hospital and undergoing a battery of tests.
"They've ruled out virtually any life threatening serious medical situations," Kelly said. "I was told that by someone it may be to do with some dehydration. I don't know if that's the only thing, but certainly that affected our team."
LSU had apparently wiped away a first half of discontent with its best series, covering 96 yards in 12 plays, to gets a touchdown and trail 20-7.
Daniels was 5-of-6 on the drive for 48 yards, driving LSU from its own 4-yard line and converting twice on third down when Josh Williams plowed in from a yard out with 3:05 remaining before halftime.
Not only did Tennessee have time to attempt a field goal, which placekicker Chase McGrath bounced off the right upright with 57 seconds left, the Volunteers got the ball back and gave him another opportunity.

LSU had driven into Tennessee territory, reaching the Vols' 45, when Daniels was sacked on fourth down and Hooker found Bru McCoy for a 32-yard gain to LSU's 15-yard line.
McGrath closed the half with a 32-yard field goal for a 23-7 halftime lead. He kicked four field goals in the game, capped by a 32-yarder with 2:39 to play.
Faulty special teams play from LSU enabled Tennessee to establish a 10-0 lead in the first four minutes of play.
Kickoff returner Jack Bech misplayed a short, sinking kickoff on the game's opening play, fumbling the ball away to Tennessee which needed three plays to make it 7-0 on Small's 1-yard run.
"I mean, he's got to haul up there and catch that football," Kelly said of Bech. "That's the best guy we got."
The Vols' Dee Williams returned a Jay Bramblett punt 58 yards to LSU's 26 which led to McGrath's 26-yard field goal at the 11:08 mark.
LSU put together an 11-play, 70-yard drive, consuming more than five minutes off the clock, but had nothing to show for it.
The Tigers were faced with a fourth-and-four at the Vols' 14-yard line, but Daniels' completion to Boutte went for three yards. The play was reviewed but the spot was verified from the booth, that despite Boutte stretching the ball near the near of the play, he was a yard short with 2:26 left in the opening quarter.
Tennessee increased its lead to 20-0 after its defense held LSU on fourth-and-one, Hooker connected with Jalin Hyatt in stride behind coverage for a 45-yard touchdown pass on the third play of the second quarter.
"Coach Kelly said in the locker room that we were going to face adversity," Williams said. "This week he wants us to focus on the details. We had a lot of penalties that draw us back during that game and he wants us to focus on those details."