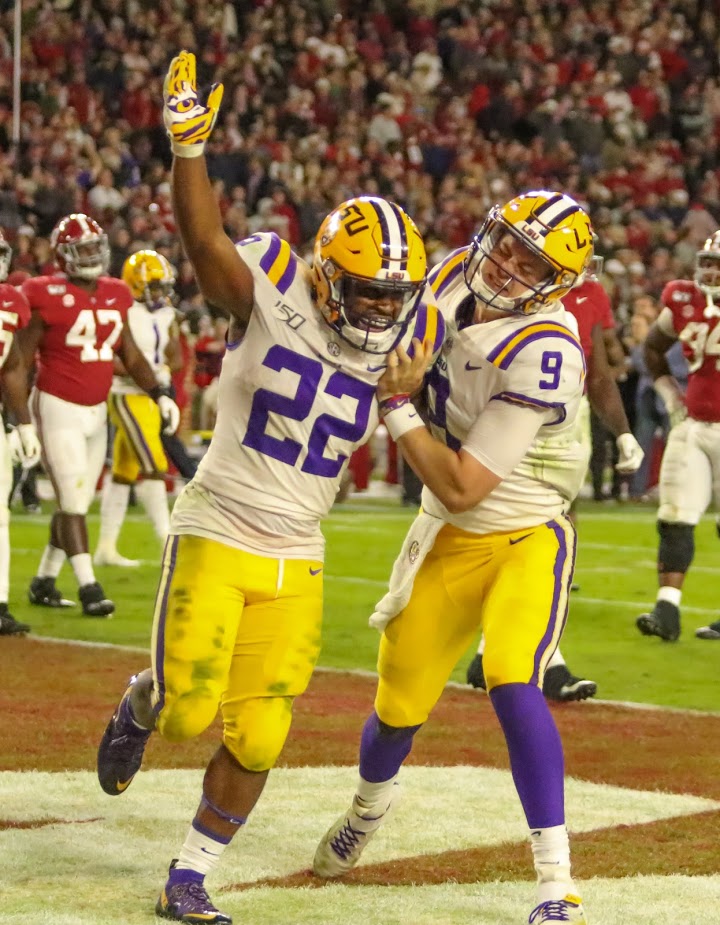 Ed Orgeron tried to tell everybody, but most just shrugged him off as being clever with a compliment to his starting running back.
"I said it many a times, Clyde, when he walks I the room, he's 6-4," he said in last week's press conference.
In a game that featured two Heisman-candidate quarterbacks that will likely be first-round picks in the upcoming NFL draft, it was Clyde Edwards-Helaire who earned the game ball, one he held on for dear life after the game during a post-game television interview.
Edwards-Helaire, a Baton Rouge native, had the game of a lifetime on the biggest of stages as he rushed for 103 yards and three touchdowns and caught 7 passes for 77 yards and a touchdown more in the Tigers' historic 49-43 victory against a previously unbeaten Alabama squad in Tuscaloosa for the first time eight years.
When the Tigers needed a play, Edwards-Helaire delivered, time and time again. He had the game-sealing touchdown, sobbed in the arms of Wide Receivers coach Mickey Joseph, went back on the field after a quick Alabama score and sealed the game once again with a 12-yard first down rush that allowed Joe Burrow to kneel and run out the clock.
It almost looked like he was in a video game, abusing the circle button to spin move away from opponents and getting extra yards in spots where it seemed there were none to be had.
And in the end, while Burrow was getting lifted off the field after an impressive performance of his own, Edwards-Helaire was holding the game ball and crying in his father's arms after a career-defining performance that LSU fans will not soon forget.
Nobody a year ago thought he would be the difference in LSU's first victory against Alabama since the 2011 regular season. Hell, if we're being completely honest with ourselves, nobody thought he'd even be starting in this game 10 weeks ago when the season started.
The 5-foot-8, 209-pound running back has had the fact that he's undersized linked to him being undervalued since he was torching opponents at Catholic High School.
He received minimal playing time as a freshman, mostly serving as a special teams asset before playing second-fiddle to Nick Brossette last season. That's when the giant chip on his shoulder began to become apparent. Despite not starting a single game, Edwards-Helaire tallied 658 rushing yards and seven touchdowns. He also caught 11 passes for 96 yards and finished No. 12 in the Southeastern Conference in all-purpose yards with 90 per game.
Still, entering the season, even after Orgeron named Edwards-Helaire the starter, most people thought that he would eventually lose that spot to either of LSU's incoming freshman five-star running backs in John Emery and Tyrion Davis-Price.
But week after week, Edwards-Helaire stepped up and put together big game after big game, and still people doubted he'd maintain his starting status. When asked if he would reach 1,000 yards at the midway point of the season, multiple people in Tiger Rag's office said it was a long-shot at best.
But with three regular season games left, an SEC Championship spot that is LSU's to lose and a College Football Playoff spot within grasp, the Edwards-Helaire needs just 214 more rushing yards to reach that feat and keep a streak alive that started in Jeremy Hill.
After the game, an LSU staffer captured a video of Edwards-Helaire embracing his father, who emphatically reminded him what he had just accomplished.
"They said you wasn't no running back," Edwards-Helaire's father screamed in his ear over the sound of screaming fans and LSU's band. "You showed them! You showed them! That's what I'm talking about."
It was a scene that would move even the coldest of individuals. A father, endlessly proud of his son for accomplishing something nobody thought he could, let alone would.
Clyde Edwards-Helaire embodies this 2019 edition of the LSU football team in a way that nobody else really can. He's a native son of Baton Rouge, he's watched Alabama dominate this rivalry for the last eight years, he's been told he couldn't, but he knew that he could.
From now on, nobody will ever talk about what Clyde Edwards-Helaire can't do. They will always talk about what he did. His legacy has been cemented, and it now serves as a foundation on which he can only build on from here on out.
And with an SEC Championship and a national championship now within grasp, there sure is a hell of a lot he can build over the next two months.