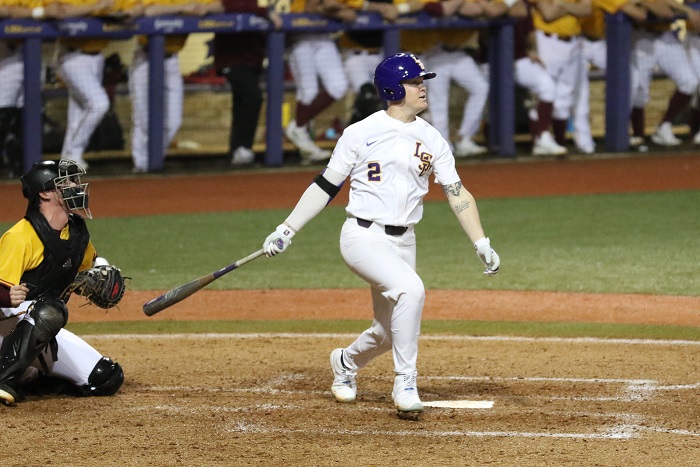 LSU played long ball and got just enough clutch pitching out of its compromised staff to win its final midweek game of the season.
Daniel Cabrera and Antoine Duplantis both went deep and LSU scored four runs in the third inning to overpower UNO 7-5 in a homer-happy affair at Alex Box Stadium on Tuesday night.
Meanwhile the shorthanded pitching staff worked through nine innings against a lineup that came in swinging the bats well. LSU pitching didn't have a 1-2-3 inning all night, but they made enough pitches in key spots.
"I was really concerned with our pitching tonight, but we grinded our way through it," LSU coach Paul Mainieri said. "We pitched out of a lot of jams tonight … We got the big outs when we needed them."
LSU (32-21), now winners of back-to-back games, will look to carry that momentum into this weekend's regular-season finale series with Auburn. The Tigers hadn't beaten an in-state foe since April 2, dropping three such matchups during that span.
The game got off to a rather rocky start when UNO hit Devin Fontenot hard in the second inning. Fontenot, pitching for the first time in more than a week, served up a two-run homer and a double before completing his two innings of work.
LSU nearly found itself in another deep midweek hole as UNO loaded the bases against Matt Beck in the following inning. Beck wiggled out of trouble unscathed by inducing a fly ball to right field, which would become a bit of a theme for LSU pitching on Tuesday night.
After two quiet innings, LSU loaded the bases with nobody out in the third. A double play brought home a run and Duplantis tied the game with a two-out RBI single to left. Cabrera followed with an opposite-field blast and LSU grabbed a 4-2 lead.
"I got a fastball up and away where I like it," Cabrera said. "Coach Mainieri told me to look for something middle-away and go with the pitch. I did and I put a good swing on it."
Aaron George yielded a solo home run in the top of the fifth inning, but Duplantis got that run right back with his 10th homer of the season in the bottom half of the frame.
"Y'all are still surprised every time," Duplantis smiled. "Like usual I wasn't going up there trying to hit homers. I'm just trying to hit balls hard, and every once in a while they go out."
Chase Costello got out of a jam to post a scoreless seventh inning. Will Ripoll recorded the first two outs of the eighth inning before giving way to Zack Hess, who mowed a hitter down to end the inning.
LSU manufactured two insurance run the bottom of the inning to give Hess some additional cushion. Hal Hughes came through with a two-out RBI single and Josh Smith drew a bases-loaded walk to pad the lead.
Those proved absolutely critical given the events of the ninth inning.
It had been more than two full years since Hess appeared in a midweek game (April 25, 2017). He gave up a two-run homer before nailing down the four-out save, his first of the season.