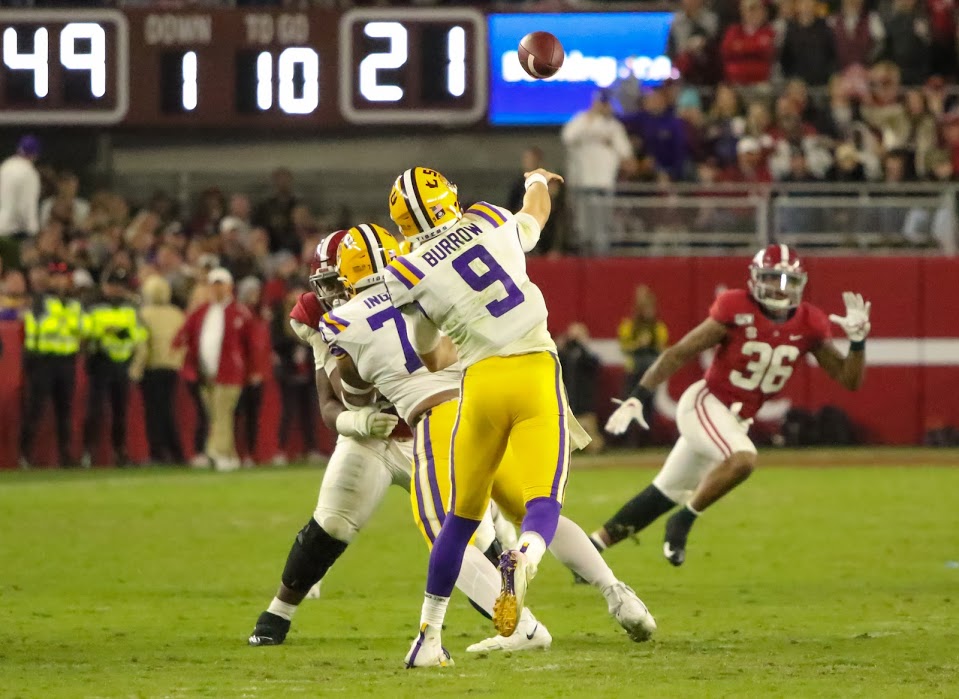 TUSCALOOSA, Alabama – At first, it sounded like Alabama coach Nick Saban was just giving credit to his opponent, which he consistently does a very good job of doing after losing. Of course, his 46-41 loss to No. 1 LSU on Saturday was only his fifth loss since 2015, but nevertheless he is always very professional about it.
"First off, I think that we have to give LSU a lot of credit," he began. "They played really well in the game and made plays when they had to make plays on offense. They are a very good team."
That was pretty rote. When he was asked late in the press conference specifically about LSU's offense, he was much more detailed. In fact, he proved LSU wide receiver Justin Jefferson correct. It was Jefferson who said two weeks before the LSU-Alabama game that the Tide "hasn't seen an offense like us yet" and said the Tigers would "dominate" Alabama's defense.
That is exactly what happened as LSU gained 559 total yards and scored the most points by either team in the history of the series that began in 1895. The Tigers scored the most points against Alabama in a regulation game since Archie Manning quarterbacked Ole Miss to a 48-23 win in 1970.
"It's nothing like what they tried to do a year ago," Saban said, as if he was answering Jefferson's comment directly.
LSU lost 29-0 to Saban a year ago.
"It's completely different," Saban said.
Alabama's offensive coordinator is Steve Sarkisian, who is very good. Alabama's offense was not the problem in its loss to LSU. Quarterback Tua Tagovailoa had an interception and a fumble and was erratic in completing 21 of 40 passes, but he did throw for 418 yards and four touchdowns.
But God, Saban like LSU quarterback Joe Burrow and what new pass game coordinator Joe Brady is doing. So, LSU better make sure Saban doesn't make Brady, who is making only $400,000 now, his offensive coordinator.
"Well, I think it's the system," Saban said when asked "as a defensive guy" what he thought of LSU's offense. "I think it's the things that they're doing. I think it really features the players. Joe has a really good handle on what they're trying to do, and it's challenging to defend."
Saban was referring to Joe Burrow, but he could have been just as well talking about Joe Brady.
"It utilizes the people that they have," he said. "And look, they have no weaknesses on offense. They got a really good runner (Clyde Edwards-Helaire). They got a really good quarterback. They got really good receivers. They got a good offensive line. And they got a system (There's that word again from the ultimate system man.) and a scheme that's very sound and solid in terms of they really do a good job of executing. And I can't give them enough credit for what they do. I think the system features their players, and their players buy into it, have confidence in it and do a great job executing. I felt like that going into the game, and I certainly feel just as strongly about that now after having played them."
Alabama totaled 541 yards, but Saban did not like the lack of balance shown by Sarkisian's attack. Alabama had just 24 rushing yards on 12 carries in the first half.
"We couldn't run the ball very well, which was an issue," he said. "We got some pressure. We have to have more balance and consistency on offense. We make a lot of big plays, which is great. But when you play a team like this, having the balance on offense lets you control the tempo of the game with their offense."
Saban has hurt LSU over the years by recruiting players out of Louisiana. I have a feeling Coach Ed Orgeron is not going to let him recruit coaches, too.
THE GUILBEAU POLL: 1. LSU (9-0, 5-0 SEC). 2. Alabama (8-1, 5-1). 3. Georgia (8-1, 5-1). 4. Florida (8-2, 5-2). 5. Auburn (7-2, 4-2). 6. Texas A&M (6-3, 3-2). 7. Tennessee (5-5, 3-3). 8. Mississippi State (4-5, 2-4). 9. South Carolina (4-6, 3-4). 10. Kentucky (4-5, 2-5). 11. Ole Miss (4-6, 2-4). 12. Vanderbilt (2-7, 1-5). 13. Missouri (5-4, 2-3). 14. Arkansas (2-9, 0-6).
THIS SATURDAY'S GAMES (Associated Press poll): No. 11 Florida at Missouri, 11 a.m., CBS; No. 4 Alabama at Mississippi State, 11 a.m., ESPN; No. 5 Georgia at No. 13 Auburn, 2:30 p.m., CBS; Kentucky at Vanderbilt, 2:30 p.m., SEC Network; No. 1 LSU at Ole Miss, 6 p.m., ESPN; South Carolina at Texas A&M, 6:30 p.m., SEC Network.
LAST SATURDAY'S GAMES (Associated Press poll): No. 10 Florida 56, Vanderbilt 0; Western Kentucky 45, Arkansas 19; No. 1 LSU 46, No. 2 Alabama 41; Ole Miss 41, New Mexico State, 3; No. 6 Georgia 27, Missouri 0; Appalachian State 20, South Carolina 15; Tennessee 17, Kentucky 13.
NOTE OF THE WEEK: The LSU-Alabama game averaged 16.6 million viewers Saturday afternoon and night on CBS, according to a CBS release, and was the most watched game on any network.
QUOTE OF THE WEEK: "I want to express my personal and professional regard to Coach Morris and thank him for his investment in the lives of our student-athletes."
"But, you're fired," which Arkansas athletic director Hunter Yurachek didn't say publicly when he fired Arkansas coach Chad Morris on Sunday after a 4-18 record in less than two seasons. But he did say the above.