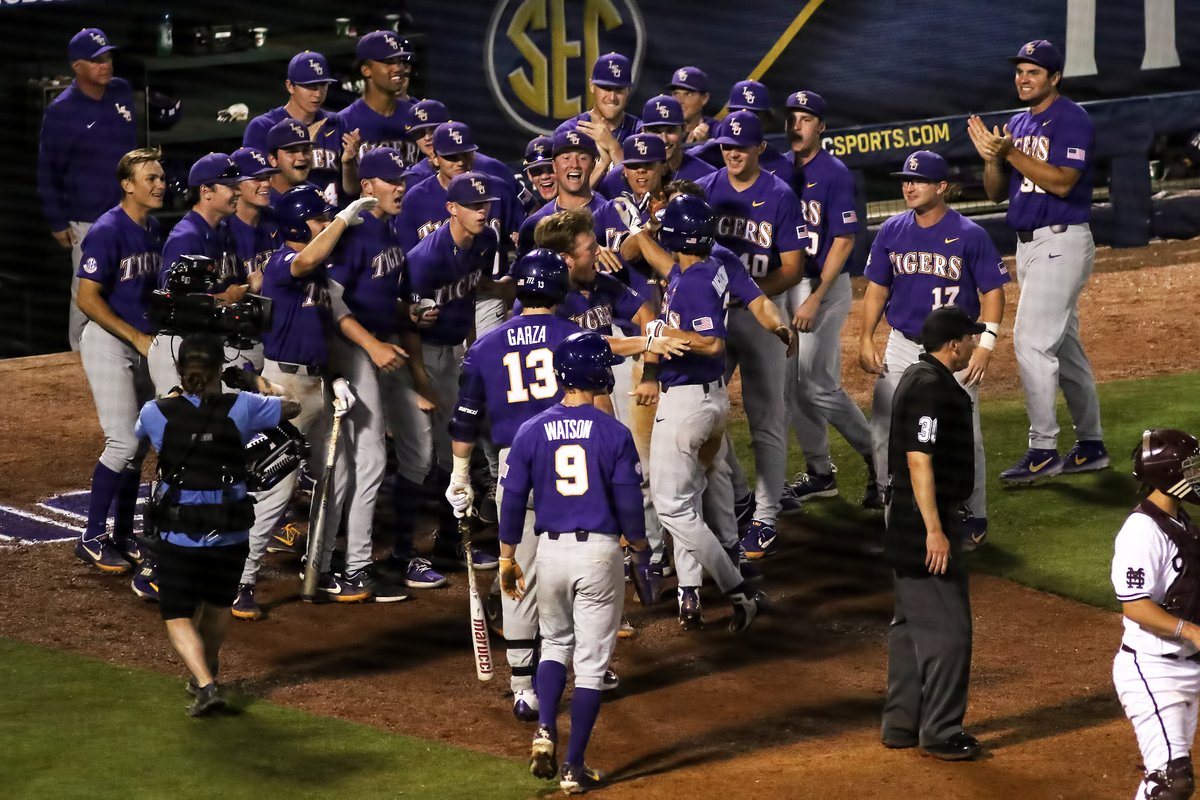 HOOVER, Ala. — LSU's wild ride at the Southeastern Conference Tournament came to an abrupt end Saturday night as the Tigers were routed by Vanderbilt 13-4 in the semifinals at the Hoover Met.
That results feels rather immaterial compared to the sum of LSU's work in Hoover this week. The Tigers won three games, including one against a soon-to-be national seed in Mississippi State, a team they took to 17 innings two nights before.
It's been a weird week to say the least, but here's some big picture takeaways before this weary writers departs Hoover for the long drive back to Baton Rouge.
1. Home Sweet Home
LSU began the week very much on the bubble to host an NCAA Regional. Two wins seemed to be the target the Tigers had in mind before the SEC Tournament started.
They got three, so they'll head feeling pretty confident about their chances to there being a Baton Rouge Regional next weekend.
Both D1Baseball and Baseball America had LSU as a top-16 seed in their most recent projections. It's no guarantee that the selection committee will agree, but LSU finishes the season with 20 SEC wins and an RPI of 16, which bodes in their favor.
"They have a tough job to do," LSU coach Paul Mainieri said. "There's a lot of things for them to consider. Personally, I feel like we did the best we could do. If that's not good enough because somebody around the country did better, then we'll accept their decision."
2. Reliable Relief
LSU's pitching clearly ran out of gas against a formidable Vanderbilt lineup, but the pitching staff — and the bullpen in particular — were excellent in getting LSU through its first four games.
Aside from Landon Marceaux, who was brilliant, LSU didn't get much length out of its starting rotation. Here's the cumulative stats from the first four games for every LSU pitcher who isn't Marceaux, Eric Walker or Cole Henry:
29.1 IP
23 H
5 ER
14 BB
31 K
1.53 ERA
Needless to say, the clutch performances from the likes of Zack Hess, Todd Peterson, Devin Fontenot, Matt Beck and Ma'Khail Hilliard bodes well as LSU heads into the NCAA Tournament.
"All those guys were tremendous out of the bullpen," Mainieri said. "So if you're seven or eight deep with your pitching staff, and you can stay in the winner's bracket in a short tournament, I think we're going to pitch well. That gives us a chance to win."
3. What's that Smell?
This week we learned that Saul Garza wears perfume when he catches in order to keep mosquitos away and keep from smelling too badly behind the plate.
We also learned that he's taken over as LSU's starting catcher and one of the integral members of the team.
Garza started all five games for LSU and caught a grand total of 44 innings this week, which is far and away the heaviest workload he's handled in his college career. The wear and tear didn't seem to affect him much as Garza went 9-for-19 at the plate during the SEC Tournament.
"When I took him out of the game today, I really complimented him for the effort he put in all week," Mainieri said. "He was a warrior back there, he really was. When you play as much as he did this week and there's only two things you can find him at fault, I think he played really great all week."
The coach continued: "He's doing a super job, and I think it's going to show in the NCAA Tournament. I don't think we win three games this week without him playing as well as he did."
4. Henry Healthy
It might feel like a distant memory to some, but the return of Cole Henry was at the forefront of Mainieri's mind when asked about big picture takeaways from the week.
Henry didn't make it out of the second inning against South Carolina, but the important thing is he felt healthy and his velocity looked normal.
"I don't think the results were demonstrative of how well he threw the ball and how well he felt," Mainieri said.
The coach revealed that Henry would have started the championship game and pitched three innings on Sunday had LSU advanced past Vanderbilt. He felt "great" on Saturday after his most recent side work, the coach said.
Now LSU will focus on getting Henry back into his normal routine to start a game next weekend in the NCAA Regional.