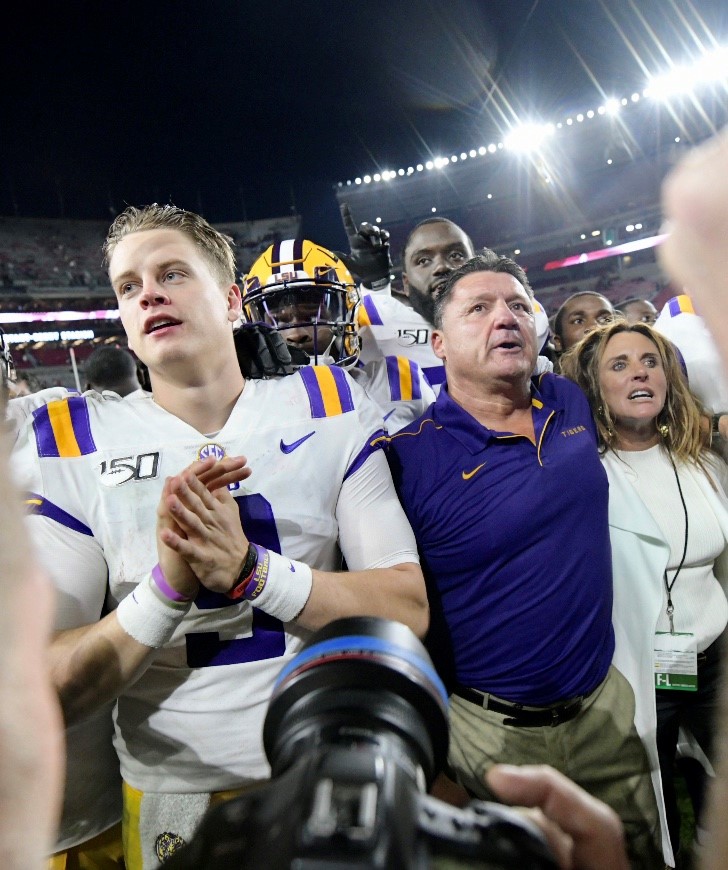 Sometimes a win in sports has implications for years to come. Ed Orgeron is counting on the 46-41 thumping of Alabama to start a Tuscaloosa trend for LSU. It is always the conviction of long-suffering fans that a turning point with the Crimson crusaders is just around a corner. That a big win will start an equal and opposite streak for their beloved Bengals.
Seven years and eight games are too long for restless LSU fans to wait for a victory over a program that is the gold standard for the nation. Coach O has lived 58 years and knows he's only as good as his last win over Alabama. For at least the next 52 weeks, he is the king of his native state.
For those who have forgotten, Alabama has always been a source of envy and a force of evil for the LSU football empire. Charles McClendon lost 41 SEC games in 18 years, and 14 of the conference setbacks were to Alabama. His last setback to Bear Bryant was 3-0 in 1979 when LSU was trying to snap an eight-game losing skid to the monolithic power which flaunts a huge red X on its state flag.
If McClendon's team had won, Jolly Cholly might not have been shown the gate at 56. Fate was not as kind to Mac as it was to O last week. Offensive Coordinator Steve Ensminger knows the fickle nature of fate in the college game. He was the quarterback 40 years when McClendon's last stand against the Bear fell a field goal short.
Historically, LSU wins about one of every three games against its hated rival and beats Saban in the same frequency. The Tigers have 26 wins and 53 losses in their meetings through three centuries of completion with their brothers from the American South.
Saban is 10-5 against LSU, including his 1995 Independence Bowl loss to Gerry DiNardo's Tigers. It is also notable that Saban went 4-1 vs. Alabama during his five year reign over Death Valley. He has been the only LSU coach to dominate his current employer.
With his triumph for the ages, Ed Orgeron is 1-4 against the 5-foot-6 giant who has been stuck on six national championships for two full seasons. The O vs. Nick matchup debuted in 2007 when Saban edged his counterpart 27-24 at Vaught-Hemingway Stadium in Nick's first year at Bama and O's last stand at Ole Miss.
The next decade promises to offer an epic match of wills between the well-coiffed legend who seeks perfection and his rumpled challenger, who was often stumbled on his way to the pinnacle.
Orgeron is now in elite company. Just four coaches have posted victories in the LSU-Alabama series since the advent of the 21st Century when Saban accepted an appointment with destiny from Joe Dean and Mark Emmert. Saban stands at 14-5 in the series; Les Miles was 5-7; Dennis Franchione was 1-1; Orgeron is 1-3 in the new millennium.
Joe Burrow's aerial display at Bryant-Denney is analogous to Billy Cannon's 89-yard run through the Ole Miss defense and into to the fabric of football history on Oct. 31, 1959. Look for Burrow to follow LSU's ghost through time and reach the podium where the New York Athletic Club bestows the Heisman Trophy.
Ten-thousand-974 days passed from Cannon's Halloween jaunt at Tiger Stadium and Burrow's invasion of Tuscaloosa. Buoyed by 457 yards of total offense against the Tide, No. 9 is positioned to become the first Heisman recipient for LSU since the superhuman specimen who wore No. 20 in the Eisenhower Era.
If precedent is kept, no LSU player will wear No. 9 again unless a film is made on the life of Joe Burrow. His number was in the possession of Jordan Jefferson in 2011 in the last Game of the Century. LSU whipped Saban and Co. 9-6 in overtime eight years ago. Saturday, it was Jordan's brother Justin who snared seven passes for 92 of the 393 yards produced by Burrow.
Justin was a seventh grader in Destrehan when Jordan closed a fine career with a tortured senior season that included an arrest for an August altercation with an ex-Marine outside an off-campus establishment with the appropriate name of "Shady's." Justin Jefferson sealed the first victory over the Tide since 2011 by corralling a well-executed onside kick by Alabama in the game's final seconds.
There was no miracle in the offing for Alabama this time, and LSU is in commanding position as heavy favorites against Ole Miss, Arkansas, Texas A&M and in the SEC Championship Game.
All signals lean to LSU facing Ohio State for the national crown in the same venue where the Bengals beat the Buckeyes 38-24 for the 2007 BCS Championship.
For Burrow, the prospect of conquering Ohio State for the title is tantalizing. The kid from The Plains, Ohio was demoted by his first choice, and it was the snub on the campus at Columbus that was the catalyst for Burrow's migration to the bayou.
Like Matt Mauck and Matt Flynn, Burrow is a seasoned senior. Mauck and Flynn capped their LSU careers on the Superdome carpet as champions.
If things go as planned, LSU is poised to savor its fourth national championship in modern time on Jan. 13 in New Orleans, the city where Tiger teams from 1958, 2003 and 2007 closed seasons with victories that produced NCAA crowns.
Remember the Class of 1995
Quarterbacking standout Herb Tyler notes that he was part of one of the best recruiting classes at LSU in 1995.
Next year marks the 25th anniversary of Gerry DiNardo's first class of signees. DiNardo briefly restored the magic to TigerTown by stocking up at home in a magnificent year for Louisiana talent.
Tyler was joined by incoming freshmen Kevin Faulk, Alan Faneca, Markeith Spears, Booger McFarland, Rondell Mealey and Larry Foster.
Orgeron is at the brink of attracting the best signing class in the country, but he is departing from a long-standing tradition of most athletes hailing from Louisiana.
Coach O has received commitments from 15 out of state prospects from Washington D.C., Baltimore, Houston, Colorado, Alabama, Virginia, California, Florida, Georgia and the state of Washington.