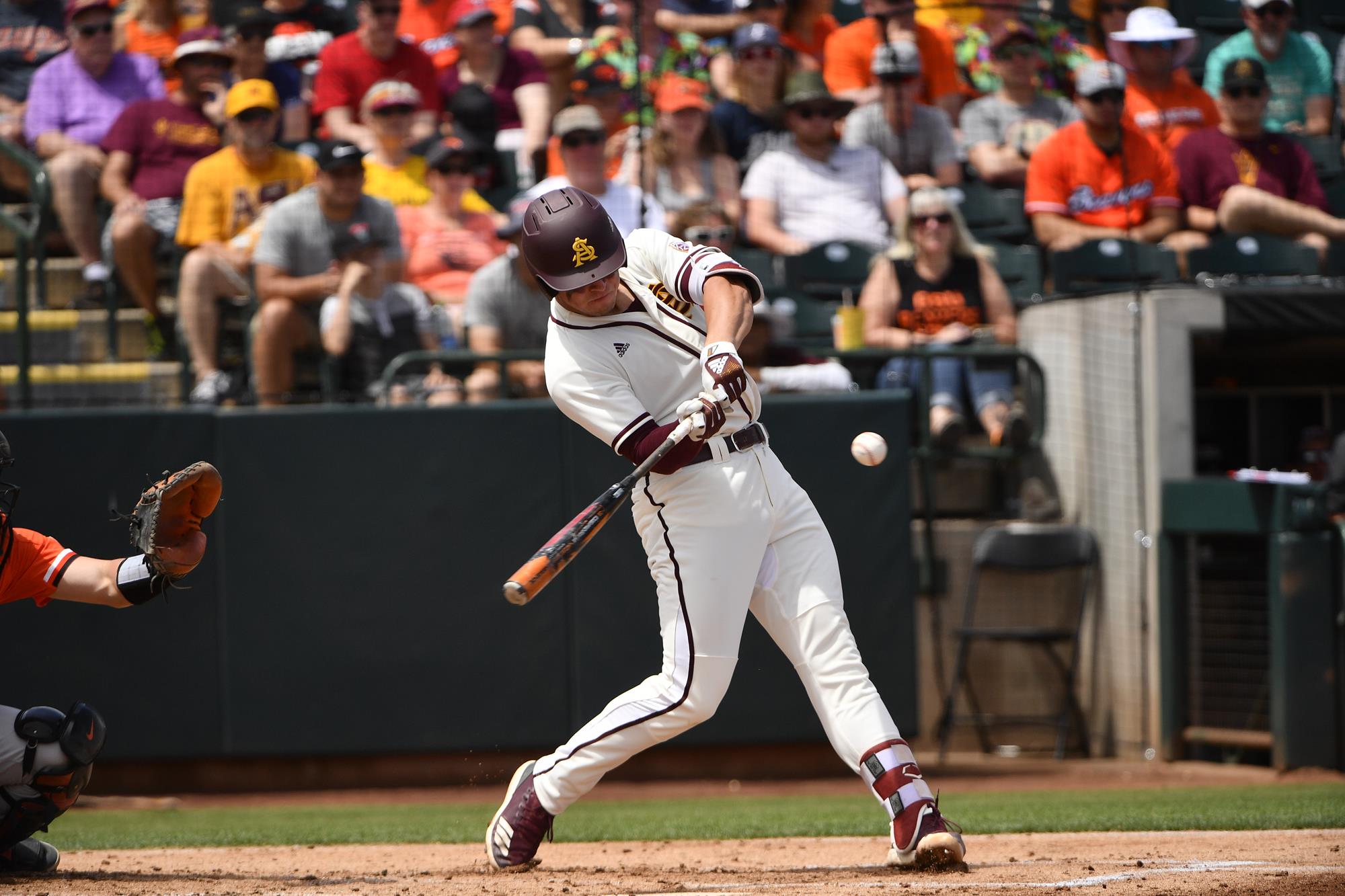 Most of the early chatter surrounding the Baton Rouge Regional has centered on Stony Brook coming to Baton Rouge for the first time since they shocked the world in 2012, but the Sea Wolves are only 1/3 of a difficult field that LSU will have to navigate to advance.
No. 2 seed Arizona State is a blue blood power that seems to be returning to prominence under former Indiana coach Tracy Smith. No. 3 seed Southern Miss is a strong mid major that's become a perennial NCAA Tournament participant under Scott Barry. And Stony Brook is a dangerous No. 4 seed.
Baseball America pegged Baton Rouge as the toughest of the 16 NCAA Regionals, which is just fine with LSU coach Paul Mainieri.
"It excites me," Mainieri said. "I'm fired up about that."
Let's take a deeper look at the three teams that stand in LSU's way at the Baton Rouge Regional.
4. Stony Brook
The Record: (31-21, 15-9 American East) | RPI: 138
The Skinny: The Sea Wolves swept their way through the American East Tournament to earn a spot in the field of 64 after winning the regular season crown. Stony Brook certainly seems excited about returning to Alex Box Stadium for the first time since that 2012 punched the program's only ticket to the College World Series.
The Common Ground: LSU and Stony Brook had two common opponents on the schedule this season. Stony Brook got swept in a three-game series at Arkansas back in March where LSU was able to salvage one game when the Tigers played in Fayetteville earlier this month. Both teams defeated Army in a single game.
The Dude: LSU will have to slow down Stony Brook center fielder Michael Wilson, who led the Sea Wolves in batting average (.345), home runs (10) and RBI (45) despite missing some time this season. Right-hander Bret Clarke (8-0, 3.76 ERA) is the ace of the Stony Brook staff.
The Question: It was no fluke when Stony Brook beat LSU in the 2012 Baton Rouge Super Regional behind legitimate stars like Travis Jankowski and Willie Carmona. Does this group have that same kind of blue chip talent? Only time will tell.
2. Arizona State
The Record: (37-17, 16-13 Pac 12) | RPI: 33
The Skinny: Arizona State is back in the NCAA Tournament for the first time since 2016 after finishing fifth in a loaded Pac 12 that includes UCLA, Oregon State and Stanford. Arizona State is led by a power-laden lineup that mashed 92 home runs this season, which led Division I. For comparison sake, LSU has 58 homers this season.
The Common Ground: LSU and Arizona State didn't have any common opponents this season, but consider this: The Sun Devils went 3-6 against the likes of UCLA, Oregon State and Stanford, three host-quality teams.
The Dude: Arizona State features one of the most dangerous one-two power punches in college baseball in first baseman Spencer Torkelson (.348 BA, 21 HR, 60 RBI) and center fielder Hunter Bishop (.347 BA, 22 HR, 61 RBI). Torkelson, who will be a first-round pick one day, played for Mainieri on Team USA last summer.
The Question: Arizona State certainly has the firepower to put up runs on a hot, humid weekend at Alex Box Stadium, but do they have enough pitching to make it through a regional? It'll be interesting to see if the Sun Devils pitch ace Alec Marsh (8-3, 3.17 ERA) in the opening game or hold him for a potential matchup with LSU.
3. Southern Miss
The Record: (38-19, 20-10 Conference USA) | RPI: 45
The Skinny: Southern Miss enters the NCAA Tournament red hot after sweeping four games to win the Conference USA Tournament in Biloxi. Much like Arizona State, Southern Miss is a team led by a dynamic lineup that features a heavy-hitting outfielder. The Golden Eagles are no stranger to the NCAA Tournament as this is the fourth year in a row they've earned a big.
The Common Ground: Southern Miss is no stranger to facing Southeastern Conference foes, either. The Golden Eagles lost two out of three at Mississippi State early this season. LSU took three of five from the Bulldogs if you include the SEC Tournament. Southern Miss split two midweek games against Ole Miss, who won a series at the Box earlier this month.
The Dude: You might not have ever heard of Southern Miss outfielder Matt Wallner, but you'll probably be plenty familiar with him by the end of the weekend. The Team USA member hit .324 this season with 21 home runs and 55 RBI. He also nearly drew as many walks (43) as he had strikeouts (45).
The Question: When the pressure is on in a close game, can Southern Miss make the plays defensively that so often decide these NCAA Tournament contests? The Golden Eagles committed 81 errors as a team this season.
PHOTO COURTESY OF ARIZONA STATE SPORTS INFORMATION