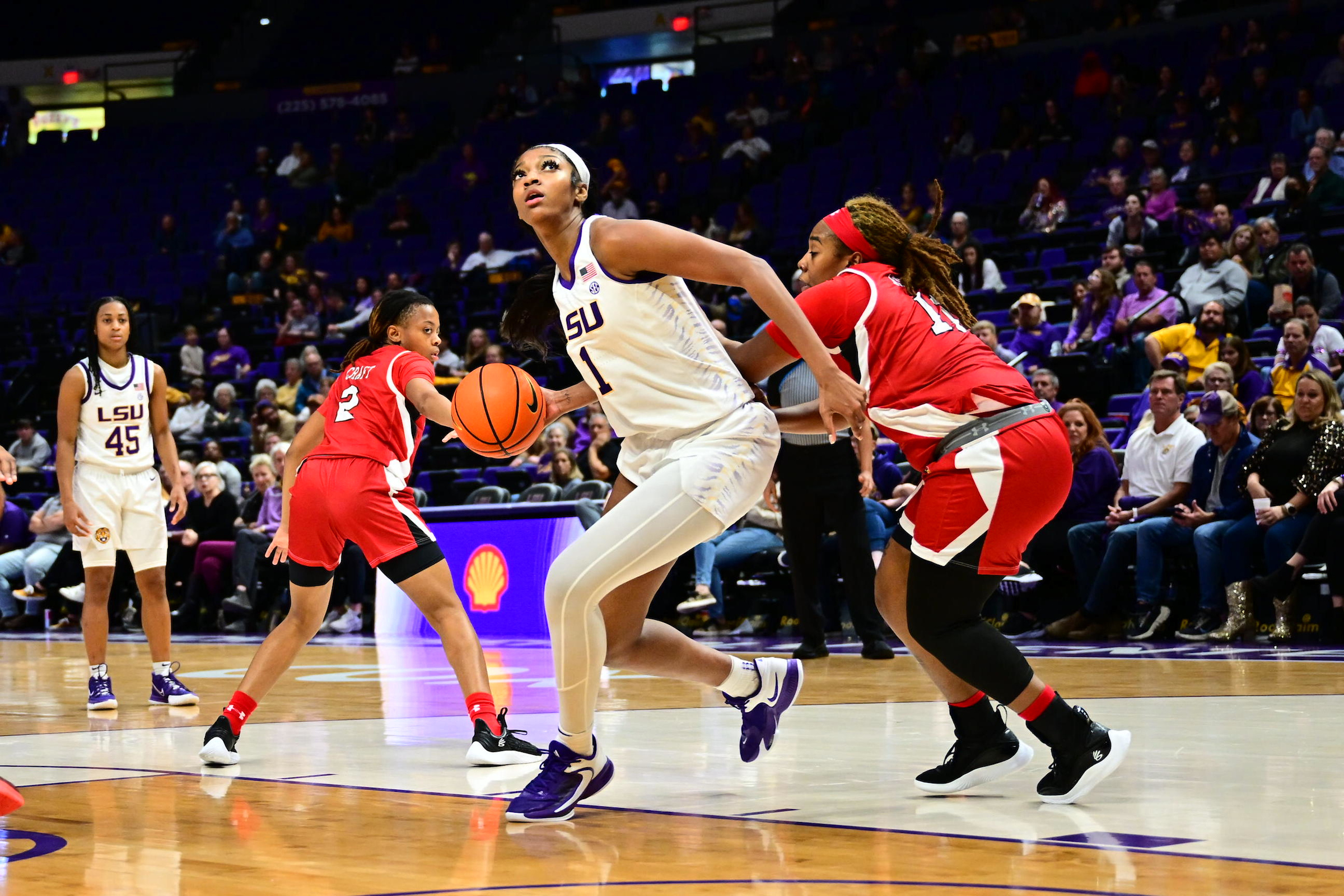 It took No. 11 LSU about a quarter to shake off the rust associated from not playing a game in 10 days. Then the Tigers, and more specifically Angel Reese, went to work.
The Tigers improved to 10-0 first the first time in 17 years behind a second-quarter blitz powered by Reese in Wednesday's 88-42 victory over Lamar before a crowd of 5,654 at the Pete Maravich Assembly Center.
Reese scored a career-high 32 points and reached double figures in both points and rebounds (15) for the 10th time this season to go along with four steals. Freshman guard Flau'jae Johnson added a career-high 21 points, including three 3-pointers, and guard Jasmin Carson added 12 points on four 3-pointers. LaDazhia Williams had nine points and blocked three shots.
LSU shot 52% from the floor (33 of 64), won the rebound battle (48-24), scored 48 points in the paint and produced 20 points off 17 turnovers.
"I thought the second quarter really made a statement," LSU coach Kim Mulkey said. "If you look at what they shot from the field (16.7%) and then you look at what we shot from the field (73.3%), I thought that really opened the game up for us in the second quarter."
LSU played a game for the first time since an 85-72 road win over Tulane on Dec. 4. The Tigers' scheduled game with New Orleans last Sunday was cancelled because of health and safety concerns within the UNO program.
Lamar (4-5) raised some eyebrows in its last outing, falling to undefeated and No. 21 Arkansas, 63-50.
LSU didn't gain control of the first quarter until 28 seconds to go on Reese's layup for a 17-15 lead.
The Tigers gained separation by outscoring the Cardinals 26-6 in the second quarter, including a devastating 24-3 closing run, for a 43-21 halftime advantage.
Reese, who made 13 of 15 shots, scored 21 of her team's first 38 points and reached 30 points at the end of the third quarter where LSU led 71-34.
"When everyone else is struggling, go to the one you know can get you some points as close to the basket as you can," Mulkey said of Reese. "She's so strong. You may deny her one time. You might cause her to do something another time, but at the end of the day, you better worry about Angel Reese the entire game because she's going to do something to affect the game."
Mulkey also credited the play of Johnson who scored 10 points on 4 of 6 shooting in the first half and grabbed six of her eight rebounds.
"I took her out for the (two) turnovers and put her right back in and she responded," she said. "She got better. She didn't pout. She didn't turn it over again. That's how you teach freshmen and I thought she had one of her better games of responding to getting taken out and being put back in."
LSU returns to play Saturday in the Maui Classic. The Tigers face Montana State at approximately 10:15 p.m. CST and Oregon State at 10:15 p.m. CST on Sunday. Both games will be carried locally by 107.3-FM.