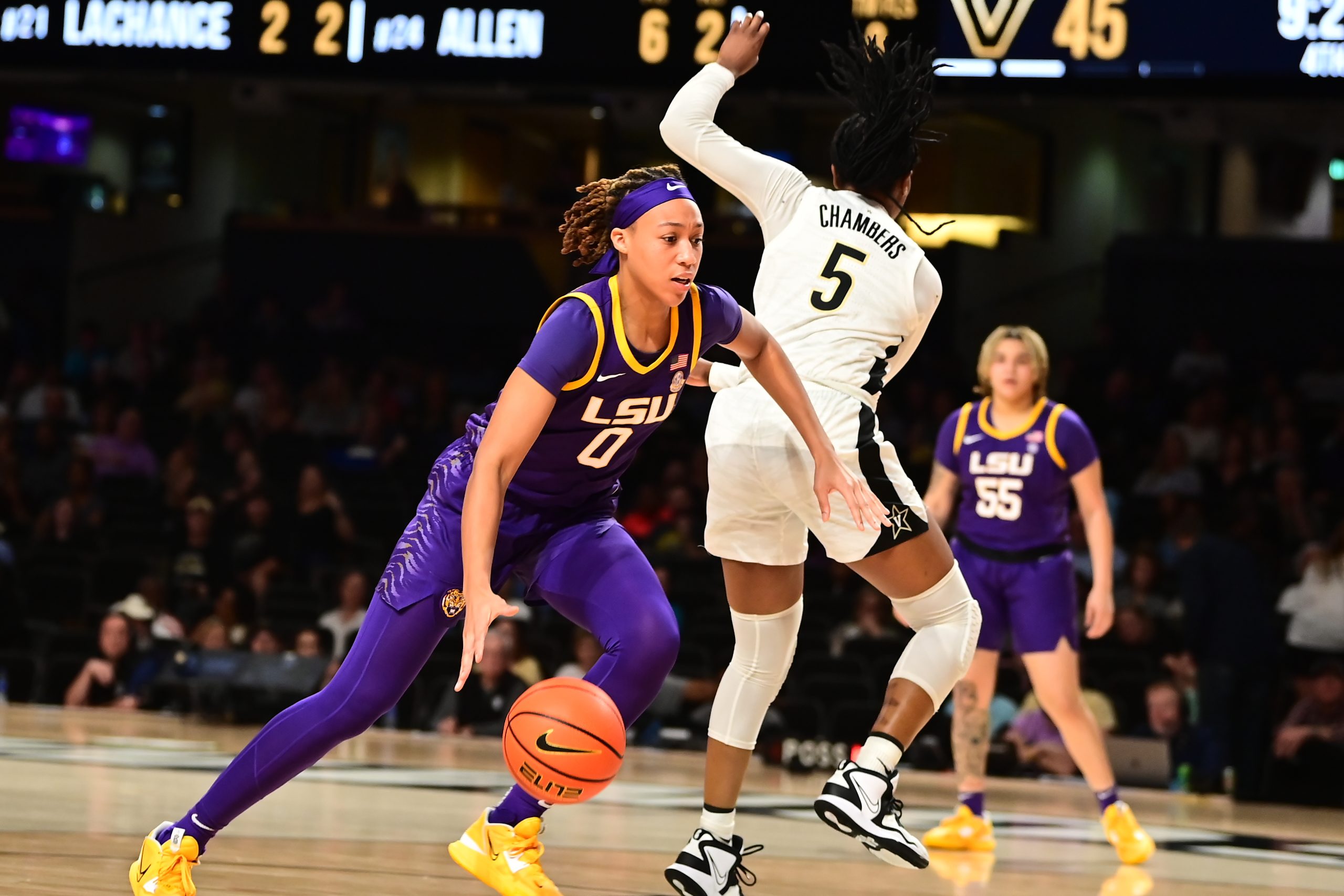 LSU second-year coach Kim Mulkey realizes what the ultimate goal but is not going to diminish the steps taken by her program.
For the second straight season the fifth-ranked Tigers locked up the Southeastern Conference's runner-up spot, doing so Thursday in wire-to-wire fashion with a 82-65 victory over Vanderbilt at Memorial Gymnasium in Nashville.
LSU (26-1, 14-1 in SEC) wrapped up that spot behind top-ranked and league champion South Carolina and has a double-bye in the March 3-5 SEC Tournament in Greenville, South Carolina.
The Tigers conclude the regular season at home at 5:00 pm. Sunday against Mississippi State.
"Two years in a row, (we) finished second in the league behind the national champion," Mulkey said. "We need to recognize that. I need to recognize that. Someday our goal is to finish as champion. We have less losses (three last season) in the league this year regardless of what happens with Mississippi State. I think that's good. Our goal is to be SEC champs one day but if you can't be champs, I guess it's not too bad to finish second."
LSU completed a season sweep over Vanderbilt (12-17, 3-12) after a 88-63 win on Jan. 1 in Baton Rouge. The Tigers won for just the fifth time in 20 trips to Nashville with sophomore forward Angel Reese registering her 26th double-double of the season with 23 points and 18 rebounds. She also blocked three shots.
The Tigers, who shot 52% (33 of 64) and outrebounded the Commodores 43-29, had a total of three players in double figures. Fifth-year guard Alexis Morris scored 21 points on 8-of-18 shooting, had five assists and four steals and graduate student LaDazhia Williams added 13 points and eight rebounds.
"I thought the way we started the game was exciting," Mulkey said. "I thought we had effort, I thought we moved, I thought we talked. We shared the ball. Then we got to the third and fourth quarters and we didn't do it as much. I don't know if it's fatigue, if it's sweating bullets in here."
Mulkey took umbrage with the conditions at Vanderbilt's 71-year-old home which features the team's benches on the baseline and has no air conditioning. To combat the arena's heat, LSU players used hand-held fans during timeouts and ice packs to try and cool down.
"This is my first time to coach in this arena," Mulkey said. "I knew about the benches on the baseline. No one told me they didn't have AC here. I'm ringing wet. Both teams had to play in it."
LSU responded to Vanderbilt's best quarter of the game, taking a 60-45 lead after three quarters and pushing it to as much as a 25-point lead (80-55) with 1:53 remaining on Morris' 15-footer, her eighth point of the quarter.
Reese made all three of her field goals and scored six points, helping extend LSU's lead to 66-47 on back-to-back baskets in the first minutes of play. Williams followed with a basket on a feed from Flau'jae Johnson to restore the Tigers' lead to 21 points (68-47) at the 6:44 mark.
Vanderbilt made its lone run at LSU midway through the third quarter, reducing the Tigers' 23-point halftime lead (46-23) to 50-44 at the 3:56 mark.
Ciaja Harbison, the SEC's No. 2 scorer at 19.4 points, made her second 3-pointer of the quarter and scored eight of her team-high 21 points during that stretch in which the Commodores went on a 13-3 run. They wound up outscoring the Tigers 22-14 in the quarter.
"I don't think it's what Vanderbilt found, it's what we didn't do," Mulkey said. "I'm always going to give credit to the opponent. They started hitting shots. I thought we got lazy or tired."
LSU jumped out to a 8-2 lead in the first three minutes of play behind a three-point play from Reese. The Tigers, who lost reserve guard Last-Tear Poa to a sprained ankle in the quarter, later went on a 7-0 run that Kateri Poole capped with a 3-pointer that made it 18-9 with 1:01 showing.
Poole found Reese for what turned into a three-point play and Johnson fed Sa'Myah Smith who scored all eight of her points in the quarter, including a lay-in with 1:14 left for a 40-20 cushion.
"I'm pleased in the first half," Mulkey said. "Outstanding. Talking. Communicating, helping the helper. A lot of great things in the first half and then you come out in the third quarter and it's just the opposite. Either I'm not giving that rah-rah halftime speech that I need to give or I'm not starting the right people in the third quarter. We're so close. You're a turnover away from really separating yourself and extending leads and we're still not there. We were better defensively in the first half."