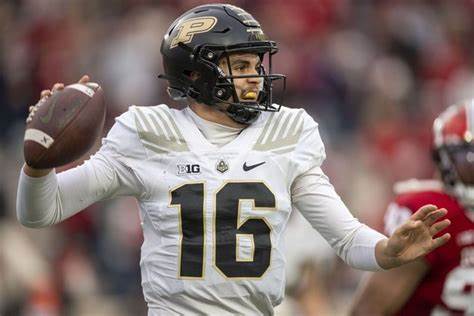 LSU's opponent in the Jan. 2 Citrus Bowl, Purdue, will have more than just an interim head coach leading the team for the noon kickoff in Orlando.
The Boilermakers will also have a new quarterback after sixth-year senior Aidan O'Connell announced on his Instagram account Thursday he's skipping the bowl game to begin preparing for the 2023 NFL Draft.
"This was an incredibly difficult decision," O'Connell said. "However, I feel that it is the right one for my family and I."
Purdue (8-5) recently had to deal with the news of seven-year football coach Jeff Brohm departing to take a similar job at his alma mater, Louisville, leaving his brother Brian Brohm serving as interim coach against LSU (9-4) in the Citrus Bowl. The Boilermakers named Ryan Walters as their new coach who will take over after the bowl game.
The Boilermakers also learned they will be without their top two receiving threats when first team All-Big 10 Conference selections Charlies Jones and tight end Payne Durham opted out of playing in the bowl game. Jones led the tea with 110 catches for 1,361 yards and 12 TDs, while Durham was second with 56 receptions for 560 yards and 8 TDs.
Moreover, redshirt senior cornerback Cory Trice has also opted out of the game. He had 34 tackles, two interceptions and 10 pass break-ups in 2022.
O'Connell, a former walk-on and second team All-Big selection, is projected to be a mid-round choice in the NFL Draft. The 6-foot-3, 210-pounder completed his career with 9,219 yards, 30 interceptions and 65 touchdowns.
O'Connell was the leader of a Purdue offense that averaged 28 points, 287 yards passing and 410.3 total yards during the 2022 season.
He started in 12 of 13 games, missing one game because of the death of his brother, and completed 64% of his passes (320 of 499) for 3,490 yards with 22 touchdowns and 13 interceptions. He threw for 300-plus yards on six occasions with a high game of 424 yards and three touchdowns in a 32-29 loss to Syracuse on Sept. 17.
In what turned out to be his final outing for the Boilermakers, O'Connell was 32 of 47 for 366 yards with two interceptions and no touchdowns in a 43-22 loss to Michigan in the Big 10 Conference Championship Game on Dec. 3.
Brian Brohm named sixth-year senior Austin Burton the team's starting quarterback on Thursday. The 6-3, 210-pounder, who began his career at UCLA, got one start in five appearances and was 24 of 32 for 199 yards with three TDs and one interception. In his one start in the O'Connell's absence, Burton was 21 of 29 for 166 yards with 3 TDs and one interception in a 28-26 win over Florida Atlantic on Sept. 24.
Purdue later announced the addition of former Boilermaker great quarterback Drew Brees to the coaching staff for the bowl game. Brees, who spent 1997-2000 at Purdue and 20 years in the NFL with the San Diego Chargers and New Orleans Saints, will serve as an interim assistant coach and help with the team's preparations for the bowl game.
"I am extremely excited to work with our team over the next few weeks as we prepare for the Citrus Bowl," Brees said in a university release. "I see it not only as an opportunity to coach and mentor this group of young men, but represent all the former Purdue players that care so much about our program.
"This is also preparation for the future of Purdue Football with new head coach Ryan Walters," he said. "I had a great conversation with Coach Walters last night, and love the energy, passion and detail he will bring to our program. The future is bright, and there is no better time to be a Boilermaker!"