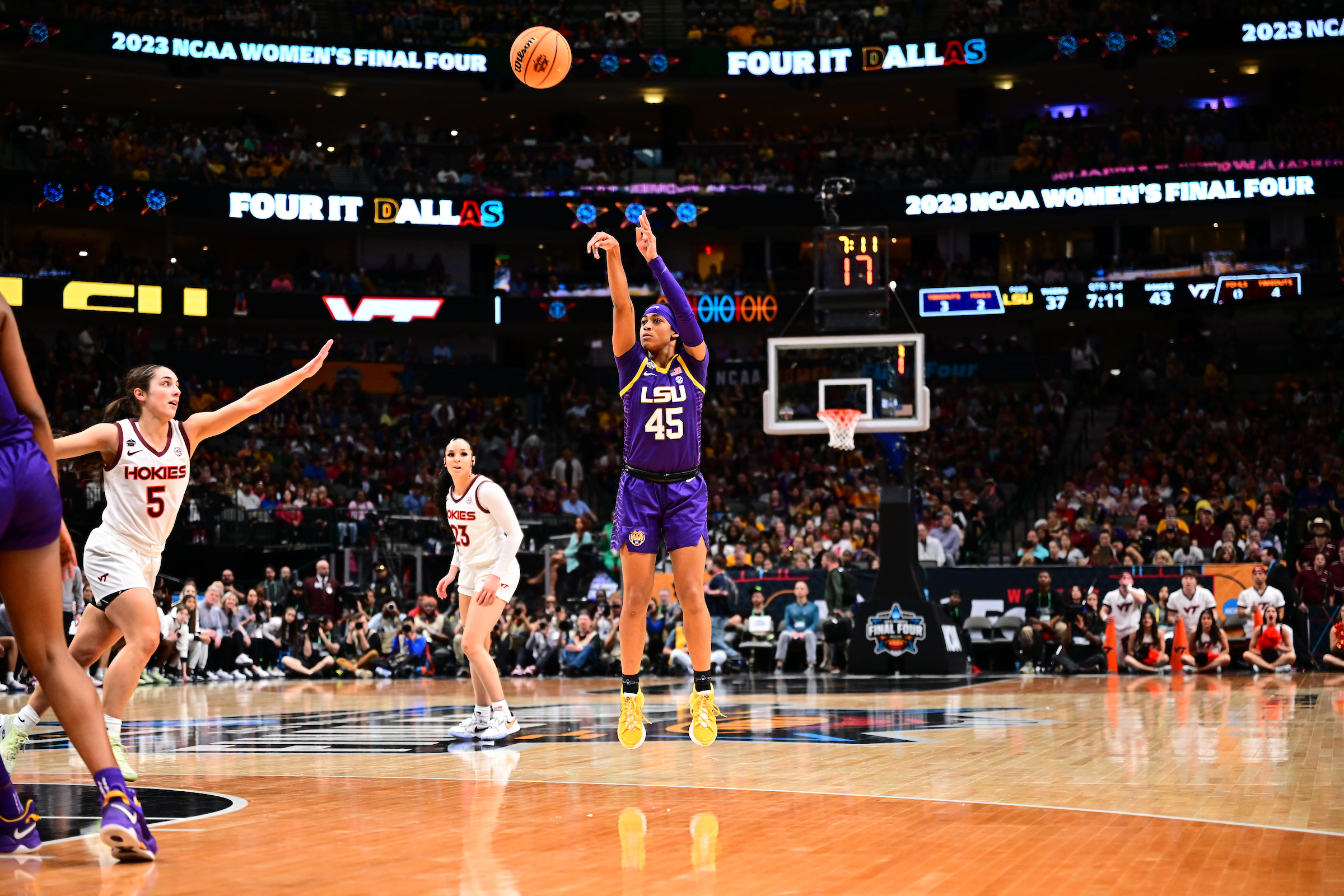 From nine wins to playing for a national championship.
That's what coach Kim Mulkey has managed to accomplish in her second season, leading third-seeded LSU to a fourth-quarter comeback for the ages, defeating top-seeded Virginia Tech 79-72 in a national semifinal on Friday at American Airlines Center in Dallas.
The Tigers (33-2) will face second-seeded Iowa, a 77-73 winner over South Carolina, in Sunday's national championship at 2:30 p.m.
It marks the first appearance for an LSU basketball team – male or female – in a national championship game.
"I'm hungry. I'm greedy," LSU point guard Alexis Morris said. "I want to win it all."
LSU went from one extreme to another. The Tigers trailed by as many as 12 points in the third quarter, but came alive in the final quarter to outscore Hokies, 29-13, and pulled away for the seven-point victory.
It was the sixth largest comeback in a national semifinal game.
"We had to play defense," LSU forward Angel Reese said of the team's fourth-quarter rally. "We had to come together and believe in each other and play defense. The game wasn't over. We've been in situations like this before. Just trusting and believing in each other."
Morris led the way with 27 points, reviving her team's comeback with five straight points to trigger a 7-0 run to start the fourth.
"Her game speaks for itself," Reese said of Morris. "She told ya'll in the last press conference that (Virginia Tech's) Georgia (Amoore) was a handful and Alexis Morris came out and she (Amoore) had a handful of her. Alexis Moore is a pro. She's a first-rounder. You admire what she's done. She's the comeback kid."
Reese tied an NCAA single-season record with her 33rd double-double with 24 points and 12 rebounds, while graduate student LaDazhia Williams added 16 points and seven rebounds. The Tigers produced 22 points off 18 turnovers by the Hokies.
Morris and Reese, who combined for 21 of LSU's 29 points in the quarter tied the game at 62-62 – the third deadlock of the game – and a steal and drive from Flau'jae Johnson with 5:44 remaining gave the Tigers the lead for good at 64-62.
"I'm a senior, I've got to lead offensively, defensively," said Morris, who had her best scoring game of the NCAA Tournament and second straight 20-plus point effort. "I know my team needed a spark."
LSU's onslaught included a 15-0 run that included Reese on a putback and a pair of free throws, and Johnson added a second-chance basket that made it 72-62 with 3:05 remaining.
Virginia Tech, which was making its first Final Four appearance, didn't get any closer than six points the remainder of the way and had a 15-game winning streak stopped.
"You're down eight, you've got to come out smoking and on fire," Mulkey said of the conversation in the team huddle before the last 10-minute quarter. "You've got to play like you're never going to play again. Not 10 minutes. I didn't want them comfortable thinking they had a lot of time. I wanted them to come out, pick up the pace defensively and fly to the offensive board as it you've got two minutes to play.
"Then we cut it two and they called another timeout," Mulkey added. "I said, 'you're back in the ballgame'. But we don't have eight minutes. We have two minutes. I just felt like we had to challenge them on a sense of urgency."
LSU shot 47% (33 of 70) from the field and only turned the ball over seven times compared to Va. Tech's 17 miscues.
"We had a solid offensive game," Morris said. "But our offense is not what got us back in the game. It was our defense. We turned up our intensity another notch. That's what gave us a spark on the other end of the floor. That's how we were able to be victorious tonight."
The Hokies, which shot 40.3% (23 of 57), had three players score in double figures led by senior center Elizabeth Kitley with 18 points, 11 rebounds and seven blocked shots. Junior guard Georgia Amoore had 17 points on four 3-pointers, 17 from Kayana Traylor and 14 from Cayla King, who also had four 3-pointers.
"They hit a couple of shots, gained a little momentum," Virginia Tech coach Kenny Brooks said. "I think they had a three right off the bat and had a steal for a layup, kind of changed the momentum. They were a little bit more aggressive in the passing lanes, but they were also a little bit more aggressive down low."
Virginia Tech ended the second quarter on an 11-0 run and took a 34-32 lead into the locker room at halftime.
Traylor scored seven of her team's points during that run and the Hokies scored the first two baskets of the third quarter on King's 3-pointer and Kitley's inside buckets for a 39-32 lead to highlight a stretch of 16 unanswered points.
Morris buried a 3-pointer at the 7:42 mark to get within 43-37 to momentarily stopped Va. Tech's momentum, but the Hokies got 3-pointers from King and Amoore over the next two minutes and stretched their lead back to 51-39 at the 5:39 mark.
LSU responded with an 11-4 run that included a 3-pointer from Kateri Poole and consecutive baskets from Williams that reduced the deficit to 55-50 when Traylor finished the quarter with four points to bolster the Hokies' lead to 59-50.
The game was tied early in the first quarter when LSU took a 16-13 lead into the second quarter and opened a 20-13 advantage on Williams' spin move past Kitley. The Tigers established their biggest lead of 32-23 at the 4:47 mark on Morris' 12-foot pull-up jumper when the Hokies scored the last 11 points of the quarter for a 34-32 halftime edge.
"That I'm blessed," Mulkey said of her team's position in Sunday's game. "I came home for lots of reasons. One, to one day hang a championship banner in the PMAC. Never, ever do you think you're going to do something like this in two years. That's an accomplishment. That's a step in the right direction."