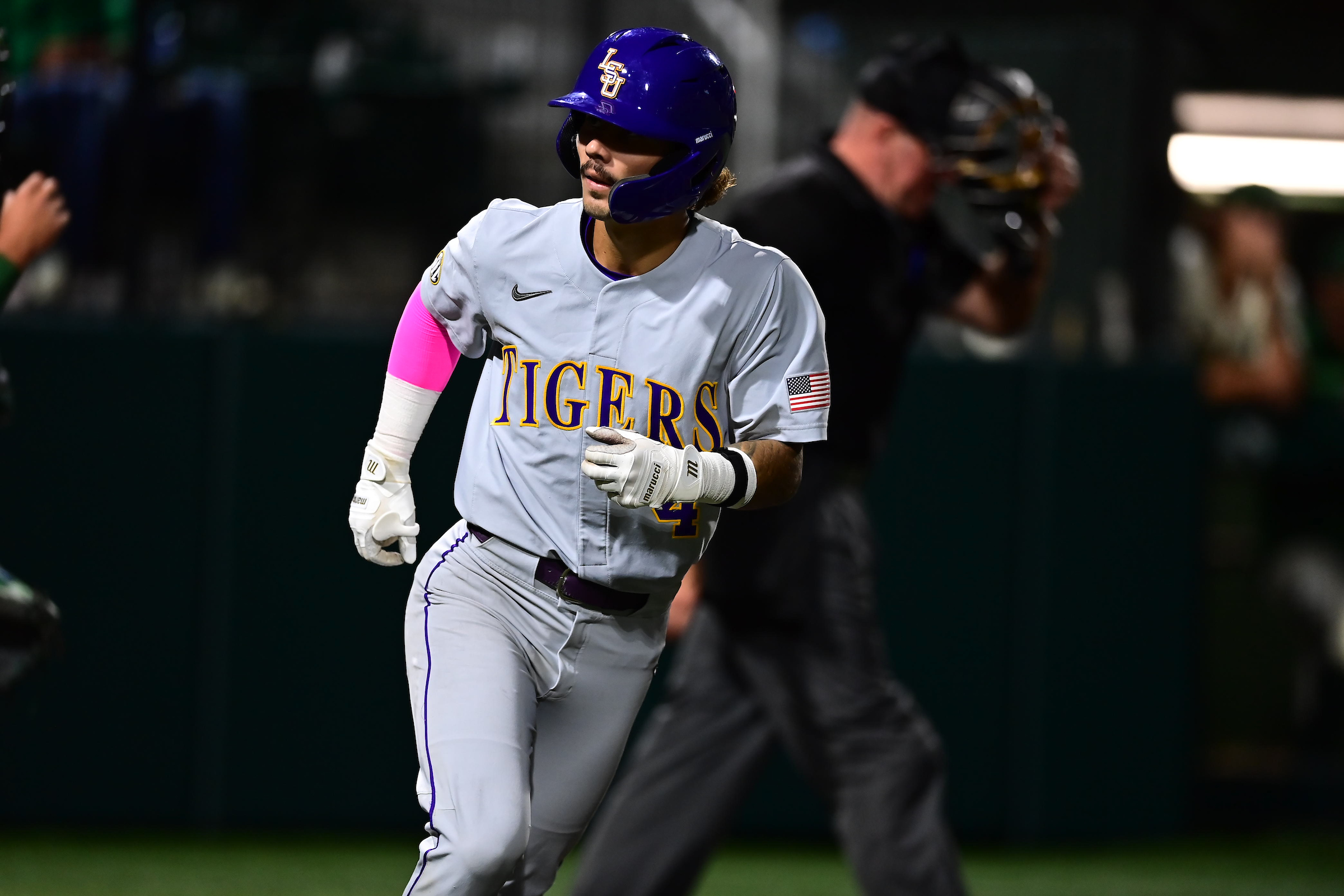 Right fielder Brayden Jobert and third baseman Tommy White each drove in three runs Tuesday night to lead top-ranked LSU to an 11-5 win over Tulane in Turchin Stadium.
LSU (27-5) opens a three-game SEC series at 6 p.m. Thursday when the Tigers play host to Kentucky in Alex Box Stadium, Skip Bertman Field. The game will be broadcast on affiliates of the LSU Sports Radio Network (98.1-FM), and it will be televised on the SEC Network.
Jobert collected three RBI with a run-scoring single and a two-run homer, and White provided a two-run double and a sacrifice fly during LSU's 19-hit attack for its third-highest output of the season.
"We played well tonight, and we had to in order to win the game," LSU baseball coach Jay Johnson. "We used pitchers that we rely on a lot, and it was a good win on the road. I think Tulane will finish the year better than they started it; they're really well coached, and it was a tough game tonight. A good win for us."
LSU reliever Bryce Collins (1-0), the third of six LSU pitchers, earned the win by blanking Tulane (9-24) over 2.2 innings and allowing no hits with two walks and two strikeouts.
"Bryce had a tough start to this season, which was a real surprise," Johnson said. "We've made some adjustments both in mindset and physically, and that's four or five good outings in a row for him. We really need that, now more than ever. I have total faith in him."
Tulane took a 1-0 lead in the bottom of the first on third baseman Simon Baumgardt's RBI single, but LSU responded with two runs in the third on White's two-run double to center.
The Green Wave regained the lead in the bottom of the third when Baumgardt launched a two-run homer, his seventh of the year.
LSU tied the game at 3-3 in the top of the fourth when first baseman Jared Jones doubled and scored on Jobert's single to left field. The Tigers plated two runs in the fifth when White produced a sacrifice fly and designated hitter Cade Beloso lined an RBI single.
LSU extended the lead to 6-3 in the sixth when second baseman Gavin Dugas smacked a run-scoring single into left.
Jobert's two-run blast in the seventh – his fifth homer of the year – gave the Tigers an 8-3 advantage before Tulane narrowed the deficit to 8-4 in the bottom of the frame.
The Tigers struck for three runs in the ninth when shortstop Jordan Thompson launched a solo homer, his third homer in the past three games and fifth of the season.
Run-scoring singles by first baseman Tre' Morgan and center fielder Dylan Crews punctuated the final inning for the Tigers.
Jordan Thompson hits for power. Jot that down. @J_thompson_13 | ESPN+ | https://t.co/FnNIXmCcbX pic.twitter.com/xhNe7Ri3Nu

— LSU Baseball (@LSUbaseball) April 12, 2023
That'll plate another Tiger, courtesy of Gavin Dugas@gavin_dugas04 | ESPN+ | https://t.co/FnNIXmCcbX pic.twitter.com/7sxV9g1pNy

— LSU Baseball (@LSUbaseball) April 12, 2023