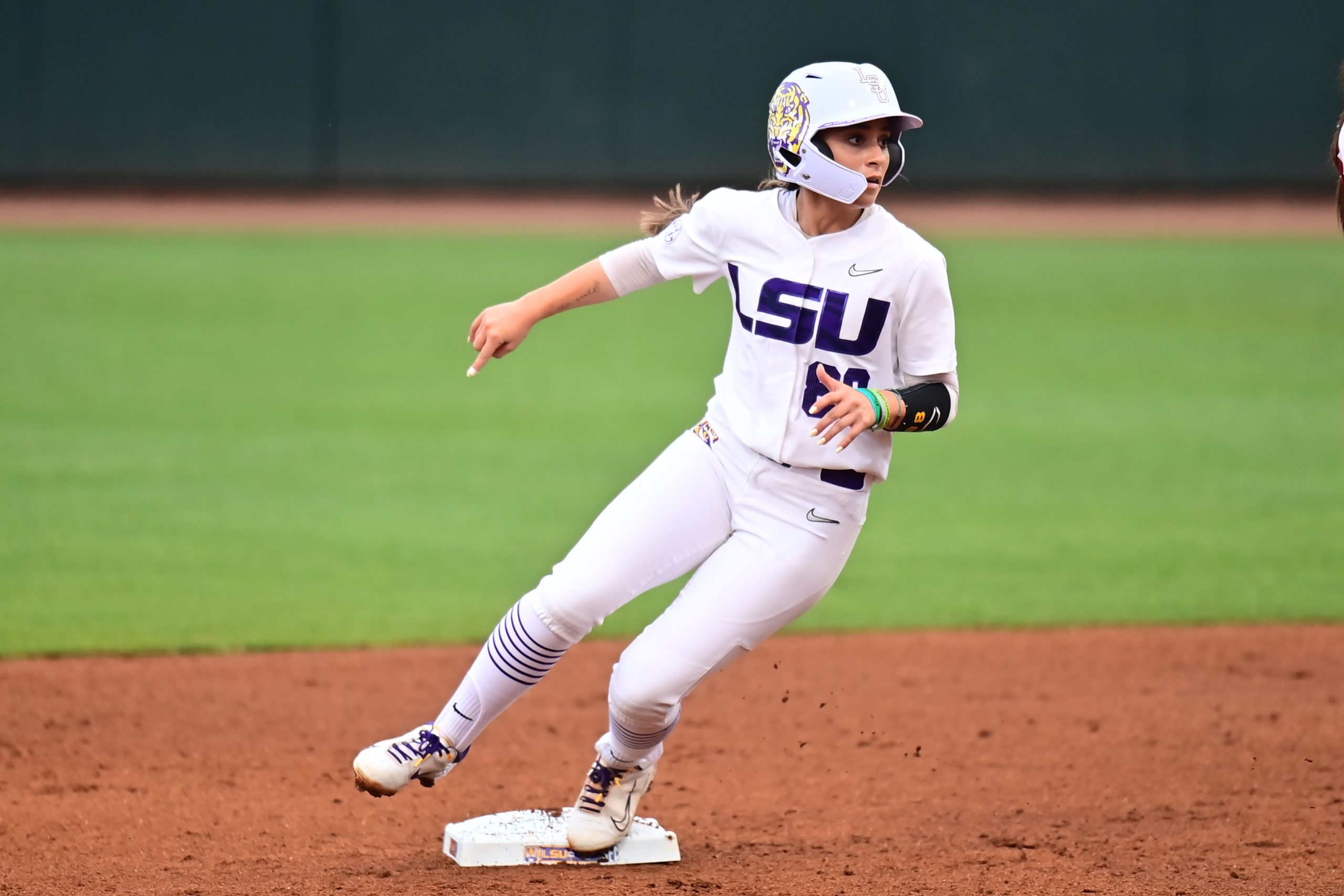 One defensive miscue was all that two-time defending national champion and No. 1 Oklahoma needed to gain separation.
The Sooners then turned it over to their first team All-American pitcher Jordy Bahl who made it stand up in a 3-0 victory Tuesday over No. 12 LSU before the fourth-largest crowd in Tiger Park history of 3,073.
"I thought our team played well, played right with them the entire game," said LSU softball coach Beth Torina, whose team outhit Oklahoma, 3-2. "I thought it was a good effort from our entire team."
Oklahoma (37-1) extended the nation's longest winning streak to 29 games, taking advantage of a second-inning error to score three unearned runs.
Bahl (12-1) allowed three hits – two by LSU lead-off batter Danieca Coffey – walked one and struck out 13.
LSU's best scoring opportunity came in the bottom of the sixth after Coffey's single and Karli Petty reached on a two-out catcher's interference. Georgia Clark worked the count full, fouled off three straight pitches – including one just foul down the left-field line – before lining out to third baseman Alyssa Brito.
The Tigers (33-8), which had won nine of their last 10 games, were shutout for the third time this season.
Bahl had retired eight consecutive batters until Coffey's single and hadn't allowed more than one base runner in an inning until the catcher's interference that enabled Petty to reach base. It was her fourth shutout of the season and the team's 23rd.
"I think we have to continue battling against her," Torina said of Bahl. "We had some good hacks against her, we swung well and just couldn't barrel anything up. She went up more in the zone than I expected, her change of speed was really good today. She does what she does to people."
Bahl was dominate between the third-through-fifth innings, striking out seven of the 10 batters she faced.
LSU's defense opened the door for Oklahoma's three-run second inning and an early exit for starter Sydney Berzon (11-3).
The Tigers appeared to have recorded the second out of the inning when first baseman Raeleen Gutierrez dropped the throw from second by Petty and allowed Oklahoma's Jocelyn Erickson to reach second on the error.
"An uncharacteristic one for us, too," Torina said of the error. "You can't expect everyone to be perfect. The game is not all on one play. There's a lot of other at bats and opportunities in the game. I'm really happy with how they competed. I think they proved they can play with Oklahoma or any other team like that."
Linzie Hansen then singled up the middle and Erickson scored ahead of the throw of LSU center fielder Ciara Briggs to the plate. Following a groundout, Berzon's 10th pitch to Brito – the Sooners' No. 8 batter – was lined over the wall in right-center field for her ninth homer of the year to make it 3-0.
"All pitching changes were pre-set," said Torina, who used three relief pitchers for an average of 25 pitches after Berzon. "We tried to match up where we thought we saw weaknesses we could exploit if they even have any over there versus our pitching strengths. Obviously the one spot that didn't go according to plan was the at bat to Brito when she hit the home run. I left Syd in one longer than I intended and didn't do it again the rest of the game."
LSU got a runner into scoring position in the first when Briggs reached on a fielder's choice and took second on a wild pitch. She was left stranded when Bahl struck out Petty and Clark to end the inning.
Coffey's two-out infield single ended the no-hit bid from Bahl who struck out Briggs swinging to end the inning.
LSU's relief pitching of Raelin Chaffin (2 strikeouts), Emilee Casanova (1 strikeout) and Alea Johnson helped to keep an Oklahoma offense that was averaging 8.5 runs scoreless over the last 5.2 innings. That trio combined to retire 15 of the last 16 batters of the game with only a third-inning walk by Chaffin, the lone blemish.
"I'm just excited and proud of what our team did tonight," Casanova said. "This really brings a lot of confidence to this team and shows what we're here."