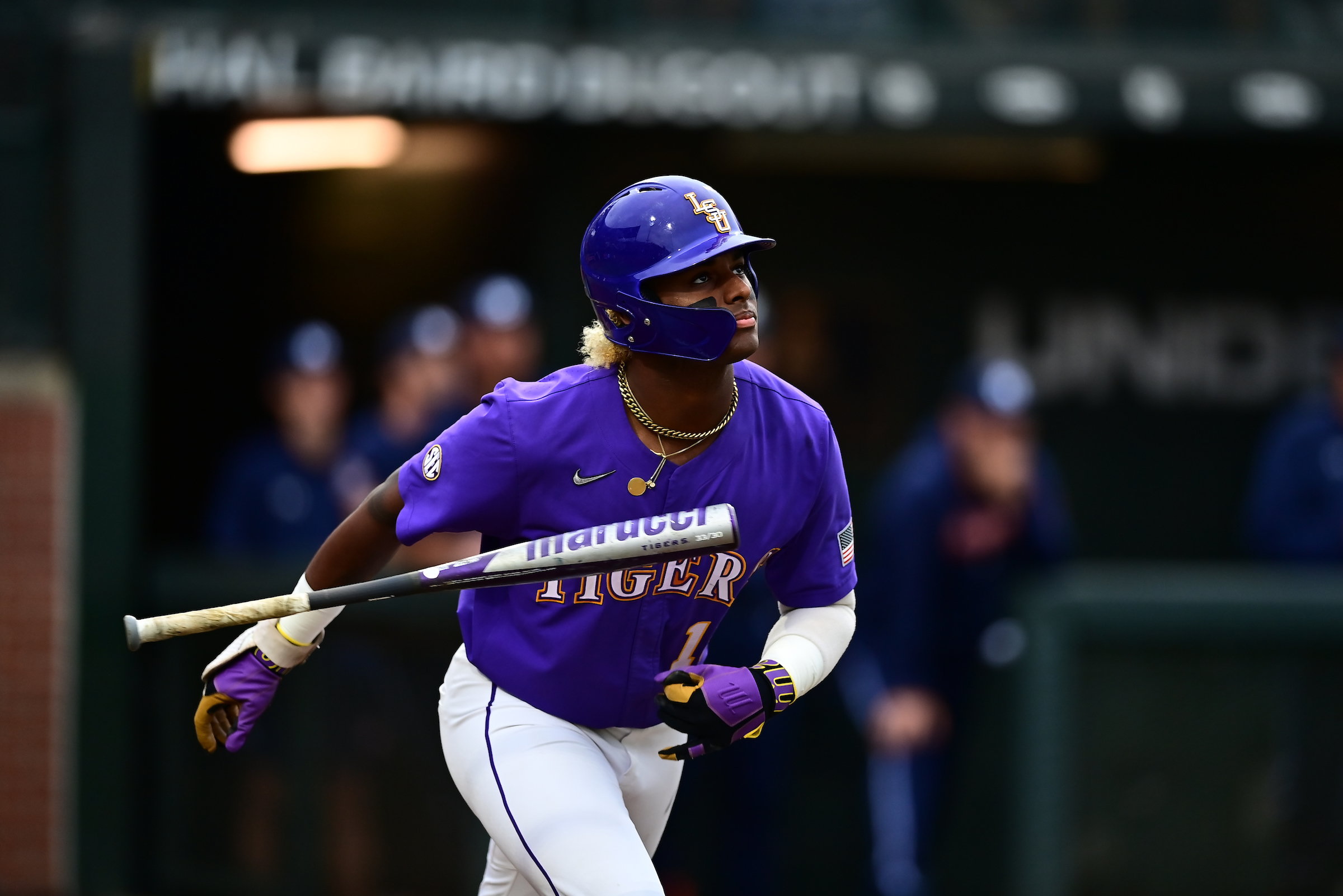 An explosive and frenetic start gave way to a workman-like 3-0 victory Friday for No. 1 LSU over Auburn at Plainsman Park in game one of the Southeastern Conference series.
The visiting Tigers jumped on War Eagles early when Tre' Morgan blasted a two-run home run on the third pitch of the game, and also relied on Paul Skenes' career-high 15-strikeouts.
Morgan's moonshot to right field off surprise Auburn starter Chase Allsup put LSU up, 2-0, and drove in lead-off hitter Gavin Dugas, who Allsup hit on the first pitch of the game.
Allsup, a hard-throwing sophomore reliever, made his first-ever SEC start, replacing scheduled starter Tommy Vail. The unexpected strategic move was made about an hour before the game to try and counter Skenes and improve Auburn's matchups in the second and third games of the series.
Morgan's early homer, though, did not prove to be the harbinger of things to come as it appeared it would for Allsup, who tamed LSU's bats until he was relieved in the fifth inning.
LSU did not add another run until the seventh inning when Morgan (3-for-5) hit an RBI single to account for the final score.
"Tre's swing has actually gotten better and tighter," LSU coach Jay Johnson said. "It's allowed him to tap into his strength more. That home run was one of the best balls I've ever seen him hit, and then he gave us just a really professional at-bat for his third RBI. It was a great night for Tre'."
LSU (37-8, 16-5 SEC) has won five straight games overall and eight consecutive SEC contests.
Auburn (25-19-1, 9-13), played in last year's College World Series, and re-entered the conversation for an invite to this year's NCAA Tournament last week, taking two out of three games at South Carolina and jumped to No. 34 in the RPI rankings.
The teams resume their series at 8 p.m. on Saturday in a game that will be televised on the SEC Network and broadcast on affiliates of the LSU Sports Radio Network.
Skenes (9-1) worked a season-high 7.1 innings and limited Auburn to no runs on six hits with one walk. He became the first LSU pitcher with 15 strikeouts in a game since Tyler Jones fanned 15 at the University of New Orleans on May 17, 2011.
"When Paul Skenes is pitching, I'm living the best days of my life," Johnson said. "It was a very special performance on the mound against a very good Auburn lineup."
Skenes' performance marked the most strikeouts by an LSU pitcher in an SEC game since Anthony Ranaudo registered 15 strikeouts against Auburn on April 24, 2009, in Baton Rouge.
Allsup (0-1) was charged with the loss, allowing two runs on three hits in 4.0 innings with two walks and one strikeout.

Auburn's Chris Stanfield led off the bottom of the first with a blistering line drive base hit through the five and six hole into left field. With one out, right fielder Bobby Pierce grounded out to shortstop on a fielder's choice, putting Stanfield on second but Skenes struck out first baseman Cooper McMurray to end the inning.
Allsup put LSU down in order in the top of the second, running it to six consecutive outs for the sophomore reliever since giving up the homer to Morgan in the first.
With two outs in the bottom of the second, center fielder Kason Howell snuck a single past Dugas into right field, but Skenes struck out second baseman Caden Green swinging for his second strike out of the game.
Dugas cracked a line drive to left field with one out in the third. Morgan flied out for the second out and then Crews hit an 0-2 elevated curveball to right center, advancing Dugas to third. However, Allsup fought off White, throwing seven pitches – all strikes – finally forcing White to fly out to left field to end LSU's threat.
Skenes struck out catcher Nate LaRue and Stanfield but then walked designated hitter Ike Irish for his only walk of the game before striking out Pierce to end the third with LSU still leading, 2-0.
Auburn left-hander Tanner Baumann replaced Allsup in the fifth after Allsup walked Milazzo to lead off. Morgan then singled off Baumann after he struck out Dugas, and Crews grounded out to Baumann, before White walked to load the bases. Designated hitter Cade Beloso grounded back to Baumann to leave LSU empty-handed, leaving the bases loaded.
Skenes struck out the side in the bottom of the fifth, but he did give up two hits and Auburn had multiple baserunners on at the same time for the first time in the game. Howell led off with his second hit of the game, nicking a first-pitch fastball that dribbled into shallow center field. Skenes then struck out Green and LaRue before Stanfield singled for his second hit of the game, but Skenes simply shrugged and struck out Irish to end Auburn's threat.
Baumann got LSU out in order in the top of the sixth, and then in the bottom half of the inning. Skenes struck out Pierce and McMurray before Bryson Ware stroked a two-out double for Auburn's first extra base hit of the game. Skenes induced Foster to fly out to Crews in center for the third out.
LSU relievers Nate Ackenhausen and Thatcher Hurd preserved the shutout in relief. Ackenhausen recorded the final two outs of the eighth inning, and after Auburn first baseman Cooper McMurray single to lead off the ninth, Hurd entered the game and retired three straight hitters.
Hurd, who earned his second save of the season, struck out third baseman Bryson Ware and shortstop Cole Foster before retiring centerfielder Kason Howell on a grounder to LSU shortstop Jordan Thompson.
"Thatcher showed total poise, total control, and threw every pitch where it needed to be executed," Johnson said.
The shutout was LSU's second this week and ninth this season, a figure which leads the nation. The Tigers also blanked Southeastern Louisiana, 10-0, on Tuesday.
Watch it fly. Hit the Tommy.@tremorgann | #ThePowerhouse pic.twitter.com/wRe29Jw0Bg

— LSU Baseball (@LSUbaseball) May 5, 2023
SKKKKKKKKKKKKKKENES

That's a career high 14 K's, folks@Paul_Skenes | SECN+ pic.twitter.com/oyX8TKouY5

— LSU Baseball (@LSUbaseball) May 6, 2023