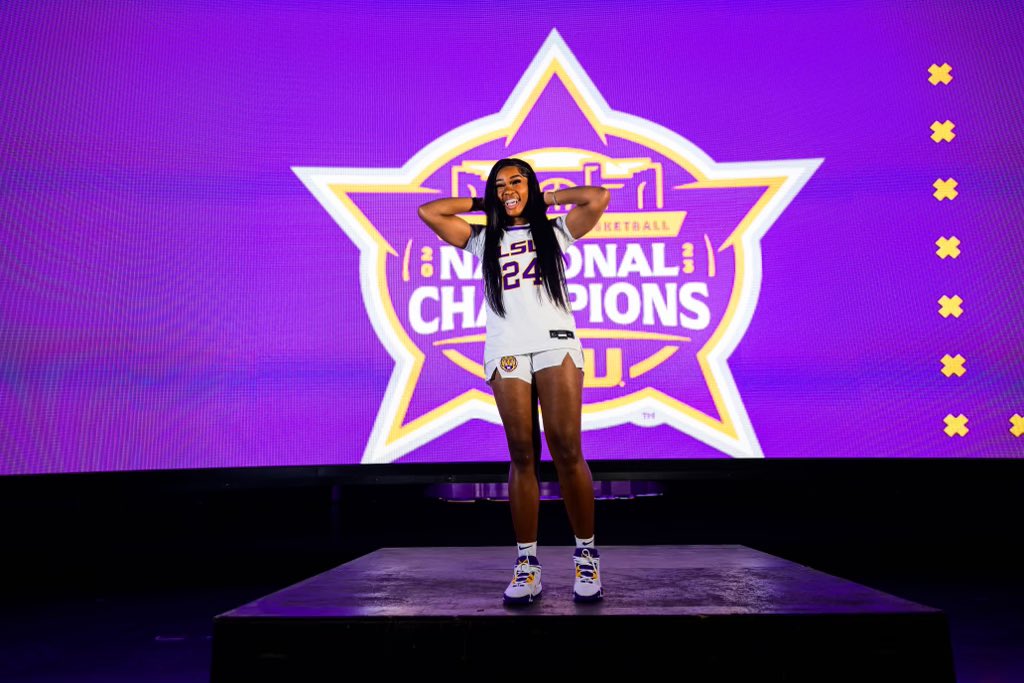 Apparently two official visits into a planned three-visit tour, the No. 2 player in the NCAA transfer portal had seen enough.
Six-foot-one forward Aneesa Morrow, one of two players to average better than 20 points and 10 rebounds at DePaul last season, became the second high-profiled player to commit to LSU coach Kim Mulkey, confirming her decision on her Twitter account. She selected the Tigers on Friday during a video she posted to her Instagram account.
Morrow made an official visit to LSU last week and was scheduled to visit South Carolina this weekend, but canceled and committed to LSU.
"I'm never intimidated by playing against or playing on a team with amazing, talented players," Morrow told ESPN. "That's what I want to be surrounded around. I want to be around players who are going to make me better. I feel like we're going to challenge each other on a day-to-day basis. We all have the same end goal, and that's to win the national championship, to win the conference."
LSU, which won the school's first NCAA national championship on April 2 with a 102-85 victory over Iowa, made waves in the transfer portal last week with the signing of the nation's top transfer for the second straight year – guard Hailey Van Lith of Louisville.
LSU also released this afternoon that Morrow had signed with the Tigers.
"Aneesah is coming to LSU as one of the premier scorers and rebounders in the country over the past two seasons," Mulkey said in a university release. "She has the ability to stretch the floor offensively with her range and brings an aggressive style of play that Tiger fans are going to love. We are excited to welcome Aneesah to Baton Rouge!"
Mulkey also secured a four-member high school signing class in November which has been ranked the nation's best, including top player Mikaylah Williams of Bossier City.
"As a true competitor, I always dreamed of playing for a top-tier program. LSU's rich history, support and passion for all sports teams caught my attention," Morrow said in the university's release. "The atmosphere on my official visit was electric, and the fan base is incredibly passionate about their team. I was drawn to this kind of environment because I've always dreamed about playing for a university that had that.  Furthermore, the opportunity to play in the SEC against some of the nation's best teams."
Morrow, a native of Chicago, has two years of eligibility remaining following an impressive two-year stay at DePaul which finished 16-17 last season. She entered the transfer portal on April 5 and was contacted by 33 different schools before making official visits to USC and LSU.
She was a second team selection on this year's AP All-America team, averaging 25.7 points and 12.2 rebounds, joining LSU's Angel Reese as one of two players to accomplish that double-double for the season.
Morrow reached 1,000 career points in 43 games at DePaul with a school single-season record of 848 points last season. She's recorded 53 double-doubles in 66 career games and was the nation's leading rebounder as a freshman with 13.8 rebounds and had 27 double-doubles that season, averaged 21.9 points with 89 steals.
Morrow scored 30-plus points this past season, including a career-high 45 against Northwestern (Ill.) on Dec. 2. She also pulled down double-digit rebounds 25 times with a high of 22 against Providence on Feb. 18.
Morrow's a two-time All-Big East Conference first team selection and was selected by two different organizations as the nation's top freshman last season.
"Signing with LSU was a tough decision considering my top three choices," Morrow said. "However, the university has a great basketball program with an enthusiastic fan base and provides ample opportunities for personal growth both on and off the court. With so many talented players returning from a championship-winning season, I plan on bringing my own unique skills set into helping push LSU towards continued success in seasons to come."