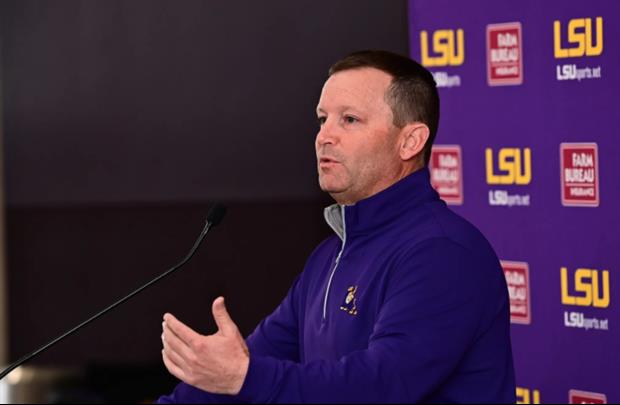 Expectations were sky-high for the LSU baseball team in its first season since coach Paul Mainieri retired last May.
A few rough losses early in the Jay Johnson era, however, brought the Tigers back to earth before April rolled around.
By the time LSU had played its third SEC series of the season, a 2-1 series loss to unranked Auburn on April 2, reality was hitting cold and hard.
At the start of the first full week in April the Tigers were ranked near the top of the conference in multiple offensive categories, including second in slugging percentage (.522) and on-base percentage (.419) and third in batting average at .300.
Sophomore designated hitter Brayden Jobert had two homers and drove in seven runs during a 15-2 midweek win over UL Monroe on March 29, becoming the first Tiger with seven RBI in a game since Antoine Duplantis had the same against Georgia in March 2017.
Sophomore shortstop Cade Doughty was hitting a team-high .369 with a team-leading 14 doubles through April 4, boosted by a four-game stretch in late March and early April in which he hit .389 hit (7-of-18) with two doubles, one homer, three RBI and five runs scored.
Sophomore third baseman Jacob Berry was riding a hot bat too, going .429 (6-of-14) with three RBI and four runs scored in that same four-game span.
So, effort at the plate seemed just fine.
But deficiencies elsewhere – especially in the field – must be eating at Johnson, who left Arizona after six seasons to succeed Mainieri.
"Mistakes are made in a college baseball game, and good teams kick the door in," Johnson said. "If we want to be a great team, we can't make as many mistakes, and we have to kick the door in."
LSU, ranked No. 10 to start the year, opened 2022 as expected with a three-game series sweep against Maine in which it averaged 17 runs per game, including 21 in its first Sunday game of the season.
But the Tigers lost their first midweek game of the season, and the fact the loss came at the hands of Louisiana Tech did little to lessen the sting.
In early March LSU traveled to Houston for its toughest stretch of pre-SEC play, and results at the Shriners Hospitals for Children College Classic – an 11-innings win over Oklahoma followed by a 6-1 loss to then-No. Texas and a 9-6 loss to unranked Baylor – dropped the Tigers from No. 8 prior to the poll to No. 16 by the time they returned home.
The experience left Johnson cognizant of the fielding issues that needed to be cleaned up, and still do, but also encouraged by what the Tigers potentially could become with a little Spic and Span.
"I expect to win every game, and we didn't do that," he said at the time, "but I like the fight our team showed all weekend. "We had some very good performances on the mound, which we're going to need. Because of the way we're set up right now, we're going to have to use a lot of guys. We do have to play better defense, I don't know any other way to say it, and we'll continue to work on that."
The Tigers must, if they are to turn themselves into the College World Series-contending club they were believed to be when Johnson took over.
Because as things stand with the calendar not far from flipping from April to May, they don't appear to be that quite yet.
LSU did take a series in late-March series 2-1 over then-No. 9 Florida, giving some reason to believe the preseason prognosticators may not have been too far off. But it was bookended by a 2-1 SEC-opening series loss to Texas A&M and the Auburn series loss – both at home – to leave others wondering about a team that's started 19-9 overall and 4-5 in SEC play.
Capable bats are there to carry the load, however, and if the pitching against Auburn in Game 2 of that series is any indication – righty Ma'Khail Hilliard threw 5.1 scoreless innings, and relievers Grant Taylor, Paul Gervase, Eric Reyzelman and Trent Vietmeier limited the Tigers over two runs on three hits with two walks and six strikeouts in the last 3.2 innings – the arms could soon catch up with the offense.
"He's really lifted us these last few weeks," Johnson, whose club was down to No. 21 by the time it played Auburn, said of Hilliard, "and I'd hate to think where we'd be if we didn't have him on the team this year."
But give it time, Johnson pleaded. Give it time.
"I think (that) win was a sign of maturity for our team," he said. "We're going to grow as a team this year, and we're going to grow as a program. We all want everything right now, but in baseball, that's not realistic."