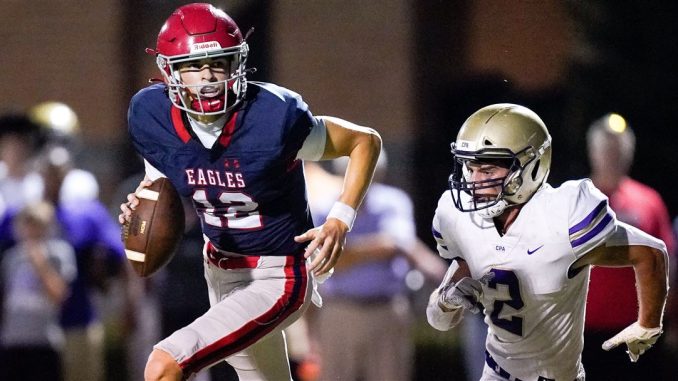 LSU's recruiting efforts for a quarterback of the future resulted in the nation's top-rated player in the Class of 2025 at the position, Bryce Underwood, making an unofficial visit to Baton Rouge this summer.
The Tigers, with quarterback's coach Joe Sloan leading the charge, will continue their pursuit of the best at that spot with an unofficial visit from George MacIntyre, the nation's No. 2 quarterback of Brentwood Academy in Nashville, Tennessee for next week's home game with Arkansas.
"Coach Sloan, he's one of the best out there," MacIntrye told On3's Josh Newberg. "He's a great recruiter, great coach, great guy. And I've really enjoyed being at LSU. I've got a couple friends down there now that are also recruits and a couple are committed. It's been great going down there, and I've talked to (LSU head coach Brian Kelly) quite a bit. It's kind of a family feel with their staff."
The 6-foot-5 ½ 185-pound MacIntyre got a taste of LSU's Tiger Stadium during the season's most riveting game, a 32-31 overtime victory over Alabama.
That enabled the Tigers to land a return unofficial visit from MacIntyre this summer. He also made similar visits to Alabama, Clemson, Florida International, Tennessee and UCLA.
His uncle Mike Macintyre, a former coach at Colorado, is one the coaching staff at FIU and part of George McIntyre's lineage. He's also the grandson of the late Geore McIntyre, a former head coach at Vanderbilt and UT-Martin.
MacIntyre's the nation's consensus No. 2 quarterback to Underwood and is rated No. 3 according to Rivals.com. He's ranked as high as the 11th best overall prospect by 247 Sports and is the No. 1 player in Tennessee per On3 Sports and 247.
MacIntrye helped Brentwood Academy to a 9-3 record and appearance in the Division II-II state playoffs which included a 44-31 loss to Baylor. He passed for 2,341 yards with 19 touchdowns and four interceptions.
Moreover, he helped Brentwood to a 30-3 record and state championship.
"I would say development is a big part of it, and a family feel as well," MacIntrye said of choice of school. "The locker room, and are they on a winning trajectory where they're either going to start winning or keep winning?"