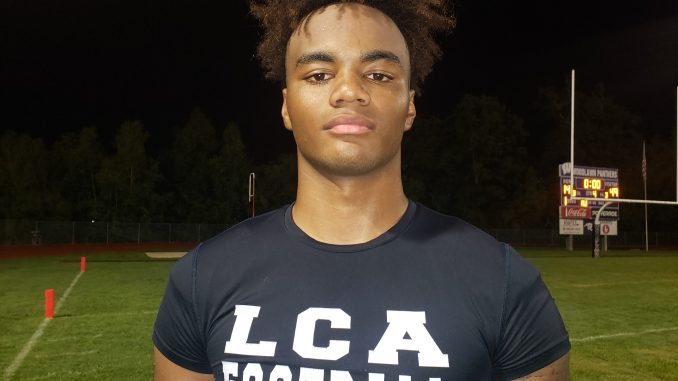 Once the team's bus reached the Mississippi River Bridge, Ju'Juan Johnson perked up in his seat.
The Lafayette Christian Academy senior quarterback and LSU four-star commitment couldn't wait to tell anyone who would listen about his future home. He pointed in the direction of one of Baton Rouge's most iconic symbols – LSU's Tiger Stadium – glistening in the distance, dreaming about his future in purple and gold.
"It was a good feeling to know I was in Baton Rouge playing football, playing the game I love," Johnson said of Friday's game with Woodlawn. "It felt like it was going to be a good night."
Johnson had so much fun, he got part of the night off. After leading Lafayette Christian to a commanding 49-7 lead at the end of the quarter that triggered a running clock, he headed to the sideline and enjoyed the rest of the evening while his teammates finished a 49-14 victory over Woodlawn.
It was a second dominant victory over a 5A opponent to begin the 2023 season for Lafayette Christian, which for the second year, is a school with Class 2A enrollment playing in Class 4A.
Johnson combined for 230 total yards and five touchdowns in three quarters against Woodlawn, a week after a dazzling display of 505 total yards and eight touchdowns in a 61-38 over Class 5A power Acadiana.
"He's the ultimate competitor," LCA first-year head coach Hunter Landry said. "What you see on Friday, you're going to get that kind of guy Monday through Thursday. He pours everything he has into practice, and it shows on Friday. He's able to do it in front of more fans. I'm just so proud of him."
A year after leading LCA to the Division II state select runner-up finish against St. Thomas More, a game in which he tallied 586 total yards and 5 TDs in a 52-48 setback, Johnson's more determined than ever to finish his high school career with a state championship.
It would be the school's fifth and second for Johnson who was part of LCA's state crown in 2020. But this season also represents a different finality of sorts where the 6-foot, 190-pounder is projected to switch to defense and play cornerback at LSU.
"I'm going to enjoy it," Johnson said of playing quarterback. "I'm thankful for God giving me the protection to play my senior season so far. I'm going to enjoy it while it's still here. When I go to LSU, I'm hoping they'll get me the ball and I'll make a few plays."
Johnson holds out distant hope things may change, and that one of the state's top playmakers could affect LSU's offense in much the same manner he's been a mesmerizing force over the course of his career.
During LSU's 72-10 victory over Grambling State, he tweeted out the following: "I have to still touch the ball from time to time when I get to college," he said.
LSU coach Brian Kelly, who is prohibited from discussing recruits until they've signed, must have visions of Johnson intercepting passes, forcing fumbles or returning kicks to provide spark for a program that's been inconsistent at cornerback in one-plus seasons.
"It's through the roof and that's based on his work ethic," LCA head coach Hunter Landry said of Johnson's ability to play corner. "He's going in the first day and work hard. He's not going to care that he's the new kid. His mindset's going to be the same as if he was at quarterback. He's going to try and win a starting job his freshman year and I know they're getting a good one because his work ethic will speak for itself. We're going to go ahead and enjoy him the next couple of months."
Johnson's been a continuous highlight film that's been on a loop since his freshman year. He's thrived in LCA spread attack with a combination of heart-stopping moves and strong arm, combining for 5,487 total yards and 60 touchdowns in 2022 – the first season the Knights played up in classification. He was voted to the LSWA's Class 4A all-state first team at athlete.
With LCA advancing to a fourth consecutive state championship game Johnson produced one of the more astronomical, back-to-back performances in state playoff history against Teurlings Catholic and St. Thomas More to reach the Superdome.
Johnson registered 1,235 total yards and 14 touchdowns, including nine in a 68-46 semifinal win over Teurlings, but came up short in the title game when STM rallied for a four-point victory.
"He's that special," said Landry, who served as Johnson's offensive coordinator for two years. "I've been coaching since 2010 and he's as good as anyone I've been around. Just his knowledge of the game. That's what impresses me. His ability to able to see the defense and understand what they're trying to do, take what they give him and put his receivers in a good spot."
Landry said UL-Lafayette was the lone school to recruit Johnson to play quarterback. He realizes measurables play a factor in recruiting someone to play the position at the Power 5 level, but he's also a believer in film which shows Johnson in a favorable light against some of the state's top programs.
"I know heights and weights get factored in, but production speaks for itself," he said. "His production speaks for itself and at the end of the day, that's what it comes down to. He's been as good as anybody the last two years at his position. He's stepped up to the occasion every time."
Johnson's not quite certain how he ended up as a college cornerback.
While he's grateful for the opportunity to earn a college scholarship and play football, Johnson remembers attending his first college camp at Mississippi State as quarterback and being asked to try a new position at corner.
That became the norm instead of the exception where one of state's most electrifying players played defense in college camp settings.
There were traces of defense in his football DNA, spot playing at cornerback in a young secondary or in obvious passing situations, but college recruiters had a different vision for Johnson when it came to evaluating positions.
"No one really told me. I hadn't been getting any offers at quarterback," Johnson said of the college recruiting process. "I don't know the (quarterback) size requirements. I feel like God's got me on my own path. He's guiding me to another path, a different position. Whatever the position is, as long as I'm playing football, I'm cool where I'm at."
Outside of his work at LCA, Johnson praised the position-specific help he's received from Baton Rouge-based sports performance coach Ken Anio to further develop his cornerback skills.
When recruiting websites refer to Johnson as an 'athlete' or someone capable of playing more than one position. According to On3 Sports, his stock rose to the No. 259 rated player in the country and No. 27 cornerback.
After first committing Feb. 4 to Colorado and head coach Deion Sanders, an NFL Hall of Fame cornerback, Johnson rescinded that pledge and citing a desire to remain closer to home, committed to LSU on May 15.
On this fall's Tiger Rag "Dirty Dozen" recruiting rankings of the state's top 12 players, Johnson ranked No. 6.
"I do think (Johnson) is probably the best football player in Louisiana," Acadiana head coach Matt McCullough said to the Lafayette Daily Advertiser after his team's season-opening loss to LCA. "That's something we won't see again."
For the second straight season Johnson helped LCA triumph over Acadiana, the long-time standard of high school football in the Lafayette area. He did so with another impactful performance, passing for 317 yards and four TDs and adding another 142 yards and four TDs on the ground.
With LCA expected to be among the state's top seeds in this year's Division II playoffs and home until a potential return to the state championship game in New Orleans, Johnson appeared to be right at home in his only high school game in Baton Rouge this season.
He led LCA to a 28-7 lead after the first quarter with a 10-yard TD run and 39-yard TD pass. He followed that up with an 8-yard scoring run, first bobbling the snap, before waltzing into the end zone and adding a 7-yard TD pass to make it 42-7 at halftime.
Johnson further put the game out of reach with a 16-yard TD pass for a 49-7 lead midway in the third quarter, signaling the end of a night that didn't require him playing any defense.
"I'll be on the other side, and I've got to try and take care of that responsibility to be a leader on the defensive side," Johnson said of his future. "Just switching it up. It's the same game plan, same football, same lines. It's just on a different side of the ball."