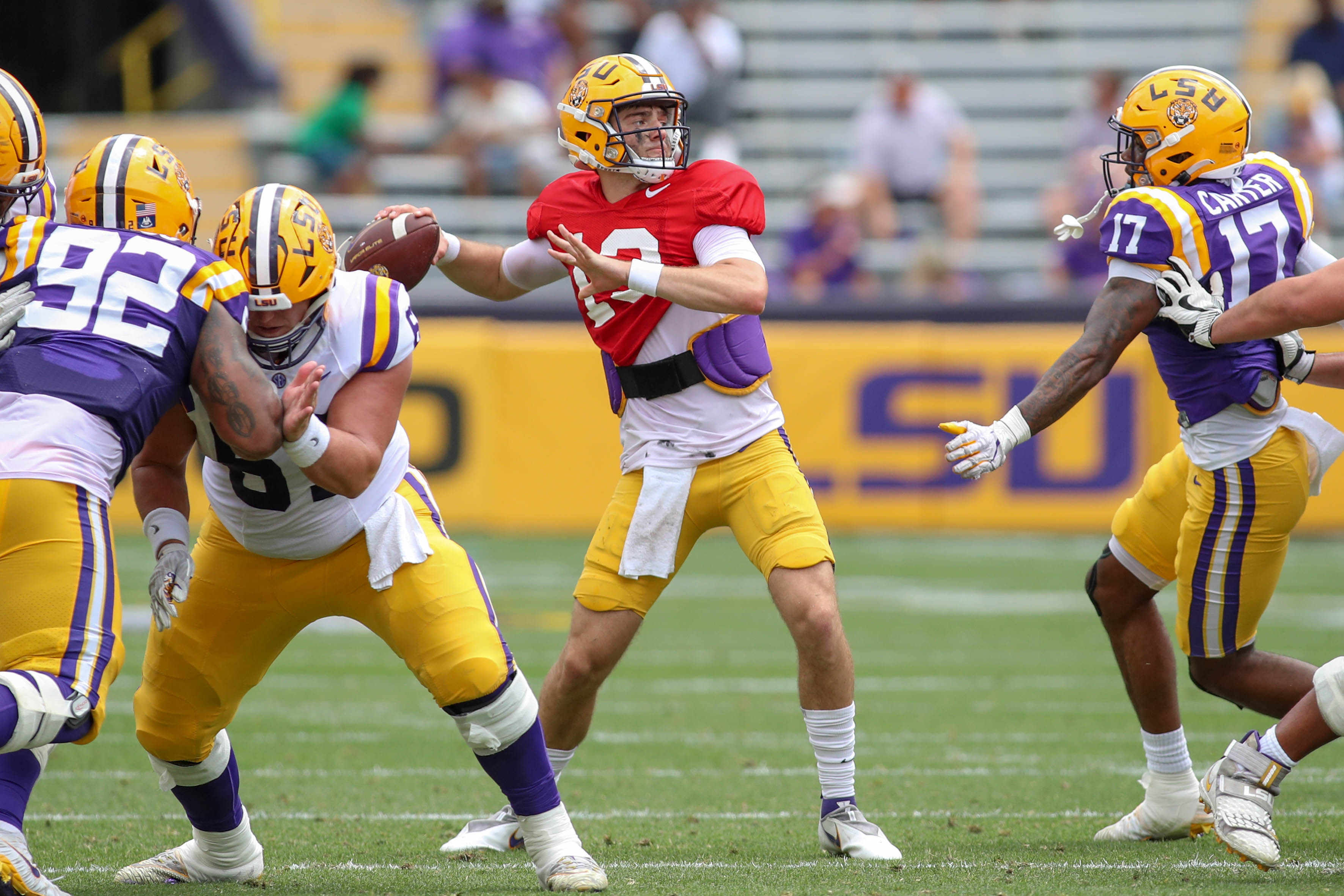 LSU redshirt sophomore quarterback Garrett Nussmeier plans to return for the 2023 season, On3Sports reported Monday.
Nussmeier, the backup to Jayden Daniels, could have transferred by the NCAA's deadline for the transfer portal on April 30, but confirmed to On3 that he'll be back for his fourth season with the Tigers.
Second-year LSU coach Brian Kelly knows that value of having a healthy quarterback competition with Nussmeier pushing Daniels throughout last fall camp and again during the recently concluded spring practice.
Nussmeier projects to be the Tigers starting quarterback in 2024.
Nussmeier completed 5 of 8 passes for 139 yards and a pair of touchdowns without any interceptions during the spring game which ended in a 32-32 tie. Daniels was 10 of 11 for 168 yards, two touchdowns with no interceptions to go with 12 yards rushing.
"He's really good," Kelly said of Nussmeier during an April 20 news conference. "I mean, he's had a great spring. He's gotten a lot of work with the first team and when he's been in with that first group, he's excelled. I think that all you can do is make sure that when they're given an opportunity, make sure it's fair. And we couldn't give him a fair chance if he was just running with an offensive line that really had three guys that we moved over from other positions. So, he had to get a lot of that work with the first team, and I think he excelled as well. I think all we've done is built the quarterback position up that we have to really good quarterbacks."
Since the deadline's passing on the second transfer portal there haven't been any reports of LSU players seeking a transfer following spring practice. The Tigers are reportedly at 78 scholarships and three players that are Louisiana natives – running backs Logan Diggs of Notre Dame, Ajay Allen of Nebraska and wide receiver Keon Coleman of Michigan State – all entered the transfer portal before Sunday's deadline.
"I still think there's a couple of needs on defense," Kelly said earlier this spring. "I think we're still interested on the offensive line, there's an interest to add to our offense. I would say that we're guarded at this period of time as to somebody who's going to make a difference in an LSU football lineup. These are probably going to be guys that can add depth to what you're doing."
The 6-foot-1, 202-pound Nussmeier has started in four of 20 games during his career and has completed 57.4% of his passes (81 of 141) for 1,129 yards with six interceptions and seven touchdowns.
He played in four games as a backup in 2020 to starting quarterback Max Johnson and was able to retain his redshirt. Johnson then transferred to Texas A&M, but Kelly signed Daniels who spent the first three years of his career at Arizona State, and the state's top-ranked quarterback Walker Howard of St. Thomas More.
The two highlights Nussmeier experienced during the 2022 season were during the second half of the SEC Championship game and Citrus Bowl. He completed 15 of 27 passes for 292 yards with an interception and two touchdowns in 50-30 loss to Georgia on Dec. 3. He was also given several series in the team's Citrus Bowl romp over Purdue, 63-7 on Jan. 2, throwing for 173 yards, an interception and two TDs on 11 of 15 passing.
Daniels, who passed for 2,913 yards and 17 TDs and added an additional 885 on the ground with 11 TDs, opted to return for his senior season, while Howard decided to transfer to Ole Miss.
Kelly signed a third quarterback in freshman Rickie Collins of Baton Rouge-Woodlawn who was a mid-year enrollee and participated in spring practice.
LSU has six running backs on scholarship but three of them, Josh Williams, Armoni Goodwin and John Emery Jr., didn't take part in spring. Williams and Goodwin were recovering from offseason surgery and Emery focused on academics.
Former Archbishop Rummel standout Diggs, a 6-foot 214-pounder, started in eight of 20 games at Notre Dame where he gained 1,052 yards and scored seven touchdowns and caught 16 passes for 267 yards and 3 TDs. He played in 12 games last season for the Irish and had a team-high 165 attempts for 821 yards – including more than 100 yards on three occasions – and four TDs.
Allen, a high school teammate at Neville of LSU's Will Campbell and Lance Heard, is a 5-11, 185-pounder that rushed 33 times for 190 yards and two touchdowns last season at Nebraska before suffering a season-ending injury in the fourth game of the season.
Wide receiver is a position with great depth for the Tigers who currently have a total of 10 players listed on scholarship.
Coleman, a 6-4, 215-pounder from Opelousas Catholic, has caught 65 passes for 848 yards and 8 TDs during his career at Michigan State. He led the Spartans last season with 58 receptions for 798 yards and 7 TDs and was a third team choice on the All-Big 10 Conference team.