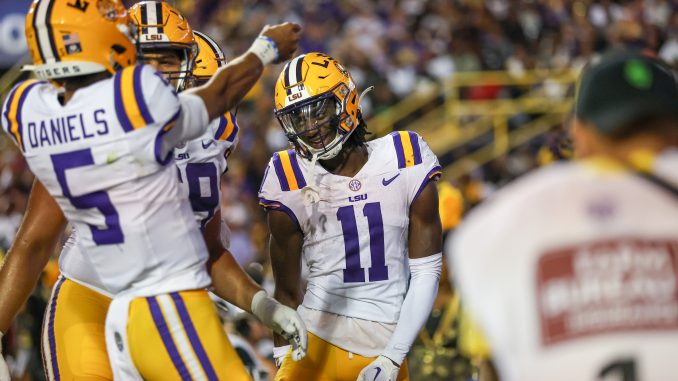 LSU preseason All-SEC defensive tackle Mehki Wingo wouldn't want it any other way.
With a shift in philosophy to a more physical ground game under first-year coach Zac Arnett, the challenge facing LSU's defense will be more a test of its will than skill when the No. 14 Tigers (1-1) visit Mississippi State (2-0) at 11 a.m. Saturday for the start of SEC Western Division play.
The game from Davis-Wade Stadium will be televised on ESPN and can be heard locally on 98.1-FM.
"I love when a team feels they can come in and just run the ball on you because that's a challenge for me," Wingo said. "It's really a disrespect to the d-line. We have to step up."
LSU's run defense was under siege when Florida State imposed its will in the second half with 135 yards and two touchdowns in a 45-24 victory over the Tigers.
Grambling State followed suit last week by averaging 9.0 yards per carry – 127 yards on 14 carries – in the first half before LSU adjusted and limited the visitors to 36 yards on 15 attempts (2.4 yards per carry) in a 72-10 demolition. The Tigers permitted four first downs and 61 yards in the final 30 minutes of play.
"That kind of dominating defense is certainly what we're looking for," LSU coach Brian Kelly said of his team's second-half effort.
LSU opens SEC play with Mississippi State for the fourth straight year and has defeated the Bulldogs three straight times, including last year's come-from-behind 31-16 victory in Tiger Stadium.
The common thread in those previous four meetings was State's propensity for throwing the ball under coach Mike Leach's 'Air Raid' concept.
Leach unexpectedly died of heart complications on Dec. 12, and Arnett, the team's defensive coordinator, was promoted to head coach. The Bulldogs have won their first two games this season in stark contrast to that under Leach, relying on a ground game that ranks second in the SEC in rushing with 221 yards per game – led by the league's No. 1 back Jo'Quavious Marks (43 carries, 250 yards, 3 TDs).
"We know what we're getting," Kelly said. "This is a lot different than what we've seen in the past. This is clearly something we'll be able to prepare for during the week, but Will Rogers is an outstanding quarterback as well. He's not going to hand off if there's nine guys on the line of scrimmage."
With 11,078 career passing yards and 87, Rogers ranks seventh in both categories in SEC history. He hasn't been nearly as prolific this year and ranks 11th in the conference with 389 yards on 33 of 46 passing for five touchdowns without an interception.
In last week's 31-24 overtime win over Arizona, Rogers completed 13 of 17 passes for 162 yards and three TDs with the game-winner of 29 yards to Jeffery Pittman in overtime on second-and-14.
The Bulldogs' defense was also opportunistic with four interceptions, including three of the game's first three possessions, for their highest total in 14 years.
"They're going to put him in really good positions to throw the football," Kelly said of Rogers. "He's an accurate thrower of the football. They want to run the football. That's the change relative to their offensive structure, but they were explosive when they threw it. The design now is they're going to play to their defense, set up the run through play-action pass and take shots down the field. It's going to really suit him. He's extremely accurate. He takes care of the football. He's really smart."
Aside from the adjustment to State's new schematic approach on offense, LSU is faced this week with adapting to an 11 a.m. kickoff and the incessant ringing of cowbells from the home crowd.
"Starting fast," LSU wide receiver Malik Nabers said of the team's approach. "Especially since we play at 11 a.m. Coach Kelly's been on us about our urgency, starting fast, finishing four quarters. Just getting better every day."
Arnett realizes the task awaiting his team. LSU won the SEC Western Division and returns eight starters from an offense led by fifth-year senior quarterback Jayden Daniels that's first in the conference in both points per game (48) and total offense (540.5) per game.
"They're as talented as any team in the country," he said. "We have quite the challenge in front of us."
LSU rolled up 72 points and 622 yards against an outmanned Grambling defense, scoring touchdowns on 10 consecutive possessions under three different quarterbacks.
The first six scores came with Daniels at quarterback, resulting in a commanding 42-10 halftime lead. He passed for a career-high five touchdowns with 269 yards in one half of play and he ranks third this week in the SEC with 615 yards passing for six touchdowns and one interception.
"They have tremendous personnel," Arnett said. "Their offensive line is big and pretty, physical and athletic. They have a tight end room that looks the part. They have tremendous speed and athleticism at all of their skill positions. Their running backs are hard to tackle because they're big and thick and physical and to top it off, you have a quarterback's that is equally adept at throwing it as he to running it."
Notre Dame running back transfer Logan Diggs produced 115 yards and a TD in his first start and true freshman Kaleb Jackson added 62 yards and a pair of touchdowns last week.
Kelly said fifth-year senior running back John Emery Jr., who was unavailable the first two games of the season, will be part of his running back rotation that includes seniors Josh Williams and Noah Cain, junior Armoni Goodwin and sophomore Tre Bradford.
Junior Brian Thomas Jr. is the team's top receiver with 13 catches for 220 yards and three TDs to rank third in the SEC.
Kelly said with injuries to starting tight end Mason Taylor and middle linebacker Omar Speights, his team may have to rely on their depth at both positions. That would mean the Tigers will rely on a trio of freshmen – Mac Markway, Ka'Morreun Pimpton or Jackson McGohan – at tight end, while brothers West and Whit Weeks, coupled with freshman Christian Braithwaite, will have greater roles at linebacker.
"We're expecting a hard-fought game," LSU right offensive tackle Emery Jones Jr. said. "A game that's going to take four quarters. We're going to have to follow our process to beat them. We're bought in enough and we're practicing hard enough, pushing each other hard enough to where we'll be able to get it done."