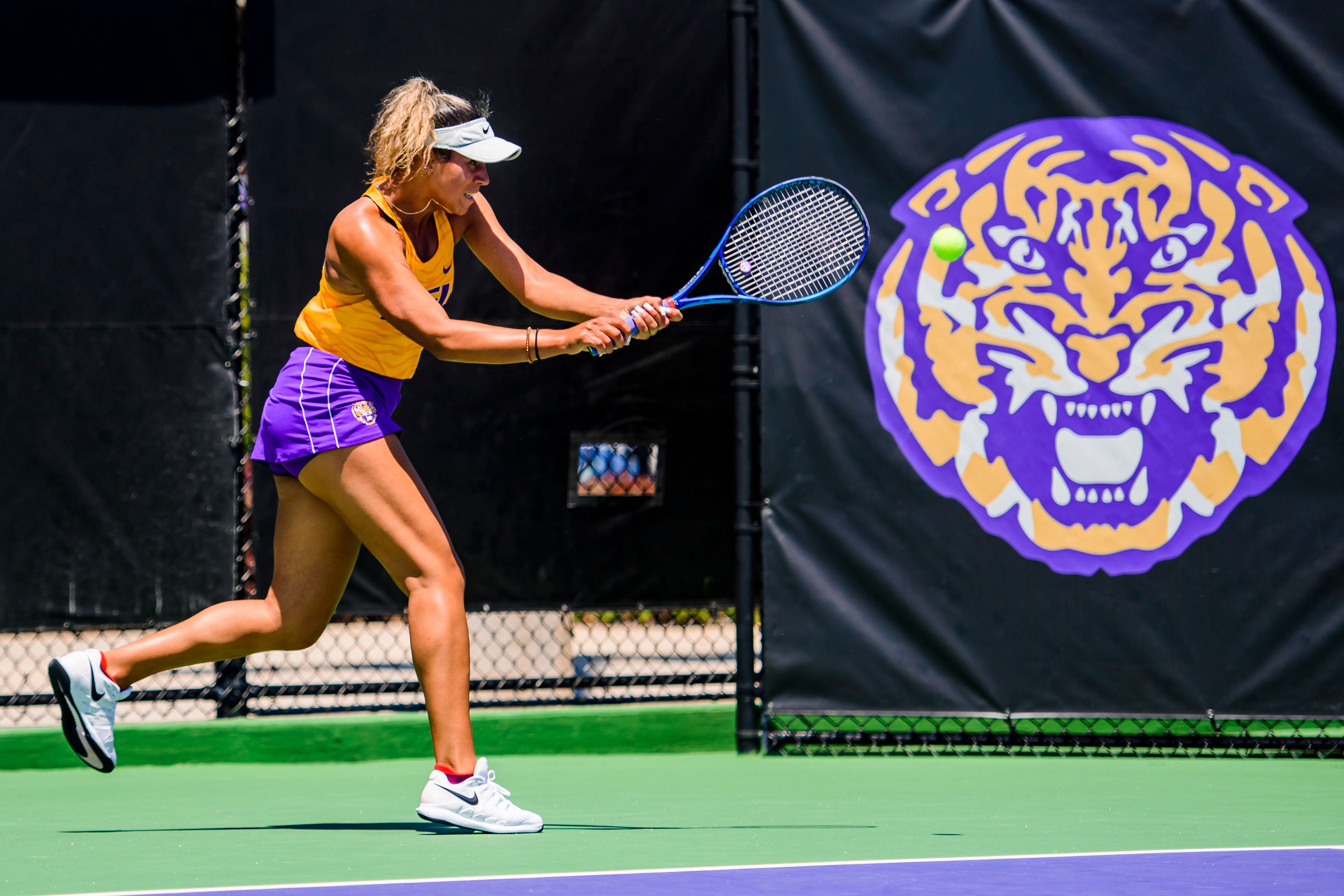 By the time Safiya Carrington was six, she was no longer attending regular school in order to dedicate more time to being on the tennis court where she trained at an academy.
It's understandable to think that as a third-generation tennis player – following in the footsteps of her grandfather Art and father Lex Carrington who both played in college and professionally before moving into coaching – Safiya's fate appeared predestined.
"It's a lifestyle thing for my family," said Safiya Carrington, a junior member of LSU's tennis team who's ranked 96th nationally in singles. "It was up to me what I wanted to do with it. I could either be the granddaughter of Art Carrington or Lex Carrington's daughter, or I could make a name for myself and do something with it. That's my personality. I don't like to do things half speed."
Since she arrived as part of LSU's No. 10 recruiting class three years ago Carrington has been a fixture near the top of the Tigers' lineup in both singles and doubles, playing a key role in her team's success that included a No. 17 ranking, advancing to the second round of the NCAA tournament a fourth-place finish in the Southeastern Conference.
After providing a solid No. 2 player behind returning graduate student Taylor Bridge in the singles lineup, Carrington, a native of South Hadley, Mass., has given every indication that she has the necessary talent and temperament to try and supplant Bridges atop the team's lineup after she was chosen to the second team All-SEC and All-Louisiana teams last spring.
"There are many different players that can play many different spots," LSU co-head coach Michael Sell said. "She has a top-of-the-lineup mentality. For her to not only stay here, but for her to increase, she wants to play higher and increase getting a higher ranking of go to the NCAA tournament she has that ability. It's doing it on any everyday basis."
Carrington compiled an overall singles record of 10-11, including 5-6 at No. 2 singles, and had two other matches in which she was leading in the third set when the match was clinched on another court.
She enjoyed some signature moments along the way.
With Bridges out of the lineup in an SEC matchup with No. 9 Vanderbilt, Carrington moved into the No. 1 singles spot and helped LSU clinch a 4-2 upset victory with a straight sets victory. She also responded in a big way with the Tigers on the verge of defeating No. 23 Tennessee, Carrington overcame a second-set loss in the No. 2 singles spot and posted a 6-3 score in the third set to clinch the team's triumph.
"For the past two years I've been really lucky to play high up in the lineup," Carrington said. "It's not really about the number for me. It's just wherever I can help the team the most. I want our team to be as successful as it can."
Carrington said she gained inspiration from her teammates who urged her on against Vanderbilt where she trailed 5-1 in the first set. She said she also learned of her No. 1 singles test five minutes before her match.
"It just very special to step up in a pressure situation like that," she said. "Having played competitive tennis my whole life I feel like it's prepared me for that. You never really know what's going to happen. It didn't matter who we were playing or what their ranking was. Everybody just went out and got their job done. That's why we had such a successful season."
Carrington teamed with Maggie Cubitt where they posted an overall record of 8-6, including a 4-3 mark at No. 2 doubles. The duo convincingly won their second-round NCAA match at No. 3 doubles 6-2 with Carrington going on to combine for 11 wins in doubles that included playing with five additional partners.
"The big part is using everything as a learning experience," Carrington said. "I would love to make my record better but overall; I think coach Mike has helped develop my game more. One of the things I'm looking forward to is not only stepping up my college record but getting to play more pro circuit events. I hope to build off all the experiences I've had these last two years and it can transfer over."
Carrington, who was a top 15 ranked signee, broke into LSU's starting lineup and assembled a 15-7 record, going 6-4 in dual meets and was 5-4 at No. 2 singles where she was ranked as high as No. 57.
Carrington was riding the crest of momentum with a 12-3 mark at one point in the spring of 2020 when the season was cancelled because of the COVID-19 health scare. She was 8-9 overall in doubles with six different partners but went 4-1 with Cubitt at No. 3 doubles and was as high as 37th nationally with Eden Richardson.
"We're looking for her to really step up and play to her capabilities more consistently throughout the year," Sell said. "Our expectations for her, is the sky is the limit. She's going to raise the bar for herself and for the team."