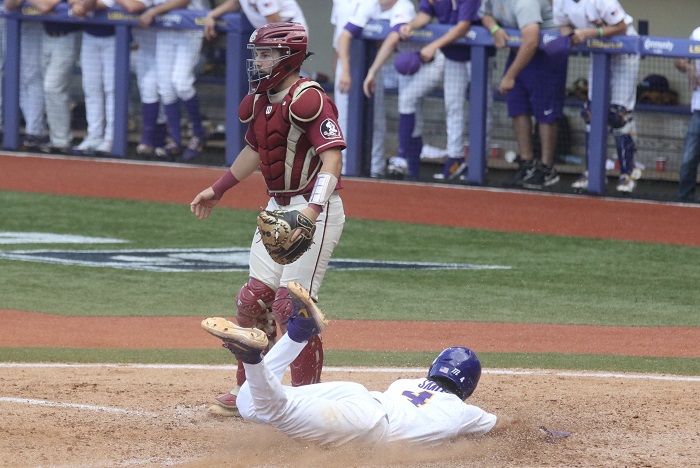 If LSU is going to punch its ticket to the College World Series, it's going to need to dig deep and do so the hard way.
The Tigers lost their ace, their 4-0 lead and eventually the opening game of the Baton Rouge Super Regional on Saturday afternoon.
Center fielder Reese Albert went yard twice as Florida State rallied for six runs in the final four innings against LSU's vaunted bullpen to steal game one, 6-4, in stunning fashion at Alex Box Stadium.
"We had a 4-0 lead in this game and squandered it," LSU coach Paul Mainieri said.
LSU was dealt a tough blow when Cole Henry had to be removed from the game after two innings, but this will go down as a game that got away late.
Pitchers issued a staggering 10 walks, three of which came around to score, and the Tigers short circuited two potentially-big innings on the base paths when they had a chance to blow the game open.
"We helped them a lot," Mainieri said. "We just walked too many batters … Ultimately that came back to bite us."
Instead things stayed close and Trent Vietmeier served up a game-tying three-run blast in the seventh inning. Florida State rallied for the go-ahead run against Devin Fontenot and Zack Hess an inning later to jump in front for the first time all afternoon.
That allowed Florida State to turn the game over to electric closer JC Flowers, the team's starting right fielder.
LSU put the tying runs on base in the ninth inning, but Antoine Duplantis popped up for the final out as Flowers nailed down a six-out save to push LSU's season to the brink.
Game two of the series is set for Sunday at 5 p.m. LSU will hand the ball to Landon Marceaux (5-2, 4.64 ERA) while Florida State counters with CJ Van Eyk (10-3, 3.71 ERA). LSU needs a win to force a winner-take-all rubber match on Monday night.
LSU has advanced to Omaha twice after losing game one of the super regional since the current format took effect in 1999: 2008 against UC-Irvine and 2003 against Baylor.
"Don't think about winning two games, it's a daunting task," Mainieri said. "Just think about winning one game."
One day earlier, Mainieri remarked that the 2019 bullpen might be the deepest he's ever had. Little did he know he'd have to calling for relief just two innings into the three-game series.
Henry looked sharp in the first inning, but Mainieri pulled him after the freshman labored through a 31-pitch second inning. His velocity had dipped noticeably and the next thing you knew, Henry was out.
In came Todd Peterson, who carried LSU all the way into the seventh inning with 4.1 innings of heroic relief. Florida State tied the game once he departed, but LSU probably wouldn't have had a lead in the first place were it not for Peterson.
LSU never hit Florida State lefty Drew Parrish particularly hard, but it manufactured opportunistic runs with a combination of good situational hitting and clutch two-out knocks.
Brandt Broussard dunked an RBI single over shortstop to get LSU on the board in the second inning. Josh Smith led off the third with a double and came home on successive ground balls. Chris Reid cashed in on a Seminole error with an RBI single through the right side in the fourth.
LSU knocked Parrish out of the game in the fifth inning despite giving away some outs on the bases. Smith and Zach Watson led off with singles, and one out later Daniel Cabrera drove Smith home with an RBI single into center field.
"I thought we did a pretty good job against him," Mainieri said. "We were up 4-0, but it felt like we were up further than that … We squandered some opportunities where we really could've extended the lead. That kept them in the game."
Unfortunately for LSU, the bats went silent from that point on.
The combination of Henry and Peterson hadn't allowed a hit to that point. Florida State got singles from Robby Martin and Matheu Nelson to break up the no-no and scratch out a run in the sixth, but Peterson worked his way out of further trouble from there.
Florida State came back in a flash one inning later. A one-out single chased Peterson from the game, and Vietmeier issued a walk to bring the tying run to the plate. On the 11th pitch of the ensuing at-bat, Albert blasted a game-tying homer off the roof of the building beyond the bleachers in right.
"We played a good game in a lot of ways," Mainieri said. "It just got away from us, and we've got to come out tomorrow and play with the same energy."