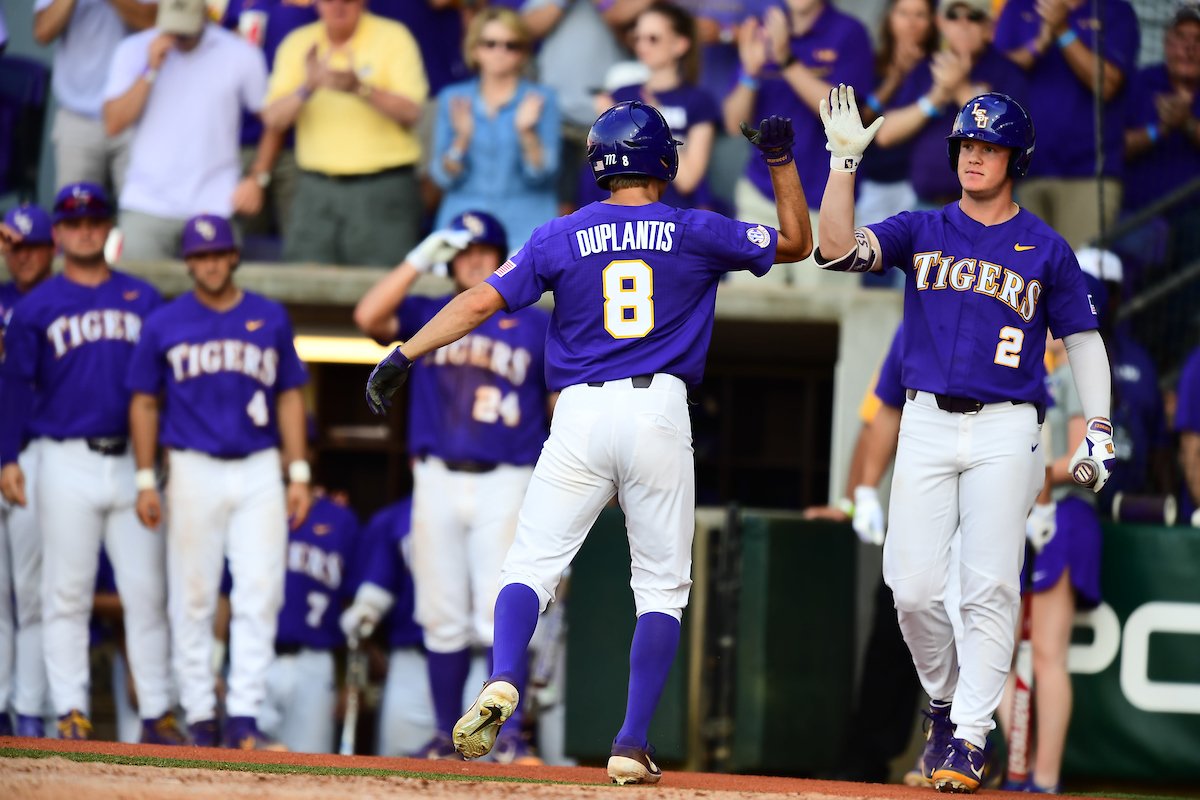 So few people get to write their own storybook ending, but Antoine Duplantis deserved better than his final act in an LSU uniform to be a desperate heave into the Baton Rouge night as Florida State started to celebrate.
Duplantis' legendary career and LSU's season ended late Sunday night on a walk-off single to right from Seminole third baseman Drew Mendoza that punched Florida State's ticket to the College World Series.
The finality of it all didn't begin to sink in until Duplantis got back to the dugout. LSU coach Paul Mainieri consoled his star as Duplantis began to let it all out on the bench before the team returned to the locker room.
"It doesn't hit you right away, for me at least," Duplantis said, fighting back tears on the postgame podium. "I feel like it still hasn't set in that it's over. I've been here for four years, and I feel like this is a part of my life now. For it to come to an end is tough."
This wasn't the ending Duplantis had in mind when he put off professional baseball to return for his senior season. It was supposed to end with another College World Series run, but baseball can be a cruel game that way.
But once the pain fades, Duplantis should leave Baton Rouge with his head held high. He left it all out on the field at Alex Box Stadium in his final game, going 4-for-6 with a home run among his clutch hits. He either scored or drove in all four of LSU's runs to push the game into extra innings.
The name Antoine Duplantis sits atop LSU's record books with a final tally of 359 hits. He broke Eddy Furniss' long-standing record one week ago and kept on hitting right down to the bitter end. The model of consistency finished each of his four seasons with between 89 and 91 hits.
Though his career accomplishments are staggering, it won't be the hits or the great plays in right field that stand out from Duplantis' career that stand out to the people who coached or played alongside him.
It'll be the impact of Duplantis as a person.
"I can't even put it into words what Antoine Duplantis means to me," Mainieri said. "Words would be so inadequate. I'm just going to miss him so terribly. My life is enriched having had the opportunity to coach him."
Josh Smith spent three seasons as Duplantis' teammate. They were key cogs on a 2017 team that came within two wins of a national championship and the leaders of the current club through the good times and the bad.
Smith almost certainly played his final game as a Tiger on Sunday night, just like Duplantis, but he also did the best job of putting into words what the Lafayette native's career was all about.
"It's hard to even describe it man," Smith said. "The amount of work that this kid has put it is unreal. This kid wasn't a big recruit in high school. He sends Coach an email, Coach gives him a chance and the rest is history. This kid is everything that LSU baseball has to offer."
Smith continued: "He's not only a good baseball player, but a better human on and off the field. He's done so much for this program. Everything he could give to this program, honestly. Everything. It's one guy who I'll look up to for the rest of my life … He's had a hell of a career."