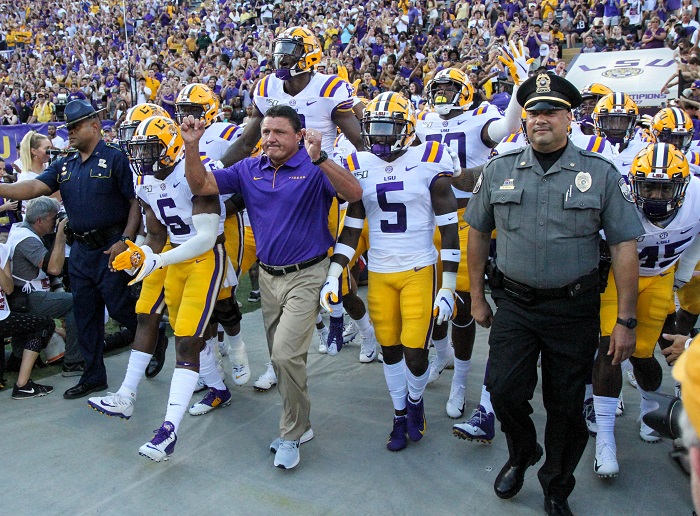 Twenty years ago, LSU was stumbling through its eighth losing season in eleven years. From 1989-99, the Tigers won 33 SEC games and lost 51.
In the 21st Century, LSU is 105-47 in the SEC. The Bengals are so potent these days that Saturday's game at Vanderbilt is regarded more as tune-up for Florida, Auburn and Alabama than as a dangerous conference test on the road. The game is a mismatch also because of the awful nature of the program in Tennessee's Capital.
The Commodores should provide only token opposition for an LSU unit that boasts an offense that has produced 165 points in three games. The 1962 Tigers were good enough to be named national champion by the Berryman Rating Service, yet Charles McClendon's first team scored 175 points in eleven games with only one defeat.
The game has changed and is geared toward offensive accomplishment, but an average of 55 points per game remains significant.
Joe Burrow has 1,122 yards and eleven touchdowns passing in three starts this season. Bert Jones was the best quarterback in America in 1972 and produced 1,536 yards and 14 touchdowns in 12 games for the Tigers.
As fabulous as Burrow is, he is regarded as no better than the third best quarterback in the land. Tua Tagovailoa of Alabama has 1,007 yards and a dozen touchdowns in three games with no interceptions while Burrow has had two passes picked off.
Former Alabama QB Jalen Hurts of Oklahoma has thrown for 880 yards and nine scores with no interceptions for the Sooners in three games and rushed for 373 yards and four touchdowns to make his case in the early Heisman balloting.
Derek Mason of the Commodores has received plaudits at Nashville for a 9-32 SEC record. Vanderbilt has never captured an SEC football title. For the all the talk about the toughness of winning an SEC football championship, only a select few schools really have a chance each season.
Vanderbilt owns the record for futility in its 88th conference campaign without a crown, but Arkansas, South Carolina, Texas A&M and Missouri have also never won a league title. Mississippi State has just one league championship while Ole Miss is winless since 1963.
Here is a list of current and former SEC Schools and the number of SEC football championships for each university. This list includes shared titles.
Alabama 27
Georgia 13
Tennessee 13
LSU 11
Florida 8
Auburn 8
Ole Miss 6
Georgia Tech 5
Tulane 3
Kentucky 2
Mississippi State 1
In nearly nine decades of competition, only eleven universities have received SEC honors in football, and two schools (Georgia Tech and Tulane) have not enjoyed membership in the conference for more than 50 years.
With three league titles, Tulane has as many SEC football trophies as half of the current members combined. It makes more sense for Tulane to return to the Southeastern Conference than for Vanderbilt to be a perennial cellar dweller.
Tulane would immediately become a factor in the conference with the rich recruiting base in New Orleans, and LSU would rarely lose a prize recruit to the Greenies. This development could be a win-win for Louisiana.
Alabama and Louisiana are approximately the same size with Alabama reporting 4,887,871 citizens and Louisiana listing 4,659,978 residents as of 2018. If Alabama can sustain two powerful programs in the best conference in the country, so can Louisiana.
Coach Ed Orgeron has turned LSU into a national recruiting destination with next year's class featuring more players outside Louisiana than inside the borders of the Bayou State. A renewed rivalry with Tulane would be good for the state, and if the Wave replaced Vanderbilt as an SEC member, the composition of the divisions would likely change.
Here is the proposed new look SEC should Tulane replace Vanderbilt.
East West
Alabama LSU
Auburn Texas A&M
Georgia Ole Miss
Florida Mississippi State
Tennessee Arkansas
Kentucky Missouri
South Carolina Tulane
LSU fans would welcome the opportunity to win the West without having to deal with Alabama and Auburn every year, and the new look makes geographical sense.
New Orleans has the Superdome and is a cosmopolitan city that the SEC covets. If a school cannot win the SEC football title in 87 attempts, it is time for the university in Music City to give up the ghost and go someplace else.
Vanderbilt did take the 2019 College World Series, but baseball is not football, and the Commodores will always be futile in the league's signature sport. Vandy also weathered a winless SEC basketball season in 2018-19.
The institution in Music City is an academic juggernaut, but so is Tulane. Vanderbilt ranks 15th in the latest U.S. News and World Report list of best universities in America with annual tuition of $52,070. Tulane ranks 40th with tuition of $56,800.
LSU is 153rd nationally in the publication's ranking with annual tuition for in-state students of $11,962 and $28,639 for out-of-state students.
It is time for the SEC to get a better grip on geography and recognize the woeful state of the Vanderbilt football program. And roll out the welcome mat for the Green Wave.
Les Miles winningest LSU coach in SEC
When Les Miles was fired three years ago, he left LSU with 114 victories, 23 games behind Charles McClendon, who is the king of coaches when overall wins are measured.
Charlie Mac led his teams to 137 wins form 1962 to 1979 with only ten regular season games in his first eight years and eleven games in his last ten years in Baton Rouge.
But Miles did post more SEC wins than any other LSU coach. Here is the list of LSU leaders and their winning percentage in the conference.
Coach SEC Record (at LSU) Percentage
Les Miles 62-28 68.9
Charles McClendon 60-41-3 59.4
Bernie Moore 43-28-4 60.6
Nick Saban 28-12 70.0
Paul Dietzel 26-16-2 61.9
Gerry DiNardo 18-20-1 47.4
Gaynell Tinsley 17-25-6 40.5
Ed Orgeron 15-7 68.2
Mike Archer 15-12 55.6
Bill Arnsparger 13-3-2 81.3
Biff Jones 11-2-2 84.6
Curley Hallman 10-21 32.3
Jerry Stovall 9-13-2 40.9
Hal Hunter 1-0 100
By season's end, Orgeron will move into sixth place among LSU coaches with SEC wins for the Tigers. Orgeron is 18-28 overall in the SEC counting his 3-21 record at Ole Miss. Gerry Dinardo was 27-42-1 in the league at LSU and Vanderbilt. Nick Saban is 109-25 in the SEC at LSU and Alabama.