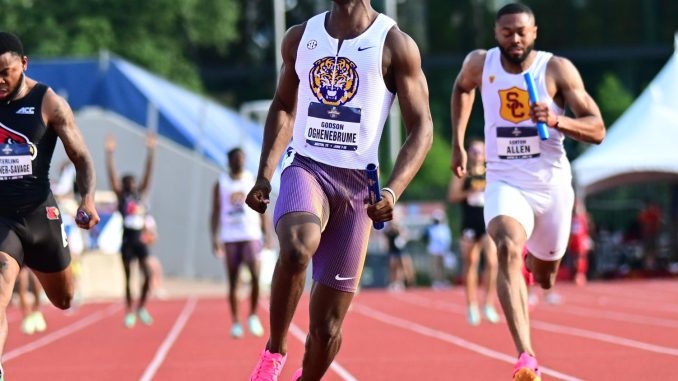 The United States Track & Field and Cross Country Coaches Association recently selected LSU's Godson Oghenebrume the South-Central Region Men's Track Athlete of the Year.
Oghenebrume continues a stretch for LSU that includes three straight winners of the award: He joins Eric Edwards Jr. (2022) and Terrance Laird (2021).
This is the Tigers seventh regional outdoor men's track athlete of the year honor, the most of any school in the region.
Oghenebrume, a sophomore, was part of LSU first place 4×100 relay performance at the NCAA Outdoor Championship in Austin, Texas with a time of 38.05 seconds. The team clocked seven top-10 times on this season's collegiate performance list and five on the all-time collegiate performance list.
The Ughelli, Nigeria, native also took second in the men's 100 meter (9.89), ranking second in LSU history behind Olympian Richard Thompson (9.89).
Entering this season, Oghenebrume had a legal personal best of 10.12 seconds in the 100, shaving .22 seconds off for his new PR. His time of 9.90 ranks third in Nigerian history, seventh in African history, and seventh in NCAA history.
Oghenebrume was two-time All-American this season and a two-time All-SEC selection with the 4×100 relay and 100 meters, which he won this season.