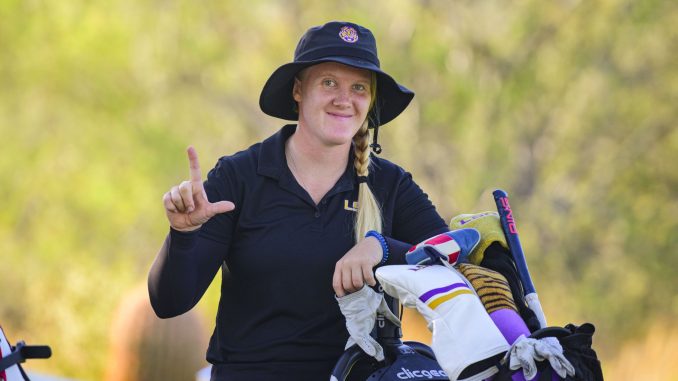 LSU senior Ingrid Lindblad advanced through two rounds of qualifying and then through four matches before her run at The Women's Amateur, presented by The Royal and Ancient, came to an end in the semifinal round at Prince's England.
Lindblad finished tied for second in the 36-hole qualifying and then won her first match on Thursday, two matches on Friday and a quarterfinal win on Saturday morning before falling to Germany's Chiara Holder, 4&3, in the semifinal outing.
Lindblad found herself one down early against Horder after her birdie at the par-5 2nd. The Swede birdied the 8th to square the match only to bogey the 10th. Horder then dropped a stunning eagle at the 12th and her eagle again on the par 5 15th gave Lindblad no chance to make any kind of comeback.
Earlier in the day, Lindblad defeated fellow Swede Kajsa Arwefjall 4&3 as the LSU star had six birdies on her card.
Of her quarterfinal win, Lindblad told the R&A: "I just tried to keep the ball in the fairway and keep the ball in the greens and play well today and roll the few putts in and that was enough to win. It's a nice course even though its very dry. So, sometimes we can hit the fairway and the ball just you don't know where it's gonna bounce, but that's part of the game too. The greens are really nice. You can hit your putts and like be sure that it goes nice."