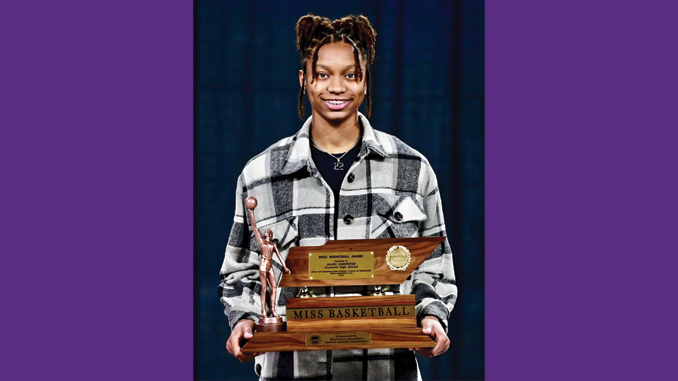 Reigning national champion LSU women's basketball made the cut of the seven top schools for the nation's top-rated point guard, Jaloni Cambridge, in the Class of 2024.
The 5-foot-6 Cambridge, the nation's No. 3 overall player by ESPN and five-star recruit, released her list of LSU, Baylor, Florida, Georgia, Louisville, Ohio State and South Carolina.
The Tigers also have a player committed in the Class of 2024, four-star point guard Jada Richard of Lafayette Christian Academy. She's the No. 87 rated player according to ESPN.
Cambridge, who played in front of LSU coach Kim Mulkey during this year's state playoffs, hails from an athletic family with her sister Kennedy having transferred in March from Kentucky to Ohio State. Her older sister Jordyn made the All-SEC Defensive team at Vanderbilt and her two brothers, Devan and Desmond, played at Arizona State last season.
Cambridge was a first team selection on the MaxPreps Junior All-American team last season, a year after the same outlet chose her the nation's top sophomore. Last season, she averaged 26.9 points, 7.6 rebounds, 4.3 steals and 3.8 assists for The Ellsworth School in Nashville, Tennessee which finished 27-3. Her team lost in the Division II-AA state championship game to Knoxville Catholic, a game Cambridge scored 41 points.
Cambridge, who began her career as an eighth grader and helped Ellsworth to a state title, earned the state's Player of the Year, Gatorade Player of the Year in Tennessee and won the state's Miss Basketball honor for the third consecutive year. She's a semifinalist for the national Player of the Year award.
She recently was the state runner-up in the 100 and 400 in the state track and field championships and also ran a leg on the victorious 4×400 relay.
Cambridge has also won a pair of gold medals for U.S. Basketball, first in 2022 in the FIBA U17 World Cup when she averaged 9.4 points and 5.1 assists. She claimed gold the year before in the FIBA Americas U16 Championship.