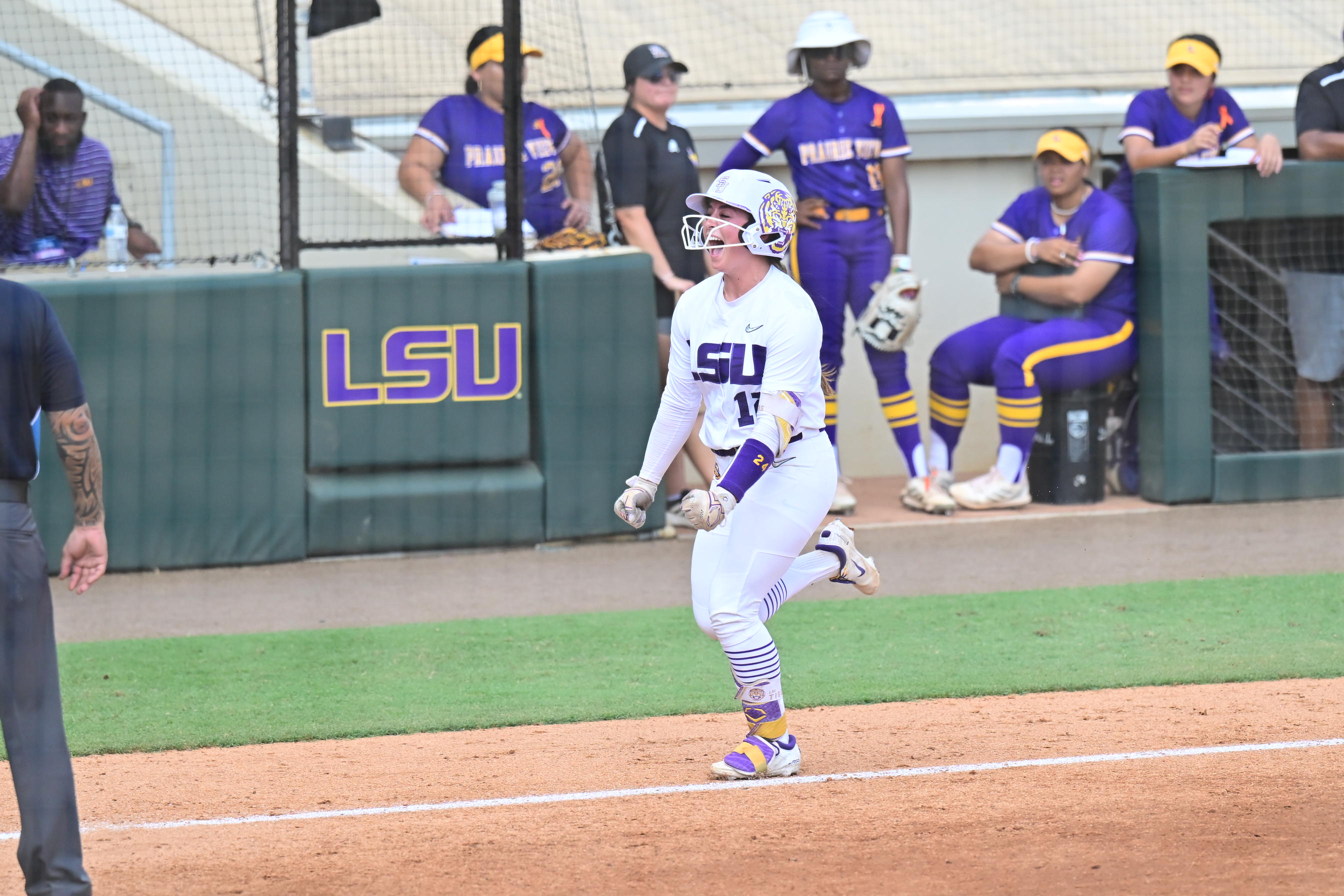 The decorated high school career of LSU freshman catcher Maci Bergeron gave way to a challenging first season filled with plenty of ebbs and flow.
Bergeron enjoyed a prolific four-year career at Notre Dame High in Crowley with 78 home runs where she twice was named the state's Gatorade Player of the Year. Those accolades only served as a reminder of the promise the native of Rayne had when she batted around .200 without a homer during the regular season.
Bergeron, given the opportunity to start in her first postseason game, enjoyed a memorable moment in top-seeded LSU's 12-2 run-rule-victory in five innings in NCAA Regional play Friday over fourth-seeded Prairie View A&M before a crowd of 2,084 at Tiger Park.
Her first career homer came in her first plate appearance on a drive to straight-away center field that gave LSU a 4-1 lead and brought smiles from coach Beth Torina and her teammates.
"We're all very close," Bergeron said of her teammates' reaction. "We have a special group this year. We have great team chemistry. We all really love each other. For anyone who would hit their first home run they would be excited for them."
Said Torina of Bergeron: "She's never stopped working. Our team knows how talented she is and what she's capable of. To see her do what she's capable of is fun for everyone. This team is so tight knit. They truly love being together. They love celebrating something like that."
LSU (41-15) advances to face second-seeded UL-Lafayette, a 5-0 winner over Omaha, at noon in Saturday's winners' bracket at Tiger Park. The two I-10 rivals split meetings during the regular season. The game will be streamed by ESPN+ and broadcast locally by 107.3-FM
"The biggest thing is staying true to who we are," LSU shortstop Taylor Pleasants said. "Not letting the atmosphere determine how we play or how we feel. We know they bring a large crowd. It makes it a lot more fun here at Tiger Park. We're just looking forward to it."
Bergeron was one of two players to homer in the shortened contest, backing LSU's 15-hit onslaught, which included six extra-base hits, and 14th run-rule victory of the season. Left fielder Ali Newland (2-for-2) also connected for a two-run shot off the scoreboard in right field in the third inning.
The Tigers matched a season-high for runs which was the third most they've scored in postseason play.
Five of LSU's starters collected at least two hits led by Pleasants' 3-for-3 performance, including a double, with a team-high three RBIs. Third baseman Danieca Coffey, center fielder Ciara Briggs, right fielder McKenzie Redoutey and first baseman Raleen Gutierrez all collected two hits with Coffey and Briggs each scoring three runs.
"I thought our team played aggressive, they came out swinging. I love seeing what I saw from our offense," LSU coach Beth Torina, whose team improved to 22-2 in regional openers. "They did a great job of setting the tone in this first postseason game. Getting a win under your belt in that first one helps with the nerves and the things that go with hosting."
Raelin Chaffin (6-1) got her first taste of postseason competition and was the beneficiary of her team's offensive explosion. The sophomore right-hander allowed a first-inning homer to Biviana Figueroa of Prairie View (30-19) and RBI-double in the fourth, but threw her fourth complete game of the season in her 11th start – yielding two hits with six walks and eight strikeouts.
Figuero's two-out homer represented the first time LSU's allowed a run and trailed in four NCAA Regional games against SWAC opponents, a span of 16 innings.
"The most important thing is that we got a win today," Torina said of Chaffin. "I think she probably didn't have her best stuff. She definitely didn't have her curveball which is her best pitch. The fact that she was able to get a postseason win without her best stuff is pretty impressive. She kept us in it, gave us a chance to win. Any postseason win is good."
LSU's three-run first enabled the Tigers to recapture the lead for good. Coffey scored on Georgia Clark's sacrifice fly and a throwing error on the play enabled Briggs to score. Redoutey followed with a sacrifice fly to make it 3-1.
The Tigers gained separation with a four-run second, ignited by Bergeron's lead-off homer and Pleasants' two run single to right-center stretched the lead to 7-1.
Bergeron's homer came on a 1-0 pitch from losing pitcher Jerrica Rojas (11-3).
"It's a testament of continuing to work hard no matter what," Bergeron said. "You're going to face adversity at some point. This has made me a better player."
LSU added four runs on five hits in the third with Gutierrez scoring from third on a passed ball. Pleasants contributed an RBI-single followed by Newland's 2-run homer – her sixth of the season – to make it 12-1 and capped the team's stretch of 12 unanswered runs.
"We talked all week that we had to come in believing we were the best team in the park because if you don't, then you're already beat," Newland said. "We believe this team is talented and capable of doing great things."