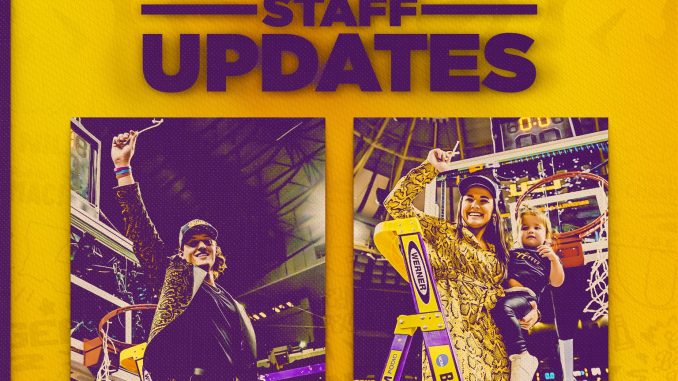 Two members of the LSU women's basketball national championship support staff are now full-time assistant coaches.
Taking advantage of a new NCAA rule that allows for basketball coaches to add two new coaches to their staffs, third-year head coach Kim Mulkey elevated Kaylin Rice and Joe Schwartz to her staff for the 2023-24 season.
Rice previously served in an on-court capacity as an assistant during LSU's 2021-22 season, the first under Mulkey, which resulted in a 26-6 season and trip to the second round of the NCAA Tournament. She then shifted to the director of recruiting when Mulkey reorganized her staff with the hiring of assistants Bob Starkey and Gary Redus II
Rice, a native of Stephenville, Texas, will continue to maintain her recruiting responsibilities. Mulkey had the nation's No. 1 incoming freshman class highlighted by the nation's top-rated player Mikaylah Williams of Bossier City.
Schwartz, a former Texas walk-on player and native of Waco, Texas, will serve in an on-court capacity for the first time. He joined Mulkey's staff and handled several roles that included video production and recruiting.