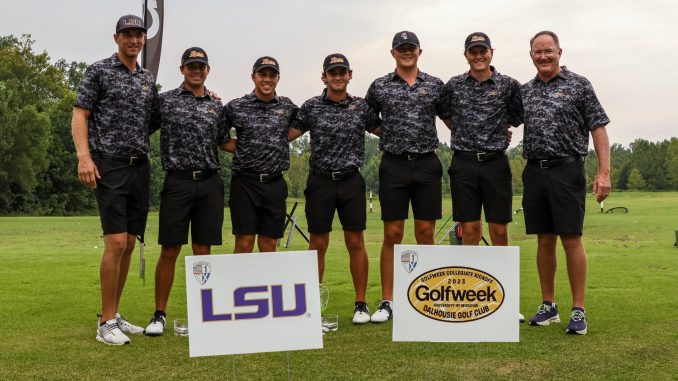 Led by medalist Alex Price, the LSU men's golf team won its season opener at the Golfweek Collegiate Kickoff in Cape Girardeau, Missouri.
The tournament was held at the Dalhousie Golf Club on Tuesday.    
Alex Price, a graduate transfer from Christopher Newport University in Newport News, Virginia, had 13 birdies and two eagles in the fourth win at the college level, his first in Division I.  
"If he continues to do his thing," LSU golf coach Chuck Winstead told Golfweek after Monday's play. "We'll do everything we can to make sure he obviously plays great tournaments and if there's ways, we can come beside him and help him into that next level, we want to do that." 
The victory also marked the 40th tournament of Winstead's 19-year career.
LSU wrapped up round two on Tuesday morning before starting the final round of the tournament. Colin Trolio birdied his two holes and every other player shot even par in their final hole to finish round two at 17-under.  
LSU completed the third round at 2-over 290 and wound up 20-under for the tournament.
Freshman, Jay Mendell, had the lowest round for the Tigers with a 3-under 69. He earned five birdies in his final round and secured a top ten finish (tied for 10th) in his college debut.  
Connor Gaunt had a 2-over 74 in round three to finish tied for fifth among all players at 4-under 212. Gaunt's final score was helped by an impressive 6-under 66 in round two. The graduate student finished the tournament with 13 birdies and an eagle.
Trolio finished in the top ten with a tie for fifth place after totaling 4-under 212 through 54 holes. His tournament was highlighted by the low round of 7-under 65 on Monday that included six birdies and an eagle.  
TEAM TOP 5 (PAR 288)
1. LSU (283-271-290; -20)
2. Missouri (284-287-280; -13)
3. Stetson (286-278-295; -5)
4. Ball State (284-285-296; +1)
5. ULM (284-292-291; +3)
INDIVIDUAL TOP 5 (PAR 72)
1. Alex Price (65-66-74; -11)
2. Jack Lundin (67-68-71; -10)
3. Carter Smith (69-69-71; -7)
4. Bret Gray (68-71-72; -5)
T5. Cohen Trolio (75-65-72; -4)
T5. Louis Anceaux (68-72-72; -4)
T5. Connor Gaunt (71-66-75; -4)
LSU SCORES (PAR 72)
1. Alex Price (65-66-74; -11)
T5. Connor Gaunt (71-66-75; -4)
T5. Cohen Trolio (75-65-72; -4)
T10. Jay Mendell (72-74-69; -1)
60. Luke Haskew (77-75-79; +15)