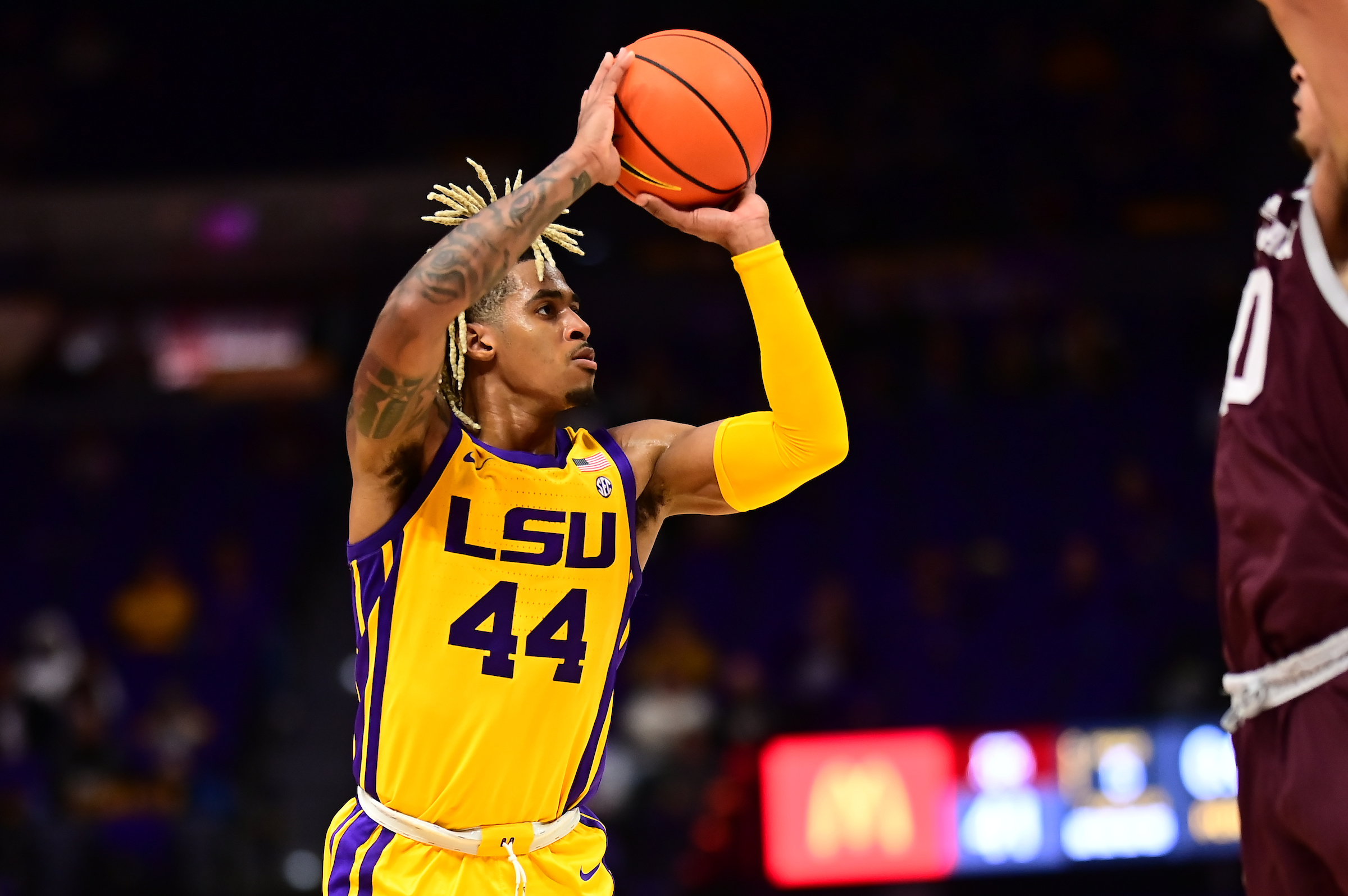 It was a tale of two halves on Saturday night in the Pete Maravich Assembly Center.
Texas A&M blew out to a 24-point lead at halftime, then had to hang on when LSU turned the tables almost completely in the second half, before falling short, 74-62.
LSU (12-13, 1-11 SEC) lost its 12th game in a row, 11th in the SEC.
Texas A&M (18-7, 10-2) opened the game on a 26-4 run.
Despite averaging making less than six 3-point shots per game all season, the Aggies hit 6 of 9 from deep in the first half and shot 56% in building a 41-17 halftime lead. The Tigers had two separate scoring droughts in the first half totaling nine minutes and shot 26% from the field, including 3 of 14 on 3-point attempts.
But in the second half, LSU outscored Texas A&M, 45-33, and shot nearly 54% from the field to 29% for the Aggies.
Texas A&M's Wade Taylor IV led all scorers with 23 points. Taylor was 6 of 11 from the floor and Dexter Dennis from nearby Baker High added 13 points. Taylor also made five shots from beyond the arc and Dennis had three, and the pair combined for all eight of the Aggies' 3-pointers. Tyrece Radford from McKinley High in Baton Rouge added 12 points.
Adam Miller's 18 points led LSU along with his four 3-pointers. Tyrell Ward added career high 15 points.
LSU's leading scorer KJ Williams was held in check all game, taking only five shots and scoring five points in 32 minutes of playing time.
"A lot of energy (exerted), but it is not like we were here in the first half, so that is how you are supposed to feel after a game," Miller said. "You should feel wiped out. We didn't play 40 minutes, we played 20 minutes. If we would have played 40 minutes, we probably would have been more tired than this. We exerted a lot more energy than we did in the first half, not just on the court, but with our communication, picking each other up. The intangibles in the game were picked up in the second half . . . The players just chose to play 20 minutes today, myself also."
Texas A&M, which beat LSU 69-56 on Jan. 7, swept the season series for the first time since 2016-17.
"Great win for Texas A&M. I have a lot of respect for how they have handled their season," LSU coach Matt McMahon said. "I know they struggled a little bit in early November but man, they just embody everything you want your team to be. They play their tail off, they are physical and tough, they are connected. They play for each other. Every player on their team is a star in their role and you just have a lot of respect for that.
For the game, Texas A&M finished 20 of 42 (48%) from the field, 8 of 16 from long range and made 81% (26 of 32) of their free throws.
Dennis scored 11 points and Taylor had nine in the first half when Texas A&M shot 52% (12 of 23) from the floor and 6 of 9 from long range. Dennis had eight points and Taylor six in the Aggies' opening run.
The Aggies led by as many as 29 points in the first half, including 24 at halftime, and held a double-digit lead until LSU cut the deficit to 66-58 with 2:06 to play.
"In the first half, obviously it's incredibly disappointing," McMahon said. "I just don't understand not coming out ready to play. I thought we missed some easy ones there early around the basket. We missed a layup, we missed a couple of threes and we let that dictate our defensive energy, intensity and attention to detail. They just carved us up there.
"Obviously, I'm not going to sit here and talk about the second half, that's how you should play," McMahon said. "I thought our guys came out and played with a lot of passion, energy and toughness. It was probably our most efficient offensive half of SEC play. It's going to be hard to win when you don't give yourself a chance there in the first half," he said.
LSU is on the road at Georgia on Tuesday at 7:30 pm.