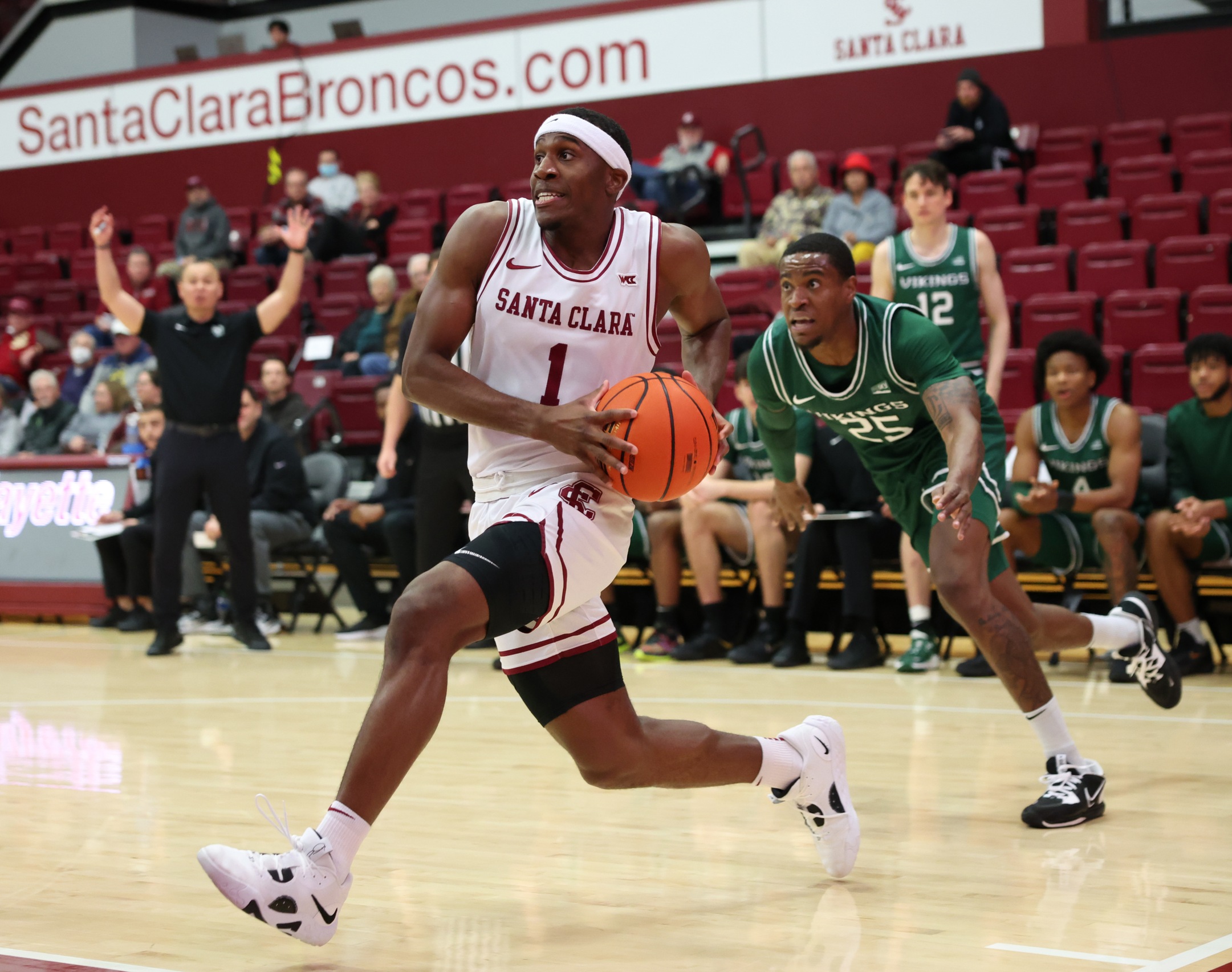 The third member of LSU's transfer portal homecoming court made it official Tuesday when former Dunham School standout Carlos Stewart announced his commitment to LSU on social media.
The 6-foot-1, 185-pound Stewart spent the first two years of his career at Santa Clara University, earning first team All-West Coast Conference honors this past season. He was the team's second-leading scorer and 11th best in the league at 15.2 points to go along with 2.4 rebounds and 2.3 assists.
LSU later released Stewart's signing with the Tigers.
Stewart, who has two years of eligibility, joins former Dunham teammate Jordan Wright of Vanderbilt and Jalen Cook of Tulane in returning home to play at LSU. Cook previously starred at Walker High and signed with LSU where he played his freshman season.
LSU coach Matt McMahon also signed 7-foot center Will Baker of Nevada as part of his newcomers joining the program.
"LSU is home," Stewart told On3Sports. "Baton Rouge, Louisiana is my home. Growing up in Baton Rouge and being an LSU fan, I understand there is an expectation for greatness. There are many great athletes from all around the world who compete for LSU and when they come to Louisiana, they have to embrace our unique culture, our way of speaking, our food our pride for our state university, but when you are born and raised here in Baton Rouge, you don't have to learn to embrace the culture. You are the culture. Boot up."
Stewart was the state's No. 2 prospect after leading Dunham to consecutive Division III state titles. He was selected the state's Mr. Basketball and Gatorade Player of the Year, Class 2A and All-Metro Most Valuable Player after averaging 31.7 points, 5.1 rebounds, 3.7 assists and 3.2 steals.
Stewart, who scored 2,145 points in three years at Dunham, started in 35 of 66 games at Santa Clara where he averaged 10.3 points and shot 44.8% from the field.
"This is a great day to welcome Carlos Stewart home to Baton Rouge, Louisiana," McMahon said in a university release. "We love his explosive scoring ability at the guard position, his competitive spirit, and his passion for LSU. With his 6-7 wingspan and his motor, he will also impact our team on the defensive end of the court. I am looking forward to coaching Carlos at LSU."
He enjoyed his best season this past year, recording 10 games of 20-plus points that included a career-best 29 against Cal Irvine on Dec. 15.
Stewart shot 44.1% from the field, 40.3% from 3-point range and 83.2% from the free throw line.
He chose LSU over a group of schools that included Alabama, Georgia, Clemson, Mississippi State and Texas A&M.