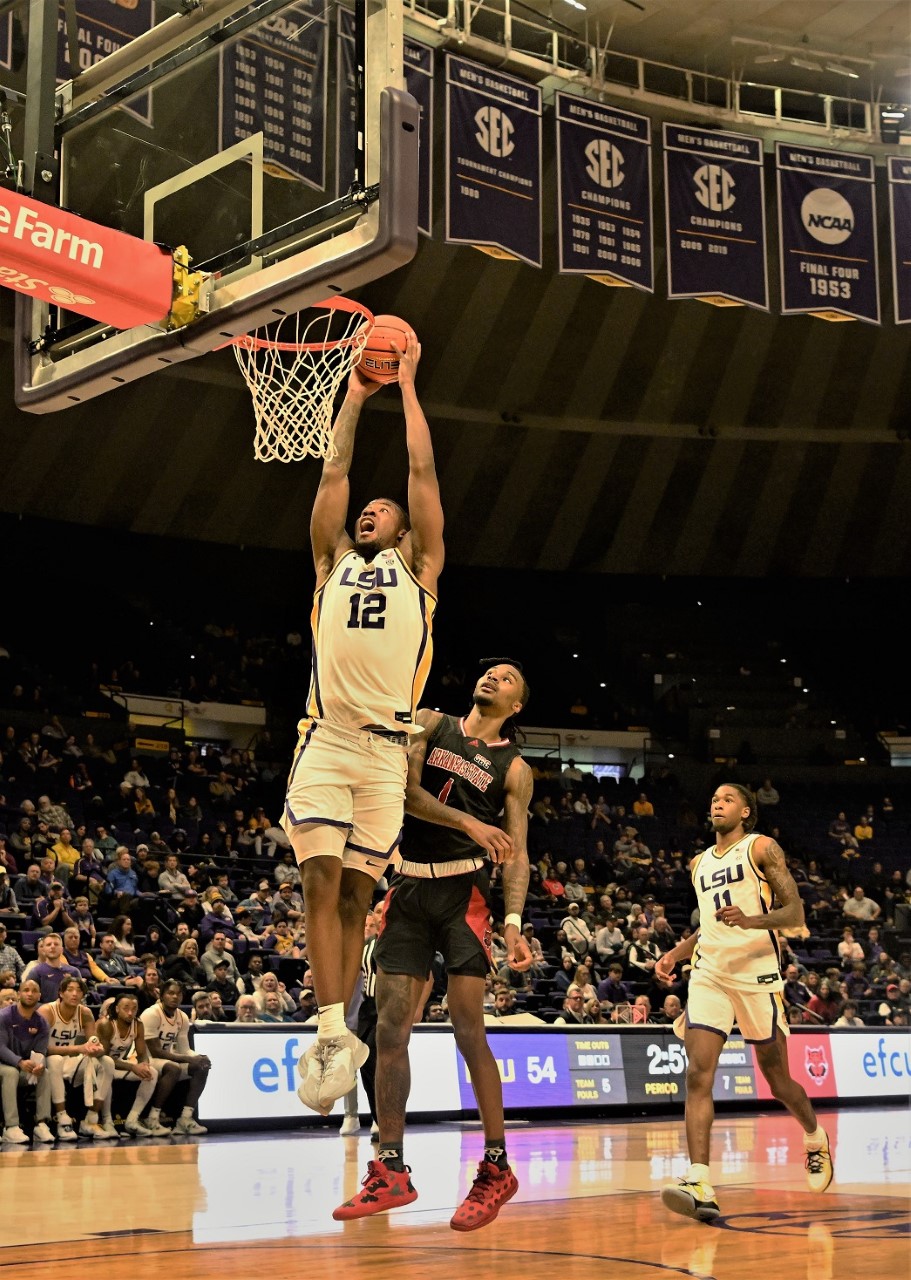 LSU took a step up in its pre-conference schedule Saturday, and KJ Williams took a step out – beyond the arc. The Tigers rallied from a 20-point first-half deficit to beat Wake Forest, 72-70, in the second game of the four-game Holiday Hoopsgiving event at State Farm Arena in Atlanta.
Justice Hill scored the game-winning layup with 2.1 seconds left on an express delivery, but it was Williams delivering the goods for the Tigers all game long with a season-high 35 points while grabbing 10 rebounds.
After LSU called timeout with 15.9 seconds left with the score tied, 70-70, Hill took the ball several feet beyond the 3-point arc, made a spin move past Wake Forest's Cameron Hildreth and found a gaping seam all the way to rim.
Hill's game-winning layup, only his second field goal of the game, capped LSU's rally win that saw Williams score 23 second-half points, including 5-of-6 shooting on 3-pointers in the half. Williams made 7-of-9 3-pointers for the game and added 10 rebounds for this third double-double of the season.
Williams came into the game with 10 3-pointers.
"He was fantastic," LSU coach Matt McMahon said. "We wanted to try and stretch and space the floor to attack their ball screen coverage and use KJ out on the perimeter as a weapon. He stepped up and delivered. You're talking about a guy has almost scored 2000 points in college now, so we expect big things from him. And he was first-class today."
LSU (8-1) hosts North Carolina Central at 6 p.m. on Tuesday in the Pete Maravich Assembly Center.
Wake Forest scored seven of the first 10 points to open the second half, building a 47-36 lead.
Williams scored LSU's next eight points, then Cam Hayes hit a 3-pointer to tie it at 47 with 16:40 remaining. Neither team led by more than five points the remainder of the game and the score was tied at 70 after Wake Forest's Tyree Appleby made one of two free throws with 1:02 remaining.
Both teams worked the clock on their next possessions — Williams missing in the lane for LSU and Damari Monsanto missing a 3-pointer for the Demon Deacons. LSU got possession after Monsanto's miss, then called timeout to set up Hill's winning drive to the hoop.
Appleby, a Floride transfer, had 26 points and six assists for Wake Forest (7-3). He made 9 of 11 from the field. Matthew Marsh had 13 points and 11 rebounds off the bench and Hildreth added 12 points, eight rebounds and four assists.
Hayes scored 13 points, had six assists and five rebounds off the bench for LSU. Derek Fountain added 11 points five rebounds and four steals.