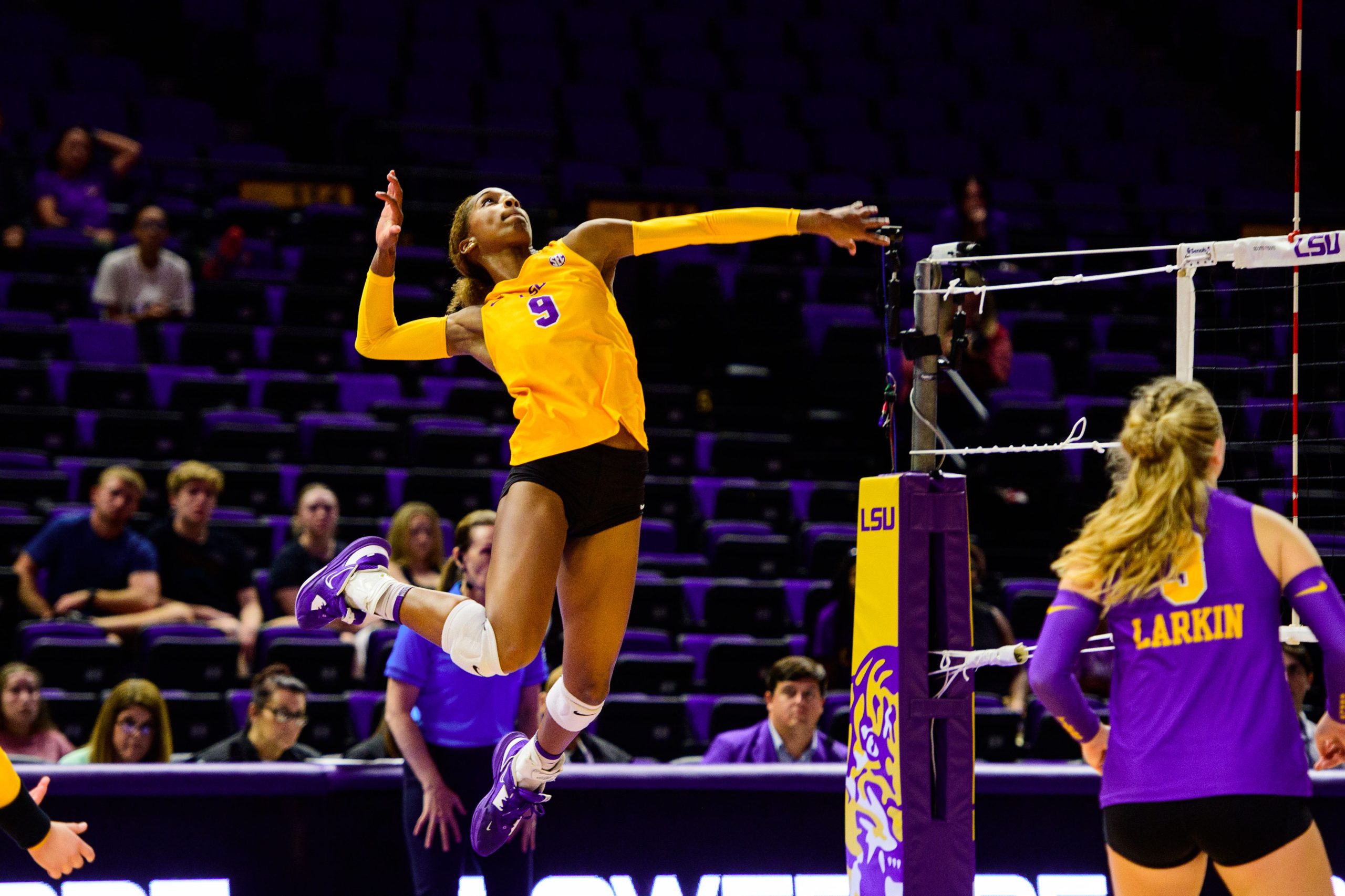 LSU senior Sanaa Dotson recalled the harsh conclusion.
She had high expectations for her first season with the Tigers, transferring after two years at
the University of Oklahoma to be closer to her Houston home.
The Tigers had an experienced team returning in 2021 with All-American hitters Taylor Bannister and Kylie DeBerg, and senior libero Raigen Cianciulli, leading the way but the entire group was left to consider what might have been.
LSU concluded the season 13-14 and was 9-9 in Southeastern Conference play in what turned into the final season for longtime coach Fran Flory. Moreover, the Tigers failed to advance to postseason play for the fourth consecutive season.
"We had these really big goals, and we have them this year, too," Dotson said. "For all of us, it was a bitter ending for us. We had all of these plans at the beginning of the year, and we fell short. We came back this year and we had something to prove. We had our mindset of how it felt to go out like that last year. We wanted to do everything in our power to make sure we don't end up in that position again."
Dotson has certainly taken that measure to heart.
The 6-foot outside hitter, the daughter of former NFL Super Bowl-winning defensive lineman Santana Dotson, has literally leaped to the top of team lead through Oct. 9 in kills (282) and points scored (312) under first-year coach Tonya Johnson.
"Just the maturity side of it, her having a better understanding of herself and learning about herself," Johnson said of Dotson. "Also believing in her ability. All spring we talked about her being good enough to do whatever you want to do. You just have to believe that. To see her play as confident as she's played, and not see that little flash of doubt I would see at times when she was at Oklahoma. I just see a totally different player than I did even two years ago."
In LSU's first 18 matches, in which the Tigers are 10-8 overall and 4-4 in SEC play, Dotson has been a tower of strength at the net.
She's registered 15 games with double-digit kills, including a season-high 23 in a 3-1 win over Milwaukee on Sept. 9, and recorded five double-doubles in kills and digs with a high of 13 digs coming in a 3-2 win over Ole Miss on Oct. 1.
The level of consistency Dotson has exhibited, has transformed herself into one of the SEC's top players.
She attributes some of her success this season to her familiarity with a second year in the program and a year through the SEC last season.
"One of the biggest things is I have a year of experience playing in the SEC," Dotson said. "Coming from the Big 12, there's definitely a difference in the play style. I felt more acclimated and prepared. All the work the team put in over the spring and summer, getting to know our coaches and new personnel, was really huge in building chemistry. We really worked hard. I feel like it's showed pretty well."
Lost at times in the dominance Dotson has brought to the team this season has been her ability to transform into a six-rotational player.
It was a point of emphasis once Johnson took over the program and it was Dotson's determination to work on other aspects of her game such as passing that have resulted in keeping her on the court throughout a match.
"It's really good because it was a goal of mine," Dotson said. "It's nice that I was able to do that, able to perform and help my team and not just from an offensive standpoint, but also defensive."

Johnson got an up-close look at Dotson during her formative years on the club volleyball circuit and during her first two seasons at Oklahoma.
Johnson was a longtime assistant at the University of Texas who annually faced Oklahoma in Big 12 Conference play and looked forward to coaching and having Dotson on her first team at LSU.
"She has a desire to be an All-American," Johnson said. "We had several conversations about what that looked like and what she needed to do to try to get to that status. I've told her she can take over a match, you need to make the decision when it's come to go. This team needs her and we're going to go where she goes. Just watching her level of confidence and the way it's risen since the spring is unbelievable."
Dotson had flashes of brilliance in her first season at LSU in 2021. She ranked third in kills (181) with 24 digs, 20 total blocks and 193 total points.
With 10 matches in the regular season remaining, as a testament to her growth in a year, Dotson's far surpassed those numbers with a career-high in kills (292), digs (153), total blocks (29) and points (312.5).
"I think I haven't reached my expectations just yet," Dotson said. "I feel like I have a lot more in my tank, a lot more goals that I have in my mind this season. I'm not there yet, but I'm proud of myself for how things have gone this far. We have a long way to go. I'm just taking it one game at a time."