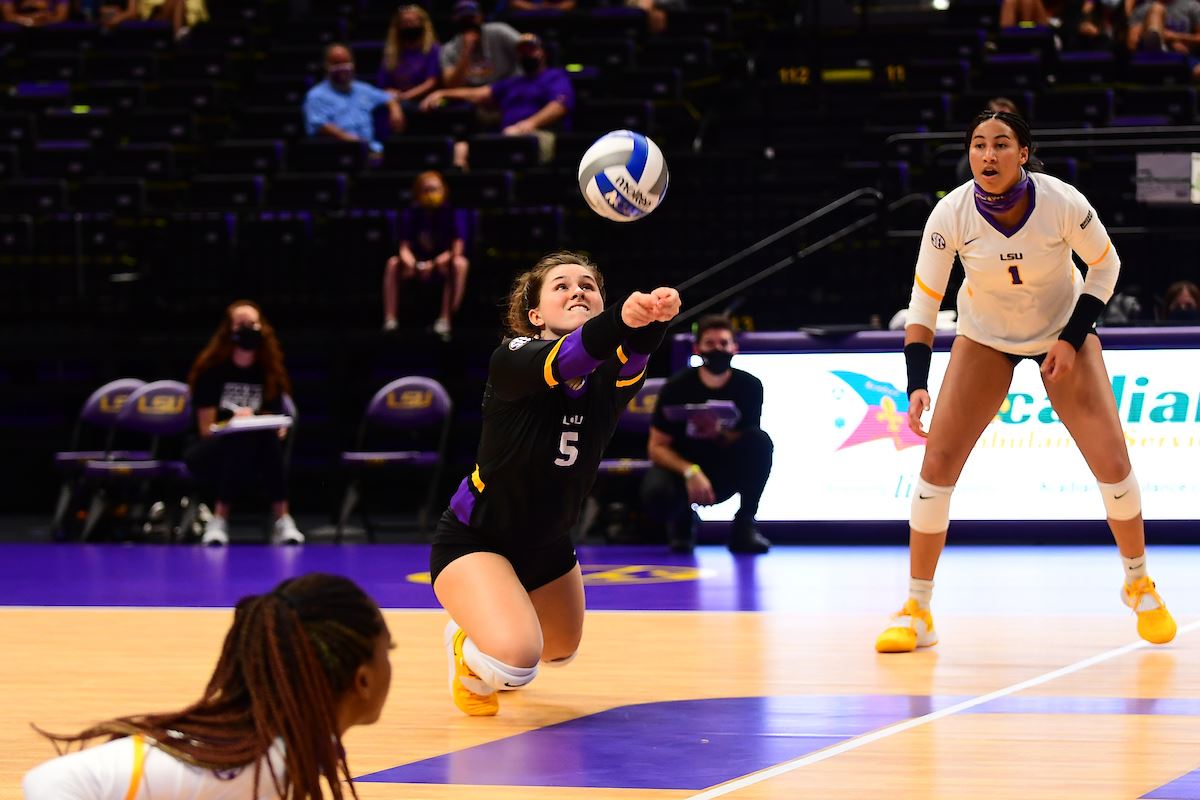 Taylor Bannister didn't want to take off her LSU volleyball uniform for the final time.
With the Tigers having lost a thrilling five-set verdict at Georgia on Nov. 24, it represented not only the end of the season but for Bannister – a three-time All-Southeastern Conference performance – it signified the end of a spectacular career.
"My recruiting spiel to these kids is that regardless of whatever the last match is, when you finish playing in our program is that taking your jersey off is like ripping your skin off your body," LSU volleyball coach Fran Flory said. "Taylor looked at me and said, 'you're not getting my jersey'. I told her she could wear it home. She said I wasn't getting it back. I said it's yours, it says Bannister (on the back). She said she couldn't take it off."
Because of a litany of injuries, some dating to the offseason, LSU was never able to put the lineup it envisioned on the court when the Tigers took sky-high expectations into the 2021 season. They were predicted to finish third in the Southeastern Conference in the preseason.
Instead, the Tigers regrouped in the final half of the season and while never 100 percent healthy, closed the season with six wins in their final nine matches but came up just short of earning an at-large berth into the NCAA Tournament.
LSU wound up 13-14 overall and 9-9 in conference play.
"I couldn't be prouder," Flory said. "There's a lot of teams I have a lot of respect for, and this will be one of the top few in terms of their loyalty, their drive and perseverance. The challenges they faced were beyond any of our control."
During the team's last-gasp stretch over the last month of play LSU registered wins over South Carolina, Tennessee and Ole Miss – three teams that earned NCAA at-large bids.
LSU defeated South Carolina in five sets on Oct. 20 and with a seventh-place finish, were three spots higher in the final SEC standings, but the Gamecocks received an at-large berth on the strength of a No. 42 RPI compared to the Tigers' No. 74 trying squeeze into the 68-team field.
"It's a hard pill to swallow," Flory said. "The lesson in the season was you just keep playing, fulfilling responsibilities and we're going to play for a chance at the end. I had a lot of people across the country calling and saying we were one of the best (at-large) teams and there's no question you were good enough to be in. Would they look at the preseason or what we did later in the season. Unfortunately, they put a lot of weight on our preseason and not the latter part of the season."
The ominous clouds for LSU's volleyball team began in May – three months before the start of the season – with the loss of projected starting outside hitter Samarah Hill with a torn Achilles.
LSU's list of injuries went on to include:
Sophomore outside hitter Paige Flickinger suffered torn knee ligament in first practice.
Junior setter Karli Rose suffered ligament injury in her wrist in first match against Michigan that required season-ending surgery.
Bannister needed minor surgery early in the season.
Senior Hannah Brister missed time with a sprained ankle.
Senior middle blocker Whitney Foreman suffered a dislocated ankle against Florida (Oct. 9).
"Everywhere we turned a key person to our plans was going down," Flory said. "It started in May, continued in July, August, September and October. We hit them all. We never played together healthy one time."
LSU was also impacted by Mother Nature with Hurricane Ida charting a south-Louisiana path, the final game of the Tiger Classic against Florida State, an eventual NCAA Tournament team, was cancelled and the opportunity to improve their RPI was lost.
Moreover, the entire team evacuated to Houston to escape the storm's potential wrath.
Trying to juggle a lineup with so many moving parts proved challenging with LSU going 6-9 before one of the season's breakthrough moments taking place Oct. 10 with a 3-1 win over No. 20 Florida after dropping a decision by the same score a day earlier.
LSU stopped a 19-match losing streak to Florida dating to 2009 and was also the Tigers' first win over a Top 25 opponent since Nov. of 2019.
"The Florida win was good, they don't lose too often," Flory said. "For us to knock them off here was a big confidence boost for us."
Reigning national champion Kentucky proved too strong with a pair of wins Oct. 14-15 over LSU before the Tigers turned their attention toward the final nine matches against an RPI-favorable schedule left the Tigers feeling optimistic they could reach postseason play.
The win over South Carolina was a good start followed by a split with No. 20 Tennessee that included a 3-0 sweep on Oct. 24. They won four of the next five, highlighted by a 3-1 win over Georgia on Nov. 26 followed by the season finale with the Bulldogs who broke a 2-all tie to win the fifth set, 15-11.
"If we'd won, the (second) Georgia match I don't know that it gets you in," Flory said. "The reality was we had to win out and when we lost to Ole Miss (3-1 on Nov. 11), that was probably the dagger. Our team stayed the course. They still played and were still playing for something at the end of the season and for that I have the utmost respect for this group."
Outside of the win over Florida, there were several milestones for LSU along the way that featured the 1,000th win in the program's history in a 3-1 victory over Oregon State Sept. 3 at the Penn State Classic.
Flory, who concluded her 24th season at LSU, also recorded the 400th win of her career in Baton Rouge in the win over South Carolina.
"I appreciate how much they cared. These kids cared," Flory said. "That's why it was so hard for us a staff."
In a graduating class of six players, Bannister and graduate transfer Kylie Deberg distinguished themselves as first-team All-Southeastern Conference selections and setter Ella Larkin earned a spot on the SEC's All-Freshman team.
Bannister finished as LSU's career leader in kills with 1,902 in 131 matches. She also added 571 digs. DeBerg, a three-time All-SEC player at Missouri, earned a fourth straight first-team selection and wound up her career with 1,809 kills and 810 digs.
DeBerg, the lone player to start in all of LSU's 27 matches, led the team with 397 kills (3.71 per match) and 466.5 points followed by Bannister (262 kills, 116 digs in 22 matches and Anita Anwusi (148 kills).
Larkin took over for Rose as the team's setter and led the Tigers with 902 assists (8.35 per set).
Graduate student Raigen Cianciulli, a three-time SEC Defensive Player of the Week, finished with a team-high 498 digs (4.5 per set) and finished as the SEC's career leader in that category with 2,260 in 133 matches.
"In 30 years of marriage, my husband (Ken) said we had the coaching staff of the year because he didn't know how we did it," Flory said. "I didn't know either."