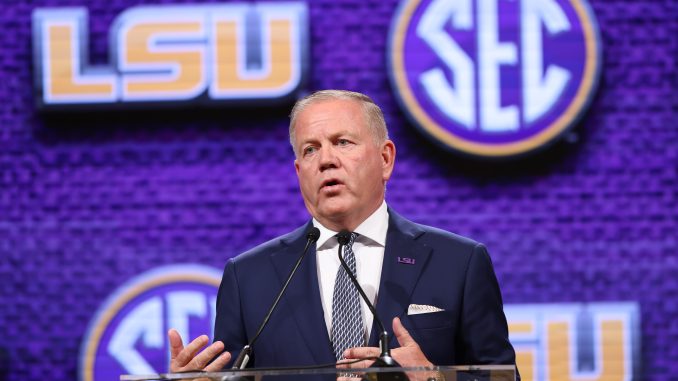 Give credit where it's due.
Georgia's Kirby Smith directed Georgia to an undefeated showing in the Southeastern Conference, complete with the league's championship, and subsequently a second consecutive national championship.
After going 40 years without achieving the ultimate dream, Georgia's won the last two titles and Smart's to be commended for that milestone.
But if not for Georgia's utter dominance in the league, the best coaching job in the nation's top conference in 2022 was done in Baton Rouge.
First year coach Brian Kelly surprised many by leaving Notre Dame for LSU which was in tatters two years after the Tigers were the toast of college football world – winning the 2019 national title with a team regarded the best the college game had seen.
Kelly inherited a program literally on its knees with 39 players on scholarship following a rather forgetful performance against Kansas State in the Texas Bowl. He put together a credible coaching staff, recruited high school players and dove headfirst into the NCAA transfer portal for 15 players.
LSU was predicted to finish last in the SEC West and the betting line in Las Vegas had the Tigers hovering at 6-7 wins.
The Tigers exceeded what most national pundits forecasted and in an ordinary year, Kelly would have been recognized on a grander scale for his accomplishments of a 10-4 record, SEC West title, trip to the SEC Championship Game and victory in the Citrus Bowl.
The payoff, though, has shown up in 2023 where LSU's program is reflected in a different prism. The Tigers were picked No. 2 behind Alabama (where they play on Nov. 4) in the SEC West and began the season ranked No. 5 in both The Associated Press and Coaches Top 25 polls going into Sunday's season opener with No. 8 Florida State.
Yet, Kelly knows the Tigers haven't arrived and continued to trumpet that message throughout the summer and into the 2023 season. He's astute in realizing that one memorable 32-31 overtime victory over Alabama provides hope but doesn't signify a trend.
During his 32-year career, where his 294 wins currently top all active coaches, Kelly's has enjoyed consecutive seasons of 10 wins or more 14 times – including his last five at Notre Dame.
To get LSU to double-digit wins in his first season, Kelly led LSU to three come-from-behind wins in the second half. That total equaled the most since 2007 and was more than the Tigers enjoyed in their previous seven seasons – combined.
The preseason rankings have signaled a rebirth for an LSU program that's won three of its four national championships in the last 19 years under different head coaches.
Could Kelly be the next one?
While he's embraced such expectations and permitted his players to talk about ending the season in such glowing terms, LSU will have to navigate a schedule with atypical imbalance.
LSU opens with four of its first six games on the road. That trek begins Sunday in Orlando to face Florida State in the nation's only top 10 matchup in Week 1. The Tigers must also visit Mississippi State, Ole Miss and Missouri in SEC play.
The Tigers will face life away from Tiger Stadium with a veteran quarterback in Jayden Daniels, among the nation's strongest candidates for the Heisman Trophy, top-flight wide receiver Malik Nabers, improved offensive line anchored by sophomore Will Campbell, emerging sophomore tight end Mason Taylor and an embarrassment of riches at the skill positions.
LSU's defensive front, which will have tackle Maason Smith joining forces with Mekhi Wingo, projects to be among the nation's best units. They will play in front of All-American linebacker Harold Perkins Jr., leading returning tackler Greg Penn III and Oregon State transfer Omar Speights.
The aforementioned group is expected to make LSU's life on the road more palatable until they can get back to Tiger Stadium where they have five of its last six games – complete with back-to-back contests against Florida and Texas A&M.
Not only is LSU a close pick behind Bama in the SEC West, but the Tigers are projected to win 9.5 games and entertain College Football Playoff aspirations.
For that, you have to credit Brian Kelly.