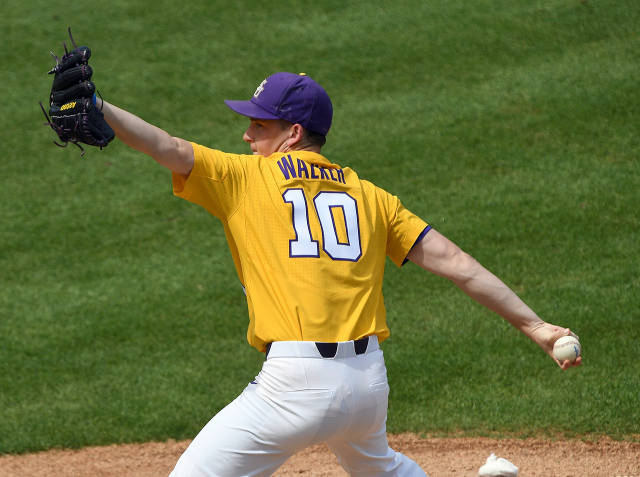 After a rough weekend series loss to Ole Miss at home for the first time since 1982 followed by a 12-1 midweek loss to Louisiana Tech, the LSU baseball team hit the road for Arkansas on Wednesday in hopes of keeping turning things around, especially on the pitching mound.
With ace pitcher Cole Henry staying in Baton Rouge and missing yet another weekend of action, the Tigers (30-19, 14-10 Southeastern Conference) will once again have to find away to piece together a pitching staff, this time against the best the SEC West has to offer in the Razorbacks (37-12, 17-7).
For the second straight week, Ma'Khail Hilliard (0-2, 4.59 ERA) will get the Friday start followed by Eric Walker (4-4, 5.30 ERA) on Saturday and Landon Marceaux (3-2, 7.04 ERA) on Sunday.
Zack Hess will once again come out of the bullpen after giving four solid innings in LSU's sole 8-3 victory against the Rebels last Friday.
None of the trio of starters made it past four innings of work last weekend, which posed a problem for LSU's thinner-than-usual bullpen as the series progressed and ultimately led to the Tigers' loss in the series.
"What happens is the guys normally pitching in the middle of the week are being forced to the weekend and the guys that have supplemental roles are the guys you're counting on in the middle of the week," said LSU head coach Paul Mainieri. "Those one or two injuries have so much more of an effect if it's your pitchers. We've got five guys on the DL that we thought were going to be vital pitchers for us and it's changed the whole depth chart."
On top of that, series don't get much bigger than this one for the Tigers, who now stand with their backs firmly against the wall.
Arkansas sits in first place in the SEC West, three games ahead of the Tigers with Ole Miss and Mississippi State between them, both with 15-9 league records.
The Razorbacks are a unanimous Top 5 team, while LSU ranks from No. 15 to No. 18 depending on the publication. A successful weekend is vital to the Tigers' hopes of hosting a regional and earning a coveted Top-4 seed in the SEC Tournament.
"I think this is what makes you want to come to LSU to play baseball," said LSU shortstop Josh Smith. "Getting to play against a Top-5 team on the road and hopefully a chance to put our name back in the SEC West standings and go from there."

LSU's rotation will have to find a way to stay in the game for more work this weekend if the Tigers want success as they will be going toe-to-toe with one of the better rotations in the SEC.
Isaiah Campbell (8-2, 2.54 ERA) will get the start on Friday and lefty Patrck Wicklander (5-1, 3.91 ERA) will start Saturday. Arkansas' Sunday starter has yet to be announced.
Hilliard said the pitching staff will have some added pressure on itself to have lengthier outings this week, especially considering they likely won't be able to count on the hitting to bail them out in the way it almost did in a dramatic comeback on Sunday.
"I'm pretty sure most pitchers feel that pressure but I just try to calm myself down as best I can," Hilliard said. "Let your defense work for you and not try to go out there and get three straight strikeouts."
LSU's offense has been a consistent source of frustration for Mainieri. Sometimes the Tigers look like one of the best-hitting teams in the country, while other times they can't seem to buy a hit.
The lack of consistency at the plate has plagued LSU all season, and it's gone far from unnoticed by Mainieri.
"One day you score 15 runs with 22 hits, the next day you score one run on four hits," Mainieri said. "One day you pitch great, and then the next day you have trouble getting teams out. It's just been baffling, the consistency factory."
Mainieri attributed the lack of consistency to the losses of Jaden Hill and Cole Henry, two young pitchers who both looked great before arm injuries took them out for extended absences this season.
But LSU's hitters also feel partially responsible. LSU shortstop Josh Smith put Tuesday's loss to Louisiana Tech on a lack of energy. A double play sucked the wind out of the Tigers' sails early, and they never fully recovered.
Smith said the offense will have to find a way get pressure off a pitching rotation that would have looked unrecognizable to the Tigers at the start of the season.
"I know (the pitching staff is) working hard," Smith said. "Us hitters have to step up and take some pressure off of them. I think they'll figure it out and get ready to go."
Photo courtesy of LSU Sports Information