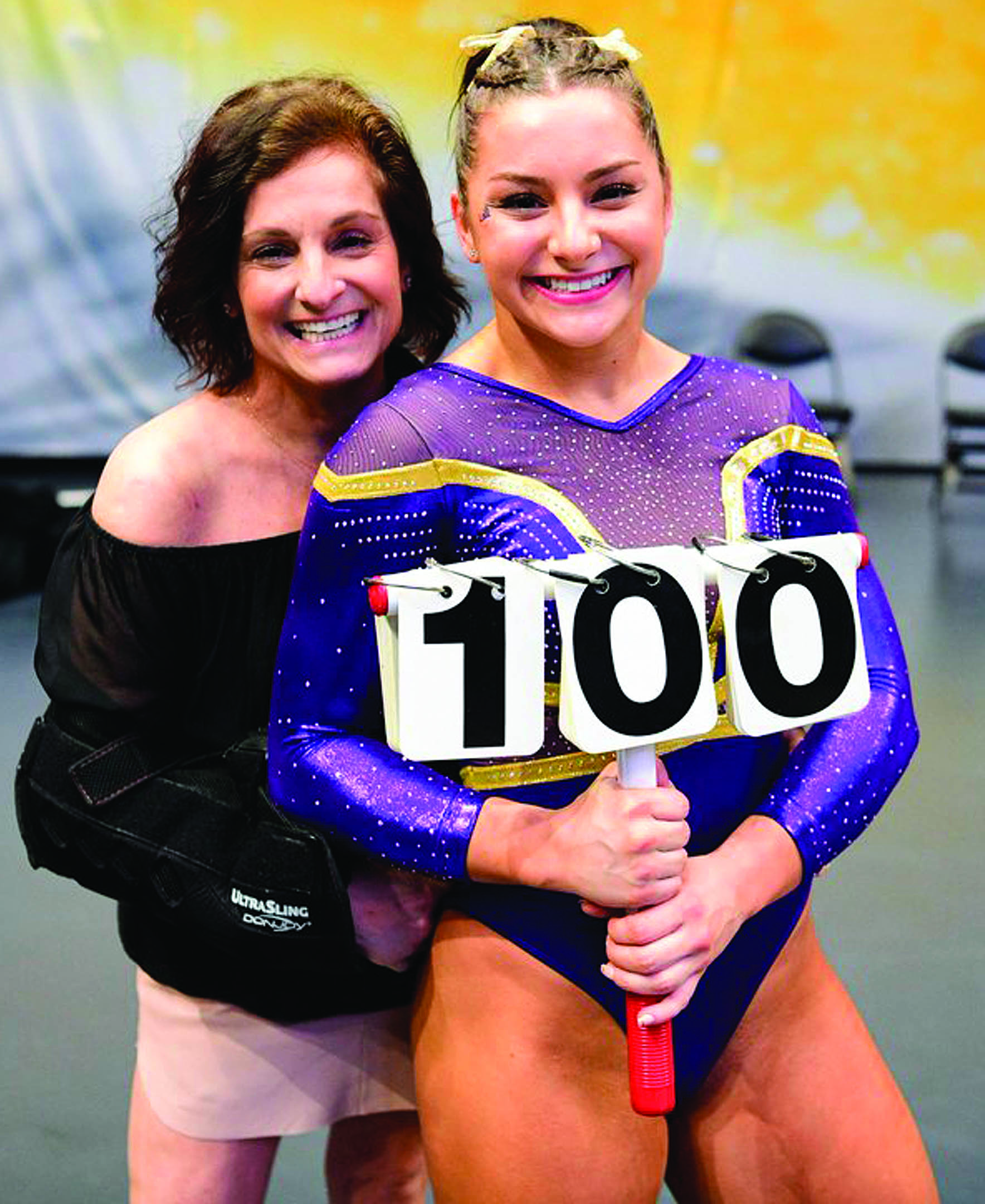 If you ever turn to the SEC Network during an LSU gymnastics meet, you're more likely than not going to see a split screen of floor routines by Tiger senior McKenna Kelley and former Olympic medalist Mary Lou Retton.
The two are arguably the most famous mother and daughter duo in the sport of gymnastics, but for Kelley her mom just is just that — her mom.
"My mom is my mom and I think people forget that," Kelley says. "They think that because — I know it sounds so casual for me to say — she was an Olympic champion, but to me she's mom. She still grounded me, she still makes me clean my room."
McKENNA KELLEY AND her sisters — Shayla, Skyla and Emma — all started gymnastics at around three-years old. Putting them there was like second nature to Retton.
"And what kid doesn't like to jump on a trampoline?" Kelley says. "So my mom took advantage of that, but then she left it up to us."
Retton never forced her children to do gymnastics, but gymnastics was all she knew. Two of Kelley's sisters — Emma and Skyla — continued with gymnastics like McKenna, while Shayla became a cheerleader instead.
None of that matter to Retton, who just wanted her daughters to do what they loved. If that turned out to be gymnastics, then it was even better
"My mom has never pushed any of us," Kelley says. "We all started in gymnastics because that's obviously second nature to my mom and … She was like 'If you guys want to keep doing this, great. If not, you don't have to.'
"She knew the highs and lows of the sport. The lows are really low and they're painful and they hurt physically and emotionally. I don't think she wanted to see her daughters go through that if they didn't want to and if they didn't have to."
But for Kelley, from the first moment she jumped on that trampoline into a ball pit, she began to develop that same passion and love for the sport that her mother had all those years ago.
Kelley only spent one year training elite gymnastics — during her senior year of high school — but she always speaks of the sport as one of the best experiences of her life.
MARY LOU RETTON has every reason to be a "crazy gym mom."
Not only is she a former gymnast — she's an Olympian with one gold, two silver and two bronze medals. She was also the first American gymnast to win a gold medal in gymnastics. Theoretically, she was within her right to do so.
But she never wanted to be a "crazy gym mom." She never pushed or even coached her daughters, taking a backseat roll in their training. Kelley said it was her job to drop them off and pick them up from the gym, but she rarely wandered in.
"It's so nice," Kelley says. "I think people expect an elaborate answer. Like my mom made me handstand walk everywhere or do back flips before dinner, and if I didn't stick it, I wouldn't get to eat. I don't know what they expect me to say."
Gymnastics is never an off-limits conversation for the family, though. Kelley said that while Retton "doesn't care to be a part of that" coaching that surrounds the sports, she's always open to give advice and help when asked.
Retton will never bring it up though. It's always Kelley that's asking for help or venting about the sport, admitting it's nice to have a mother that understands and is able to have that conversation.
Having a mother who is an Olympian comes with its own set of challenges as well — the biggest being the comparisons and expectations.
Kelley has admittedly not watched LSU's meets on television often, but she knows that the split screen comes up, showing the side-by-side floor routines or vaults. She understands that it's something that was bound to happen naturally, but she also has a firm understanding of who she is as a person and as a gymnast.
"I've never compared myself to my mom," Kelley says. "And that might be surprising to some people, but I am my own person. My mom has never made me feel like I have to be in her shadow.
"She never made me feel like I have to live up to her name or her gymnastics and the skills that she did. We do some of the same skills, which is cool to see those side by side, but I've never compared myself to her."
FOR YEARS, KELLEY didn't understand the enormity it. Of her mom being an Olympian.
Sometimes she still doesn't, often speaking of it with a light, casual tone.
Retton won a gold medal in the individual all-around competition, as well as two silver medals and two bronze medals at the 1984 Summer Olympics in Los Angeles — but for Kelley and her three sisters, she was just mom.
"I think maybe (I started to understand) when I started training elite myself and I understood the hours my mom put in and the work it took to master the skills she did," Kelley says. "I think that's when it kind of really hit me. Like this is really hard and my mom is literally a professional at it."
Even growing up, her friends' parents would freak out about her mom — some still do to this day — and Kelley kept rolling with the punches. As a young gymnast, Kelley admired those like 2004 gold medalist Carly Patterson and 2008 gold medalists Shawn Johnson and Nastia Liukin.
The 2004 Olympics in Athens, Greece were one of the first Kelley could remember watching. She thought the medal ceremony — complete with a wreath crown in 2004 in the birthplace of the Olympics — was the "coolest things."
"To know my mom was on that same pedestal, it's really cool," Kelley said. "I still don't think I understand — and I never will — because I've always known her and I've always seen her as a mom before I knew her as an Olympian. I think that's really how my perspective is."
Kelley understands what it took for her mother to be an Olympic gymnast and what it took to get there. Many others do not, often asking Kelley if she still plans to follow in her mother's footsteps and make an Olympic team.
"People think the Olympics are like a genetic gene that I inherited, like that's not how it goes," Kelley said. "There's a lot of hard work that goes into that."
IT WASN'T AN Olympic team, but all of Kelley's hard work culminated as she landed the final pass of her floor routine at the NCAA Championship meet on April 20.
She blew kisses toward the crowd and tears slowly came down her face as she completed what would be the final routine of her LSU career with a 9.95 and a second place finish.
Retton, on the other hand, was in tears well before the beats to Kelley's floor music rang through the Fort Worth Convention Center. For someone who has competed at the highest level of any sporting event, Retton can often be seen in the stands of the PMAC more nervous than some of the gymnasts.
Before her first routine as a Tiger, way back in January of 2016, Retton could be heard screaming and cheering from the stands. That same motivation has held steady through Kelley's four years.
As always, no coaching, just encouragement.
"To me it's always 'good luck, you got this, I love you,'" Kelley says. "It's never been more than that. She did a very good job of separating that coaching from just being my mom and I'm so grateful for that because she has every reason to be able to step in the gym and tell me what to do.
"She solely is my mom."
Photo Courtesy of LSU Sports Information