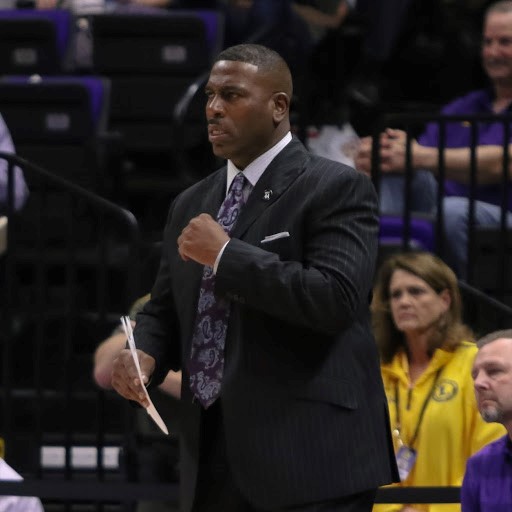 No. 3 seed LSU will be a legitimate underdog — not just in seeding, but with oddsmakers as well — for the first time in the NCAA Tournament when it takes on No. 2 seed Michigan State on Friday night in the Capital One Arena in Washington D.C.
It will be the first regional semifinal game the Tigers have played since knocking off No. 1 overall seed Duke in 2006, another game the Tigers were expected to lose.
But an underdog mentality is nothing knew for the Tigers. They've viewed themselves as underdogs, not just from the start of the tournament, but since the start of the season.
"The odds were against us against Yale," said LSU interim head coach Tony Benford. "They went against us against Maryland. I think everybody's picked us to lose because of our situation and the adversity these guys have been through."
The Tigers are no stranger to playing the underdog, and they seem to be getting used to playing the role of the heel.
Benford took a page out of LSU football coach Ed Orgeron's book during his Tuesday-evening meeting with the media, saying the Tigers need to "block out the noise" as it heads further into the tournament.
LSU is likely to be an underdog the rest of the way on its road to a potential national championship.
Even if No. 4 seed Virginia Tech takes down Duke in the second Sweet 16 game of the East Regional, Buzz Williams' squad is ranked eight places higher on KenPom's rankings, and the Hokies finished at No. 11 in the final NET Rankings, three spots ahead of the Tigers.
At the time of publishing, oddsmakers have the Spartans pinned as a six-point favorite, while KenPom has projected an 80-72 victory for Michigan State, giving LSU a 26 percent chance to pull off the upset.
"Everybody's picking us to not advance, but hey, we can't control that," Benford said. "All we can control is our preparation and what we do to get ready to play an outstanding Michigan State team. We will be ready."
Luckily for the Tigers, the game isn't played on paper. It's played on the hardwood.
And this situation is nothing new for the crew sporting purple and gold.
LSU was an underdog on the road when it defeated Kentucky 73-71 in Rupp Arena. It was an underdog when it took Tennessee to overtime and defeated the Volunteers in front of a sold out Pete Maravich Assembly Center.
Looking even deeper, the Tigers were picked to finish sixth in the Southeastern Conference before ultimately losing only two games against SEC teams to win the league for the first time in a decade.
This team seems to thrive on people doubting them.
"It drives us to be one unit," said LSU point guard Tremont Waters after LSU's 69-67 victory against Maryland in the second round. "We know that we're playing for one another and as long as we stay together and we build confidence within each other, then nothing anyone says or the doubters or the haters can affect us. We know that if we empower each other we're just going to keep getting better and better."
Photo Credit: Terrill Weil