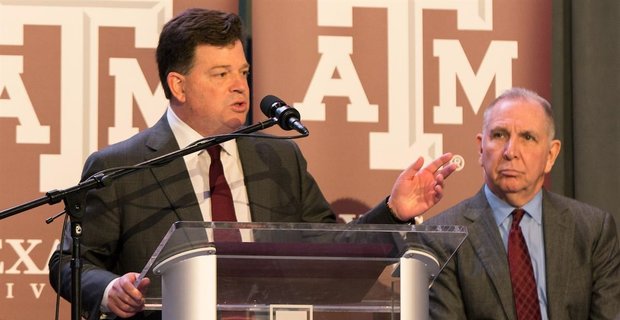 Forty-one years ago as Tiger Rag was hatched for its inaugural issue of Sept. 1, 1978, there was a new sheriff in TigerTown. He was a familiar face to many insiders who had yearned for his return as athletic director to the site of his former glory.
When this previous leader of the Tiger athletic ship returned home, many surmised that LSU was poised to win another national championship in football sometime soon. After all, it had been a frustrating 20 years since Billy Cannon and Co. paced the 1958 Tigers to national glory.
The AD secured from a major conference more than four decades ago was just two years removed from directing his university to the 1976 NCAA Basketball Championship and less than a year past a stunning upset at home over LSU to open the 1977 football season.
The man who left Indiana to return to LSU in 1978 was 54-year-old Paul Dietzel. There are more than a few similarities in the hiring last week of 55-year-old Scott Woodward to succeed Joe Alleva as the current AD.
Woodward departs Texas A&M after landing Jimbo Fisher, who was coveted by LSU a few years ago, as football coach at College Station. Fisher and the Aggies, like Lee Corso and the Hoosiers four decades ago, upset LSU in a close clash at home to pave the way for the second coming of Paul and Scott to the Ole War Skule. Unlike Dietzel, Woodward is not known to have proclaimed "I will never leave LSU" on his way out of town the first time.
Despite turmoil in the basketball program with Will Wade restored his coaching ticket two days before Alleva was reassigned, the primary focus at Death Valley remains on the football program. When Dietzel was hired as AD, the embattled Charles McClendon thought his days as gridiron boss might be numbered. A year and a half later he was out of a job.
Ed Orgeron has the luxury of a five-year contract, but he is 0-3 vs. Alabama. He must beat Alabama in one of the next two years to stay safe in the Tiger lair. In 1978, Charlie Mac started the season with the Heisman Trophy favorite on his team in the gifted tailback Charles Alexander. But Mac was 2-12 at that time against Bear Bryant.
LSU lost 31-10 to Bama in Birmingham in '78 and followed with a 3-0 defeat to the national champion Crimson Tide in 1979, and it was curtains for Charlie Mac at East Stadium. If Orgeron is 0-5 vs. Nick Saban in 18 months, he could be positioned to get paid for three years for not working.
Scott Woodward was a high school freshman when Dietzel was hired as AD and was Mark Emmert's right-hand man when LSU hired Saban in 1999. He and Emmert savored the national championship in football four years later. It had been 45 years between NCAA title banners at Tiger Stadium, but when another one came in 2007, it was thought LSU would win a championship every few years. Instead, a dozen years have raced by since the last football crown, much too long for a restless fandom.
The LSU football program is stronger than it was in 1978, but the Tigers compete in the strongest division in the strongest league in America. Fisher's relocation from Tallahassee to College Station makes winning the SEC West as tough as it is capture the biggest prize in the college ranks.
Woodward has a solid track record in hiring coaches, but the guy who brought Chris Petersen to Washington and Jimbo Fisher to A&M, also hired Steve Sarkisian, who was 34-29 in five years at Seattle before landing the top job at USC where he crumbled amid personal failings in his second season with the Trojans.
Hiring and firing coaches is an inexact science with the late Joe Dean a poster boy for the worst hire by an LSU athletic director (Curley Hallman) and the best (Nick Saban). Woodward will keep a close eye on Coach Wade, who is accused of veering from the NCAA rule book rails and offering illegal benefits to at least one recruit.
As Alleva was pushed from the AD's chair, Wade was reportedly ordered by LSU Compliance Officer Bo Bahnsen to stay off the trail and allow his assistants make the pitch to recruits. Woodward does not desire to get crossways with his former boss Emmert, who is president of the NCAA. Emmert is not only the mentor who Woodward followed to two universities, but Mark's daughter is married to Scott's son. NCAA sanctions against LSU would make Christmas dinner a curious affair for the Emmerts and Woodwards.
On paper, the arrival of Woodward is an exceptional coup for LSU, which possesses an endowment that ranks last in the SEC at around $500 million. A&M paces the conference with an endowment approaching $13 billion. The Woodward return takes a bit of the sting from Pat Henry's defection to the Aggies in 2004. Henry captured a record 27 national championships in men's and women's track field at LSU. He has won national honors nine more times at College Station.
LSU pays its bills and returns a bit to the university when athletic dollars are counted, but there is room for improvement. Woodward can start his evaluation by inspecting the more than $4 million annual deficit of the LSU Women's Basketball program. It was the more lucrative contract of former women's coach Pokey Chatman that irritated Henry enough to move. Chatman, who was 105-19 with three Final Four teams, was paid less than Nikki Fargas, who is 148-106 in eight years with no championships.
When Dietzel was lured from Indiana, the runner-up for the post was Joe Dean, who would be hired nine years later. The student representative of the LSU Board in '78 was Jay Dardenne, who would become a member of the EBR Metro Council, Louisiana Senator, Secretary of State, Lieutenant Governor and Commissioner of Administration for Gov. John Bel Edwards.
Dardenne lobbied strongly for Dean over Dietzel before the LSU Board sided with Tall Paul's return to the bayou. Four years later, Dietzel was fired after a 3-7-1 football season and accepted reassignment as assistant to the president of LSU. Thirty-seven years later, it is Ground Hog Day at LSU.
Dietzel left the Quadrangle and finished his career as athletic director at Samford, where he hired Terry Bowden as head coach. Bowden's star quarterback in 1987 was a fellow named Jimbo Fisher.
LSU and Fisher flirted with marriage in 2015, but the union fell apart at the altar, leaving Jimbo, who was offensive coordinator at LSU from 2000-2006, primed for the plucking by a rival. Fisher is likely to finish his career with the Aggies, and the man who lured him from Florida State must make sure the Tigers not only challenge the supremacy of Saban, but also thwart a powerhouse SEC foe featured every November on the LSU schedule.
Texas A&M looms as a distinct and improved danger to LSU thanks to Jimbo Fisher…and Scott Woodward.