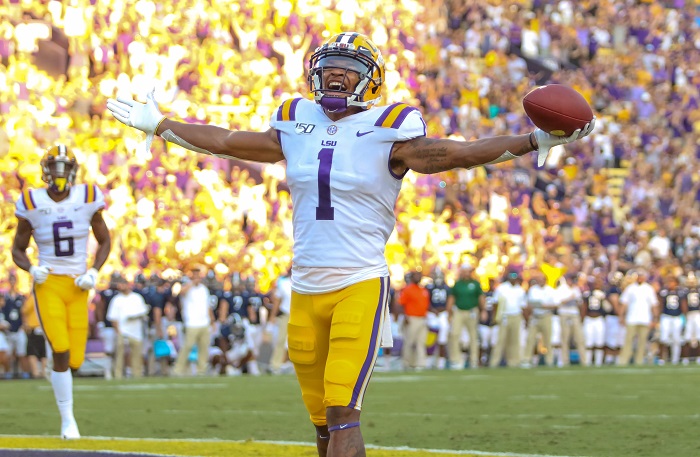 OXFORD, Miss. — The stars aligned for a record-breaking night in Vaught-Hemingway Stadium on Saturday night as the Tigers and Rebels amassed a significant collection of rare accomplishments.
It didn't take long before the records started falling, the first being LSU's single-season passing record set by Rohan Davey in 2001.
It took Joe Burrow all of 14 minutes to eclipse that number in the first quarter with an 18-yard pass to Justin Jefferson that set up a touchdown rush by Tyrion Davis-Price.
When the game was all said and done — and Burrow had completed 32 of 42 passes 489 passing yards and 5 touchdowns — Burrow's record currently sits at 3,687 passing yards in a single season with an astounding 10.8 yards per pass attempt.
What's more, Burrow will presumably but an inordinate amount of room between himself and Davey's previous record of 3,347 as he has up to five more games left to play if the Tigers reach the national championship game.
"I think it's a testament to all the hard work we put in" Burrow said after the game. "But we want to play five more games, and the numbers on the stat sheet I noise. We're all about the W's."
Stats may not matter at the end of the day, but at least one Tiger entered the game knowing he wanted to break a record, and he did not disappoint himself.
"Actually, in the locker room, I was saying "It's time to set a record,'" wide receiver Ja'Marr Chase said. "I was literally yelling that the whole day before the game, so I had it on my mind to be honest."
The record Chase was after was LSU's single-season receiving touchdown mark of 12 set by Dwayne Bow in 2006.
Chase entered the game with 10 and exited with 13 after a 227-yard, 3-touchdown performance in which he averaged 28.4 yards per catch with 8 receptions on 9 targets.
While some might frown on his wanting to break the record so bad, his motivations for doing so probably won't be what most think.
"Because me and Justin (Jefferson are in a race," Chase said, referring to a friendly, season-long bet between himself and his fellow receivers on who would catch the most touchdowns this year.
Currently, Chase leads the pack with Jefferson right behind him with 11 scores. Terrace Marshall, also participating in the bet, remains a dark horse at 8 touchdowns this season despite missing three games with a foot injury.
Jefferson made his own history on Saturday night along with Chase, however. Both members of the duo eclipsed 1,000 yards in the season, becoming just the third pair of receivers in Southeastern Conference history to achieve the accomplishment, the last being Jarvis Landry and Odell Beckham Jr. for the Tigers in 2013.
Burrow attributes much of his success to his sure-handed receiver crew, who admittedly play a large role in his robust completion percentage (78.6%) that, if stands, will break the NCAA record by season's end.
"It means a lot, especially this year," Jefferson said. "We came out with that thought that we needed to set records this year. We have to be that dynamic team. We want to win a national championship. So if it means scoring all these touchdowns and getting all these yards, then that's what we're going to do."
Burrow also broke a single-game record for consecutive complete passes in the midst of the chaos with 17, 16 of which came in a first half in which it seemed the Tigers would rout the Rebels.
The streak started early in the first quarter and ended in the Tigers' first drive of the third, meaning he was perfect in the second quarter as LSU jumped out to what seemed to be a comfortable 31-7 lead.
"I didn't notice," Burrow said of the record-breaking streak. "I was trying to execute the offense to the best of my ability. I think we can complete the ball every time, no matter if we have pressure. I have somewhere to throw the ball everywhere. If I'm executing the offense the way it needs to be (executed), there's good potential for those kinds of completions."
It wasn't just LSU athletes setting records, however.
Ole Miss freshman quarterback John Rhys Plumlee scampered his way into the Rebels' record books, breaking the single-game rushing record for any quarterback in program history.
Despite garnering a modest 47 rushing yards in the first half, Plumlee exploded in the second half and finished the game with 212 yards and four touchdowns on the ground. The Tigers had no answer for his rushing attack, complemented by Jerrion Ealy (13 carries 141 yards), and he almost made a game of what looked to be a surefire blowout multiple times.
"He's pretty fast," Burrow said of Plumlee. "I'd like to have that guy's speed."
Last, but certainly not least, the two teams combined to amass an unholy amount of total offense, tallying 1328 yards between them.
Surely a Magnolia Bowl record, but the number fell just shy of the Southeastern Conference mark as it was good enough for just third in the league's 87-year history.
After the game, LSU head coach Ed Orgeron was asked if he had ever been a part of an offense that tallied more than 700 yards in a single game.
"I don't think so," Orgeron pondered. "I don't think so. But I never had somebody gain 600 yards on us, either."