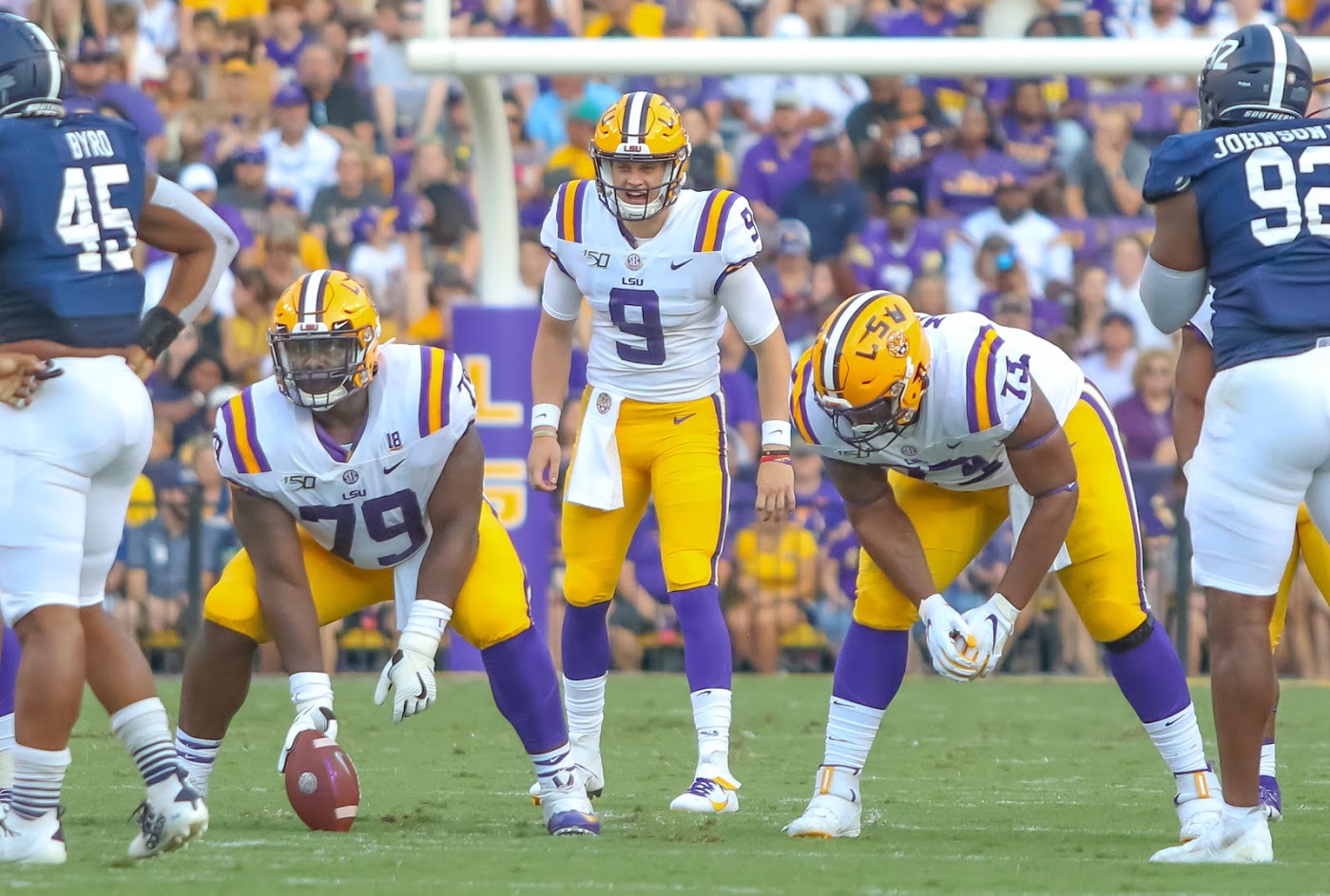 OXFORD, Ms. – On the second Saturday of December if LSU quarterback Joe Burrow becomes the second Tiger in history to win the Heisman Trophy, he'll have plenty of people to thank.
Such as head coach Ed Orgeron for hiring offensive passing game whiz Joe Brady.
Offensive coordinator Steve Ensminger for putting his ego aside and meshing with Brady, despite their 31-year age difference.
The Tigers' offensive line that has protected Burrow with a minimum of holding penalties.
A plethora of pass catchers, including the third duo in SEC history to each have 1,000-yard seasons.
A mini-tank who may be the most complete running back – rushing, receiving and blocking – LSU has had in years and years.
And finally, a Tigers' defense so porous at times that LSU can never really salt away wins, forcing Burrow to play almost every game wire-to-wire.
There's no doubt the unbeaten No. 1 ranked 2019 Tigers is the most unique team in school history.
It has the most diverse and unstoppable offense ever seen in Baton Rouge, led by fifth-year senior Burrow. He's in the process of posting one of the greatest statistical seasons in the history of college football.
When Burrow says "we think we can score every time we touch the ball" as he did after the Tigers posted the second highest offense yardage in school history – 714 – in Saturday's 58-37 win over Ole Miss — it's fact and not brag.
The bottom line is an offense averaging 556 yards and 47.8 points with a quarterback averaging 368.7 passing yards and 3.8 TD throws per game always believes it can score as many points as required to win.
But the underlying concern that won't go away is Burrow and company having to post extraordinary numbers to continually bail out a defense that gives up an unacceptable amount of points and yards.
It's a convenient excuse to say LSU's up-tempo offense doesn't give its defense enough rest. With two games left in the regular season, the Tigers' defense should be acclimated to the fact that 45-of 59 LSU's touchdown possessions have been three minutes or less.
You can say it doesn't matter that LSU's defense allowed Ole Miss' one-dimensional offense to post a season-high 614 yards, including 411 yards rushing keyed by 211 yards and four TDs from freshman quarterback John Rhys Plumlee.
Orgeron would have liked to have stated such, but he couldn't commit himself fully to that belief. He diplomatically hinted around it after Saturday's win, but his defense allowing 367.8 yards and 24 points per game is raising the Tigers' degree of difficulty.
"Our object is to win the game," Orgeron said. "We won it by 21 points, and obviously when you don't play well on defense at LSU, nobody's feeling good."
LSU's defense gave up five plays of 35 yards or more against Ole Miss, including four touchdowns (three rushing, one passing).
It would be nice to get some answers on what exactly went wrong or the reasons for reoccurring defensive lapses. But LSU or rather Orgeron doesn't allow his coordinators to speak to the media during the season unless mandated by a bowl contract.
So instead of having defensive coordinator Dave Aranda, the highest paid assistant in college football at $2.5 million a year, explain why his defense got repeatedly torched on the same Ole Miss counter play, LSU's postgame spokesman for the defense was a 21-year junior safety who passionately voiced his displeasure.
"The Ole Miss offense dominated us the whole game," said JaCoby Stevens, who had nine tackles and a pass breakup. "Respect to their quarterback. He had 200 yards on us. It felt like 500.
"We're still 10-0, we're in a good spot, we're still in control of our own destiny. But this feels like a loss to me."
Orgeron's postgame answer was the standard he has to "see on film where we went wrong – schematically, personnel wise, technique, whatever it may be."
Stevens, seen on the LSU sideline angrily getting in the faces of his fellow defensive teammates ("I'm a true competitor and when I'm dominated I don't like it all," he said), said fixing the defense won't necessarily accomplished watching film.
"That's not Xs and Os, that's not execution, that's just soul searching," Stevens said. "Go back and look at LSU defenses in history. When you got a yard on them, they got mad.
"This is not the defense I know. We show what we can do in spurts, but we never play a complete game."
LSU's starting front seven, including its three-man defensive line and four linebackers, headed in Saturday's game with a combined 87 starts. Yet the Tigers had no sacks on Plumlee and Ole Miss reserve QB Matt Corral and were in the wrong gaps too many times as Plumlee turned the second half into his personal track meet.
If there is any solace from surviving a Saturday that saw previous unbeatens Baylor and Minnesota suffer first losses and Alabama quarterback Tua Tagovailoa sustaining a college career-ending hip injury, it is that the Tigers haven't played well yet for an entire game.
"The bottom line is when you win games, you kind of pick things apart," Orgeron said viewing LSU's mistakes with a critical eye, which he reviews with his team on what he calls "Tell the Truth Monday."
TTT Monday might stretch into Tuesday this week.