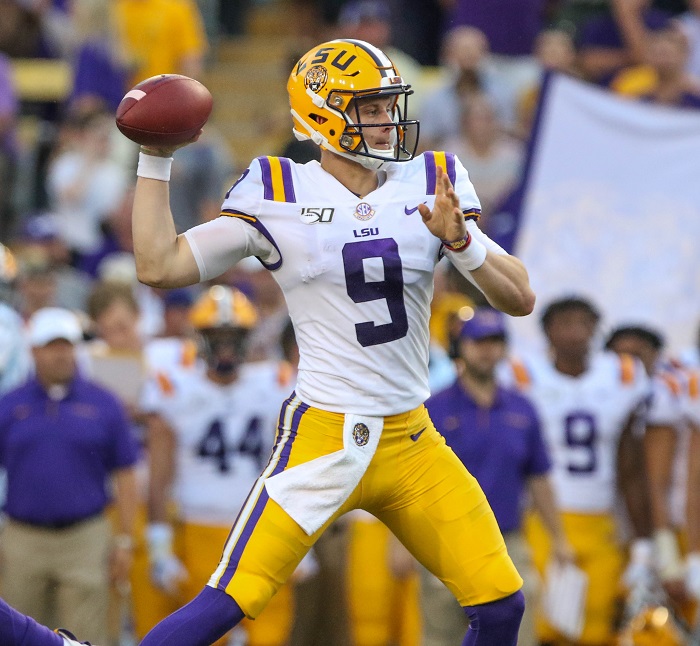 OXFORD, Ms. – It has been a season of firsts for LSU.
A No. 1 ranking by the College Football Playoff committee.
A clear Heisman Trophy favorite this late in the season.
The first LSU team to beat four Top 10 ranked teams in the regular season.
To date, the mature Tigers unparalleled focus has handled an expanding list of firsts. Head coach Ed Orgeron and his team's veteran leadership have kept their eyes solely on the weekly prize of winning each Saturday.
But after a road win over then-No. 2 Alabama a week ago for the first Tigers' victory after eight straight losses to the Crimson Tide, LSU wandered into an unfamiliar orbit handling the euphoria and national media love of conquering Nick Saban's perennial national championship program.
If there was any concern that the Tigers would have a Tuscaloosa hangover against youthful 21-point underdog Ole Miss here Saturday in Vaught-Hemingway Stadium, LSU quarterback Joe Burrow quickly and thoroughly buried such pregame apprehension.
Burrow added more heft to his stat-stuffed Heisman Trophy resume, throwing for 489 yards and five touchdowns as the unbeaten Tigers did enough to hold off pesky Rebels 58-37.
The teams combined for 1,328 yards offense, the third most between SEC opponents in league history.
Burrow and the Tigers' offense finished with 714 yards total offense, the second most in LSU history. Ole Miss had 614, including 402 rushing yards which are the most yards on the ground against an LSU defense since at least 1960.
"Things have changed around LSU when you have 700 yards of offense and everyone is upset in the locker room," said Burrow, who completed 32-of42 passes but threw two fourth-quarter interceptions.
The Tigers needed every yard because LSU's defense was shredded by Ole Miss freshman quarterback John Rhys Plumlee.
Burrow's arm was matched by Plumlee's legs. He ran for 212 yards (the most ever by an Ole Miss QB) and four touchdowns, including second-half romps of 46, 60 and 35 yards.
"We couldn't stop him (Plumlee), but we won the football game," Orgeron said. "We came here to win the football game, and we won it by 21 points. It wasn't pretty, but we did it after a big win last week. I'm proud of our football team and the way they prepared."
The Tigers (10-0 overall, 6-0 SEC West) scored touchdowns on their first four of five first-half possessions for a 31-7 lead at halftime. Burrow fired TD passes of 34 and 51 yards to Ja'Marr Chase and 12 yards to Jordan Jefferson.
Then, as the case in the second-half of road wins at Texas when LSU allowed 31 points and at Alabama when the Tigers gave up 28 points, Ole Miss put up 30 points after halftime but could never catch the Tigers.
Ole Miss (4-7, 2-5 SEC West), with a one-dimensional offense sporting the SEC's leading rushing attack, ripped the LSU's porous defense for 16 points in the first 7:14 of the third quarter. Lenghty Plumlee TD runs twice cut the Tigers' lead to a two-possession game, including trailing just 34-23 with 7:46 left in third quarter.
After Burrow threw a pair of fourth-quarter interceptions, he fired a 61-yard TD pass to Chase with 3:19 left for a 51-30 lead.
That didn't deter the Rebels. They kept firing until the very end.
"In the first half we didn't play very well," Ole Miss coach Matt Luke said. "We didn't play our best football. I thought we came out in the second half and got our run game going. We competed, got some turnovers and had a chance to get back in it. Ultimately you can't dig yourself that type of hole against that good of a football team."
The Tigers had numerous individual eye-popping offensive performances. Chase had eight catches for 227 yards and three TDs, Jefferson had nine receptions for 112 yards and three TDs and running back Clyde Edwards-Helaire ran for 172 yards including a victory-clinching 49-yard TD burst with 3:08 left.
Yet Burrow and company felt they left a lot of points on the table.
"From an offensive perspective, we still haven't played a four-quarter game," LSU tight end Thaddeus Moss said. "What's crazy is the numbers we're putting on the stat sheet but watching film and we're still not executing. We have to stay locked in and focused for four quarters.
"When we stop scoring, it's not what a defense is doing. It's what we're not doing as an offense."
LSU's fast start, taking a 28-0 with 8:27 left in the first half, even stunned Orgeron.
"The first half was easier than I thought it would be," Orgeron said. "I thought we controlled them well in the first half, and obviously in the second half they started making (offensive) plays.
"They were running the counter, the zone read, sometimes we were a man short, missing tackles in the gap. They had the answers. They were multiple facets of their runs. They made some reads of stuff we were in, they made the right reads."
It also didn't help matters that Burrow uncharacteristically threw the pair of final quarter interceptions.
Orgeron felt Burrow was "pressing a bit" trying to make plays to help LSU re-gain momentum. Burrow had a different view.
"I wouldn't say we were trying to force anything," Burrow said. "We played our game and I made two bad decisions. I got hit while I was throwing one. It happens."
As he has done all season, Burrow came through with the play that stopped the Tigers' bleeding.
On third-and-six at the LSU 39 and with the Tigers leading by 14, he found Chase sliding through the Ole Miss defense on a crossing route for a 69-yatd touchdown pass and 51-30 lead with 5:11 left to play.
"We just had to keep scoring," Burrow said. "We think we can score every time we touch the football. Honestly, I get a little frustrated if we don't score."