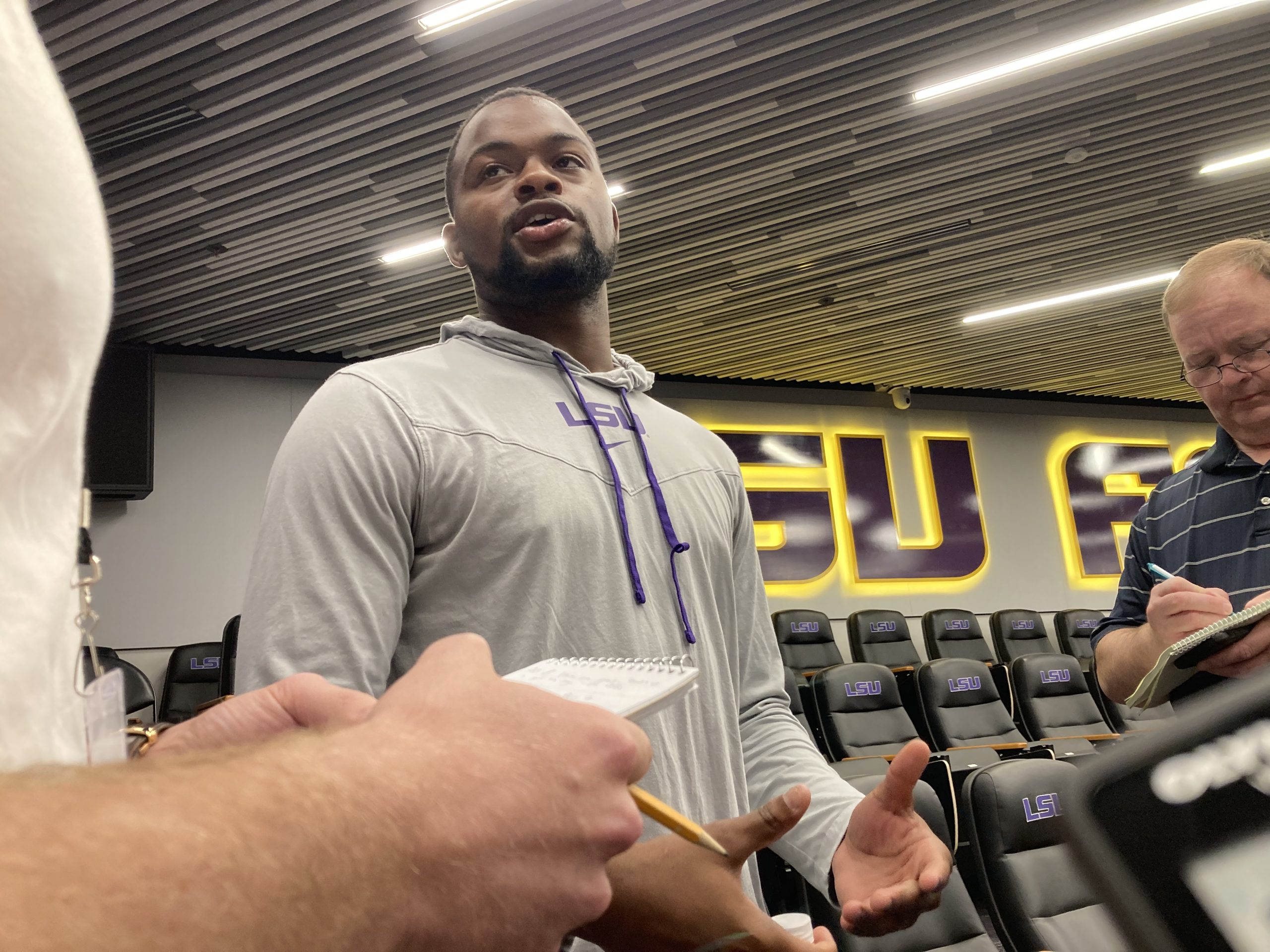 When LSU receiver Kayshon Boutte met with media members Friday night, after the Tigers' second practice of preseason camp, the junior receiver from New Iberia was peppered with questions about the recent past.
He did not hold back.
Boutte, a potential first-round pick in the 2023 NFL Draft and the Tigers' leading receiver by yardage (38 catches, 509 yards) last season despite missing seven games due to a broken bone in his ankle last season, answered anything and everything he was asked.
He did so in rather revealing fastion.
Here, in rearranged order, and with many of the questions paraphrased, are some of the highlights of what Boutte, who also had a team-high nine touchdown receptions in his six games last year, had to say:
* On returning to the practice field after undergoing two surgeries on the ankle and missing all of spring practice:
"I would say it's a great feeling to be back. It's been a long 10 months, kind of watching. … It's kind of hard – a different place, mentally. It's just a lot going on. You're trying to work to be back, and I'd say it's a good feeling to be back, go out every day, practice with an attitude, aggressive."
* On the state of his relationship with first-year LSU coach Brian Kelly:
"I would say he kind of came in. You know, we kind of exchanged a few words, talked, kind of got to know each other, and I'd say throughout the spring we kind of talked daily, trying to build that bond. You know, a different head coach; you've got to get comfortable with the program, the coaches, in order to be comfortable in this system."
* On how Kelly has transformed the program since his arrival from Baton Rouge late last year:
"I feel like since he got here things have been great. They kind of progressed throughout time, and I feel like we're in a good environment under a great head coach."
* On if he talks to first-year Tigers offensive coordinator Mike Denbrock, who also coaches LSU tight ends:
"No, I don't really talk to him much. No sir."
* On if he really considered transferring last December:
"I would say I thought about it. I really did. There was just a lot going on. But I felt like, as a player … it was just better for me to stay and overcome this process."
* On what convinced him to stay:
"They (LSU's new coaches) came to me and they kind of talked with me a little bit. I trusted that the plan they (were) coming in with was going to be executed."
* On if there was any validity to reports Alabama and/or Texas A&M tried to get him to transfer one of those schools:
"I mean, there really wasn't."
* On transitioning to a new coaching staff after former head coach Ed Orgeron reached a settlement agreement with school last year and Kelly's new staff replaced Orgeron's old one:
"People I most trusted believed in me. So I felt like being a new staff, it was all kind of weird playing for people I never really met. I didn't really know any of them personal. So it was just like it felt like I didn't fit, is what I'm saying."
* On if he embraces being challenged by Kelly, both in the offseason and when preseason camp opened this week, or if he needs time to process it before being ready to respond to it:
"I embrace it, honestly, because, like, certain people label me as a great player, so I would say I need to practice to that standard, and held to that standard. So, kind of, when he tells me that, I just know that I need to pick it up, is what I'm saying."
* On what he thinks about his chances of winning the Biletnikoff Award, which is presented to the best receiver in college football:
"I feel like the Biletnikoff is one of my goals. But I feel like if I didn't have my injury last season I was on pace to win it."
* On the health status of his ankle:
"I would say we're a hundred percent. We're full-go. But there's always work to be done."
* On why a second surgery on the ankle was required:
"I would say just it didn't heal right. But obviously I could have did better on my part. … Be diligent, just different things, just being better about it. Because I didn't know how to accept being hurt."
* On how he's been at 100% with the ankle:
"I would say I felt good about a month now. But I would say I still do rehab every day, to make sure that it's great."
* On how he's changed personally since the injury:
"I wouldn't say I evolved. But I would say knowing that I still go to practice every now and then, I'm kind of scared to, like, plant a certain way, or stuff like that. I was second-guessing my steps, and just different things like that, to try to avoid (further injury)."
* On if that's the still the case, even now:
"Yeah, yeah."
* On what it will take to overcome that feeling:
"You've just got to go through it, honestly. You've got to get comfortable with stepping back, cutting back, and more. I've just got to get comfortable with it."
* On his status as a highly rated NFL Draft choice:
"I would say I kind of look at different things. Like, I'll see things people post, tag me in. But I just kind of block out the noise, and just worry about what I can to do get better."
* On LSU starting quarterback contenders Myles Brennan, Jayden Daniels, Garrett Nussmeier and Walker Howard.
"All of them look great. That's all I've got to say."
* On what to expect from LSU's offense in 2022:
"I would say you will see a lot of passing yards from numerous quarterbacks. I would say a lot of receiving yards from multiple receivers. I feel like the o-line progressed throughout the whole time, and I just feel like, as a team, we'll possibly win a championship."