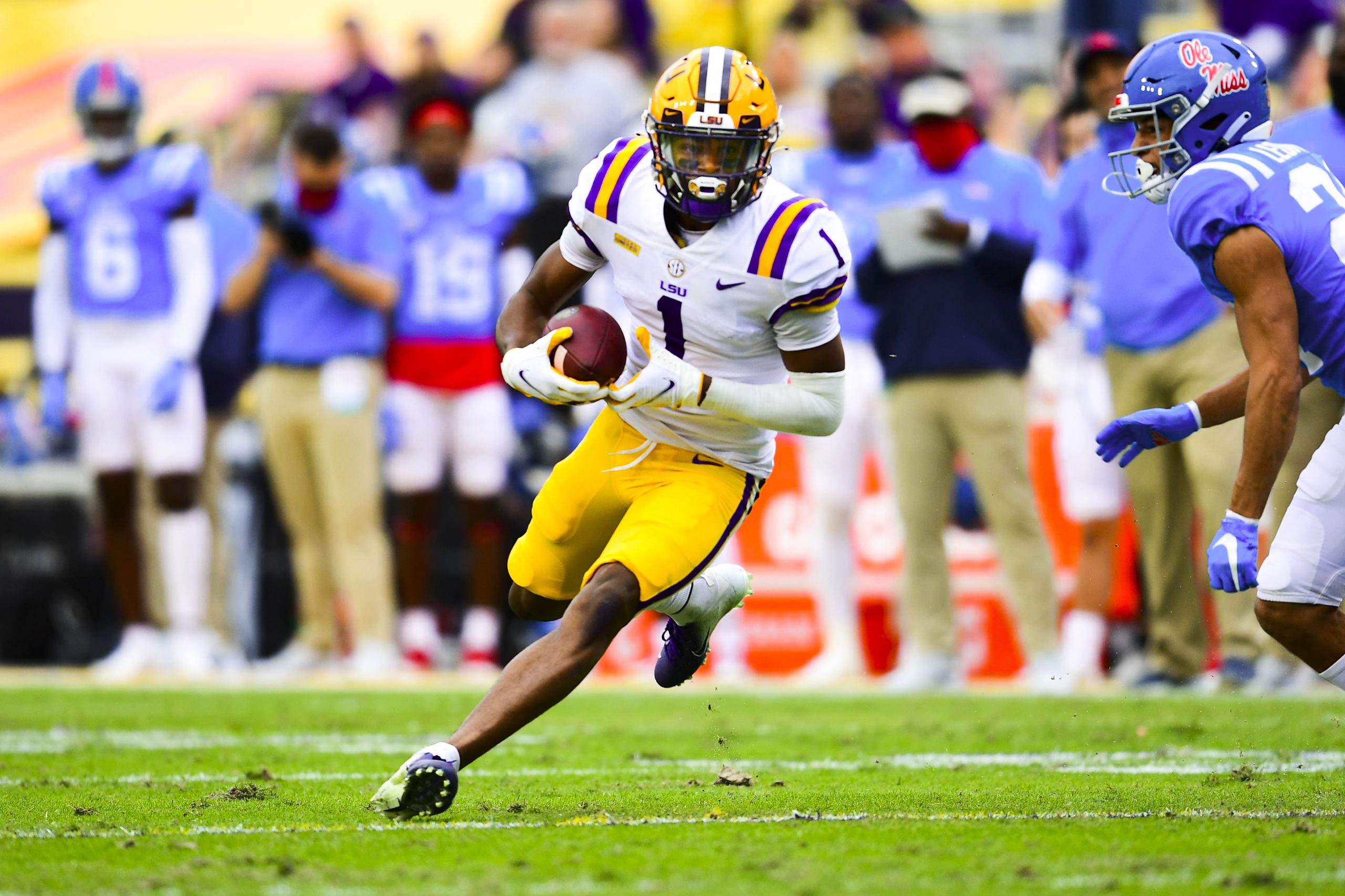 It was Sept. 2, 2016, the opening game of Kayshon Boutte's freshman football season with Westgate High.
The Tigers from New Iberia were playing Lafayette Parish Carencro High at home.
Boutte wasn't mentioned as one of Westgate's top five players in the
season preview story produced by Lafayette's local newspaper, The Daily Advertiser.
Receiver Gerald Broussard, tight end Erron Phillips, defensive end Oteder Foster, safety Ernest Dejuean and cornerback Ja'tyrin Allen were.
It wasn't anticipated Boutte would be used a lot on offense that season, not even for a team coming off a winless campaign, so there was no need to include his name.
No sense, either, in loading too much too soon on a fabulously fast freshman who, beyond his blazing speed, really wasn't ready.
But Boutte would be permitted to play on special teams.
Carencro wound up beating Westgate 43-7 that night.
It was then, and there, that Ryan Antoine – Westgate's coach then, and now – got his first whiff of what Boutte was all about.
"He made every tackle on special teams, on kickoff and on punt," Antoine said. "We lost the game, you know, pretty badly, and he was p.o.'d about it. Like, 'I don't like to lose, Coach,' and 'I'm gonna do anything to win.' "
It's 2022, and Boutte – LSU's playmaking junior receiver, and the focal point of its offense as it prepares to open its first season under coach Brian Kelly against Florida State on Sept. 4 in New Orleans – still can't stand losing.
Yet he's already lost too much, which is why it all pains him so much.
He lost more than half of a season last year, when an ankle injury limited him to just six games. He lost the head coach, Ed Orgeron, and most of the staff, who recruited him to LSU.
Boutte even seemed to lose, albeit maybe only for a moment, the certainty that Baton Rouge was the place for him to be.
But that's all changed now as Boutte prepares to prove why he deserves to be one of the top picks in the 2023 NFL Draft, something quite conceivable if the health that evaded him late in 2021 is kind to him this year.
"When Kayshon is 100%, he's the best receiver in college football," LSU defensive lineman BJ Ojulari said during SEC Media Days in Atlanta last month. "No one in the country can match his skill set and his ability."
"We've seen the things he's put on tape. If you just want to look at him numerically, he's done some crazy things numbers-wise," Tigers linebacker Mike Jones Jr. added in Atlanta. "Then, when you think about what he can bring to the table – everything you want in a receiver. A vertical threat. Sure hands. Great route runner. Just a guy you can depend on, and I know he's going to have a great year."
INJURY AND HURT
Boutte led LSU in receiving yards (735) and was second in catches (45) and touchdown receptions as a true freshman in 2020, including an SEC-record 308 yards on 14 grabs in a season ending-victory over Ole Miss.
He picked up where he left off and was leading the nation in touchdown catches with nine when an ankle injury sustained in the Tigers' early October loss at Kentucky last year ended his sophomore season.
Boutte also had at least one TD reception in every game that season to that point, including three in LSU's opener at UCLA.
He finished as LSU's leader in TD receptions and receiving yards (509) and was second to freshman Jack Bech in total catches with 38 despite appearing in just six of 13 games.
Boutte wound up undergoing two surgeries to repair the joint.
"I kind of landed on it wrong," he said. "So that was the reason I had to have the (first) surgery. I broke a bone in my ankle then. The second surgery, it kind of didn't heal right. It was a quick process, so it kind of didn't really heal a hundred percent and I still felt pain. So it was necessary for a second surgery."
Multiplying Boutte's misery was the fact that while he was down and out LSU parted ways with Orgeron, who coached the Tigers to a 2019 national championship, then hired away Kelly from Notre Dame.
In December, after Kelly came on board, word on the street suggested Boutte was contemplating a fresh start.
Scuttlebutt was that Alabama, of all the places – the Crimson Tide is one of the chief banes of LSU's existence – would have interest.
Boutte put that to rest, first with a Tweet in late December – "ignore the rumors … i'm locked in" – and again when he spoke with Tiger Rag Radio in June.
"Nah," he said with a laugh on the radio when asked if things ever got close with Alabama or anybody else, "it didn't get far."
But Boutte, make no mistake, was shaken by his broken ankle and the two subsequent surgeries.
"That's different for Kayshon, because he's never had to deal with an injury," said Antoine, the high school coach with whom Boutte remains quite close. "He's always been 'the best guy' all the time."
The coaching change evidently rattled him too, but Antoine suggests the health scare was a bigger deal.
"I know he was real close with Coach Mickey (Joseph, LSU's former receivers coach) and Coach O and those guys that were around him," he said. "So that (the new staff) was just something he had to get used to being be a part of.
"Kayshon is a kid that just wants to compete, and I think that was more of the hard part for him. It wasn't about 'transferring' or anything. He just never had to deal with not being on the field, so that was something he had to work on.
"Once he got to that point where he knew, 'Ok, I can be on the field and ready to go,' " Antoine added, "I think he was good to go after that. It was just him getting to that point."
Kelly, though, was rather hard on Boutte the first time he was asked about him following Orgeron's exit and Kelly's move from South Bend to Baton Rouge.
The former Irish coach seemed to be encouraging the current star receiver to better engage with his team.
"I would say I know his last name right now," Kelly said when asked about his relationship with Boutte during an early spring practice presser in March. "I say that only because we are in that process of … he's reengaging. He's been injured. He's had a second surgery. But, we are getting more acquainted every day.
"Look, he's a great player. He's a good kid. But this has been a rough spot for him. What happens is you tend to get distracted because you are not involved in everything.
"He's learning that he has to be involved in everything whether you are injured or not," Kelly added. "That's a process he's going through. And we are seeing some really good changes."
Kelly got his first real glimpse of Boutte when preseason practice opened Thursday.
"He's an explosive player," Kelly said. "He's learning how to practice.
"Today he was a guy I had to remind him a little bit about how to practice the right way. But he's so committed. He's worked so hard. I'm excited for him, really, because you can see his potential is one of 'Can he be the best receiver in the country?' I think he can be. But you've got to go out and do it. I just like the fact that he totally committed to what we are doing and how we're doing it."
Boutte, for his part, really did seem to struggle with the coaching staff change.
"I would say mental-health wise you got better throughout the course of time," he said with reference to the ankle injury, "but it wasn't really as great going through the coaching change and stuff like that."
Yet Boutte does seem to have grown from the heart-to-hearts with his new head coach.
"You know," he told Tiger Rag in June, "getting rid of coaches that you're so used to being around for a while, coming into a new environment, trying to get comfortable, it was just a lot going on at an important time in my life, so I just felt everything was kind of scattered everywhere.
"But I feel like we're in a better place now."
Boutte did miss all of spring practice, but he spent time then around teammates who sympathized with his struggles.
"He's always the one that wants to be a part of everything. … He always wants to be with his brothers out on the field," Bech said last month in Atlanta. "So for him not being able to do that, it definitely kind of made him feel some type of way.
"But he never stopped working. He kept at it. He kept grinding, and he looks … the best he's ever looked right now."
OFFSEASON DEVELOPMENT
Really, though, Antoine doubts those in Baton Rouge have seen Boutte's best.
He should know.
The Westgate coach sensed what he had coming when Boutte was in eighth grade, his football skills still far from honed then but his athletic promise apparent to those at the high school.
"Kayshon was always a track kid," Antoine said, "and just wanted to just run around. Because he was great at it."
During his freshman track season at Westgate, Boutte won a track state championship at 400 meters.
But his heart yearned for more.
"He didn't want to be known as just 'this fast kid,' " Antoine said. "He wants (to be a) true route runner, work on his feet, work on his physicality. Those are things he's always developed and always tried to work on."
In his first season at Westgate, Boutte often played junior varsity games that he dominated.
At times, he was used as a Wildcat quarterback.
"Every time he touched the ball he scored in those games," Antoine said. "So we knew he was ahead of his time."
In varsity games, though, it often was clear Boutte had plenty of work left if greatness really was his goal.
"His hands weren't that strong as a freshman," Antoine said. "So he had to learn the position.
"We just knew his competitiveness was different, and (something) we didn't have as part of our program at that time."
So during the summer following his freshman-year track season, assistant coach Randall Antoine, Ryan Antoine's brother, worked with Boutte to break down the game and help him understand route running.
Later in his high school career, Boutte learned nuances of the game, including how to read defenses, from another Westgate assistant, former Tulane receiver Devin Boutte.
For as many amazing things as Ryan Antoine saw Kayshon Boutte do in high school, and more recently at LSU, he knows the prized pupil – listed at 5-foot-11 and 185 pounds or so four years ago, 6-0 and 205 now – is capable of so much more.
He's convinced Boutte is not yet a finished product.
"Just the way he played, and the way he practiced, and the way he wanted to compete," Antoine said, "we just saw something different in him, and we just tried to feed that as much as we could, and just tried to put him in a position to do well.
"The things you guys are seeing at LSU? He hasn't even scratched the surface of the things we saw at practice sometimes. So, the sky is the limit for him.
"Kayshon, in my (view) – he hasn't reached his full potential. I mean, you're not gonna get him. He's big, strong, fast, everything," Antoine added. "But his competitive drive is what separates him from any other wide receiver in the country – honestly, any other player in the country."

7 AND THE DRAFT
It didn't take Kelly long to sense all Boutte has to offer, either.
Those already at LSU before he arrived have known for a while, so it wasn't a total surprise when in mid-July he was given the Tigers' prized No. 7 jersey to wear this season.
The relatively new Tigers tradition has awarded the number throughout much of the Orgeron and Les Miles coaching eras to a dynamic playmaker who displays qualities needed to build championship teams around, and Kelly is continuing it.
"To be chosen to wear this legendary number is an honor," Boutte wrote on Instagram.
The list of previous players who've worn it includes, but isn't limited to, current NFL players Patrick Peterson of the Minnesota Vikings (an eight-time Pro Bowl cornerback), Tyrann Mathieu of the New Orleans Saints (a three-time Pro Bowl safety), Tampa Bay running back Leonard Fournette, Detroit receiver DJ Chark and Houston Texans cornerback Derek Stingley Jr., who was selected No.
3 overall in this year's NFL Draft.
"It's a huge LSU legacy number," Jones said, "and I don't know if there's anyone more deserving."
"I think he's going to represent that very well," Ojulari added. "I'm expecting a big season out of him, and I know he's gonna deliver."
Boutte was at Antoine's home the day before he learned he'd be switching numbers from 1 to 7.
Later, he proudly showed his old coach pictures from an LSU photo shoot in which he wore the number.
"That's something he always wanted," Antoine said.
"He knows with that, when much is given much is required. He just knows he has to go out there and just prove he's worthy of it."
Most NFL Draft prognosticators are projecting Boutte as a Top 10 pick in the 2023 NFL Draft.
The Draft Network ranks him as its 6th-best prospect. CBS Sports has going No. 7 and NFL Draft Buzz has him No. 8. Drafttek ranks him 9th. Walter Football says he'll go No. 11, one spot behind Ojulari.
Antoine must think those are all off.
He has his guy pegged as a Top 5 pick.
"Not even close," Antoine said.
"A healthy Kayshon at a Pro Day – that 40 record may be in jeopardy, with the way he runs and, once again, his competitiveness."
It really is all about 'compete' for Boutte, whose return to the LSU lineup is expected to uplift an offense clearly hampered without him.
The Tigers went 3-5 in their last eight games last season, including the Kentucky game in which Boutte got hurt, and finished 6-7.
"The staff they have there is gonna do a great job of featuring him," Antoine said.
"But I think also, him not being able to play, those other guys being able to step up and do things – Jack Bech, Malik Nabers, and the rest of those guys – that helps him, to where now he (Boutte) doesn't have to be the true 'focal point.'
"Those other guys can get better and do what they need to do to keep on getting better," Antoine added. "That opens things up for the offense."
As Bech sees it, though, it's Boutte's presence that sets the rest of LSU's offense free.
"I don't think defenses will be able to put just one guy on him. I think they're gonna have to commit two – maybe even three – guys to him, which is just going to open up everything else," he said. "It's gonna open up the run. It's gonna open up the pass game. One side of the field is gonna be more heavily guarded because of him.
"Knowing how good he is, and the potential he has, and what he's already done, and what he can accomplish and do, it's just gonna open a countless number of things.
"It's not only his route running," Bech added. "His knowing defenses, his speed – he can take the top off, he can beat you with just little, short quick routes, and it opens up the whole offense for anything else we want to do."

BACK TO THE BEGINNING
Boutte did a whole lot of what he wanted at Westgate, where he was ranked as the No. 1 receiver recruit in Louisiana by the three main rating services at the time – 247Sports, Rivals and ESPN.
Ranked No. 52 on the ESPN Top 300 in the class of 2020, he didn't need long after that freshman season debut on special teams to prove he could handle a regular role within the Westgate offense.
Five weeks after the loss to Carencro, the Tigers traveled to H.L. Bourgeois High in Terrebonne Parish.
They left 27-20 winners.
"He scored six touchdowns in that game for us," Antoine said.
"They called two back, but … he blew up on the scene right there. That's when we knew, after that, that we had something pretty special in the kid."
As best as Antoine can recall, Boutte took a couple kickoffs back for touchdowns and scored on a couple speed sweeps.
He still was not yet a bona fide receiver, but after his offseason of specialized training that began to change.
Antoine remembers Boutte producing 350-plus yards during a sophomore-season game against Shreveport's Captain Shreve High, and he knew for certain then – if he didn't know already – that he had someone who'd change the culture of a team that went 0-10 in 2015.
"It's hard to put that on the back of a young kid," said Antoine, who considers Boutte the best he's had in his decade at Westgate.
"We had some other guys that were around him. But he did a great job of just being a focal point.
"We've had some real talented kids," added Antoine, who won his first Class 4A state championship last season with a team led by Alabama tight end signee Danny Lewis Jr. "But I think (Boutte's) competitiveness is what separates him. … I've never coached a kid that wants to win and compete more than Kayshon."
Even in pregame warmups, Boutte needs to be first in everything.
"If we play a game of anything … he's not leaving until he wins it," Antoine said.
"He wants to win every single day. That was a big thing we just tried to feed off of. We just used that as coaches. Because he's not going to be as vocal, and try to motivate others. But he just wants to win, and his drive to win is unmatched."
SEVEN SPECIAL SHOWINGS
Fourteen catches for three touchdowns (18, 32, 45 yards), all thrown by Max Johnson, and an SEC-record 308 yards at Tiger Stadium in LSU's 53-48 win over Ole Miss to end the 2020 season
Nine catches for three TDs (3, 44 and 45 yards, all also thrown by Johnson) and 148 yards in a 2021 season-opening loss at UCLA
Six grabs for 127 yards including a 31-yard touchdown in the first quarter of a 2021 home loss to No. 22 Auburn
Touchdown catches of 3 and 6 yards in a September 2021 win over McNeese at Tiger Stadium
Touchdown catches of 11 and 64 yards in a 2021 victory two weeks later at Mississippi State
Five receptions for 108 yards including a 34-yard TD thrown by Johnson and another 41-yard catch in a 37-34 win at Florida in December 2020
Eight catches for 111 yards in a late 2020 home loss to Alabama