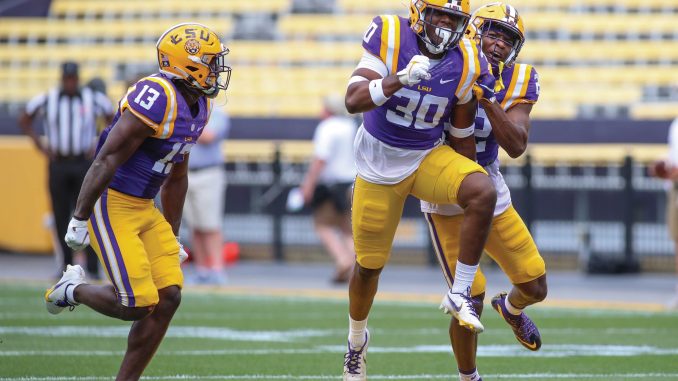 The experiment LSU second-year coach Brian Kelly unveiled in the spring will be on full display for opposing offenses to scheme against this season.
A year after playing closer to the line of scrimmage, where he created plenty of havoc, sophomore Harold Perkins Jr. has been moved to the team's weakside linebacker position without an expectation of a drop off.
Let that be a warning to the opposition looking for methods to game plan against Perkins, who will be a every down player for the Tigers, but not tethered to one side of the field.
"I think you're going to see him (Perkins) as active as he's been, and maybe just in a different fashion," Kelly said during the spring. "If you just line him off the edge, everybody's going to game plan for him. I think we put them in a better position at the linebacker position and then we can move him around on third down. So, I think he's going to be as active as any time that we've had Harold. He just has other responsibilities now that he hadn't had before."
Kelly believes the options with Perkins are limitless, but there's more to the New Orleans native than just a change of positions that will affect the success of the Tigers' defense in 2023.
LSU returns its two leading tacklers from last season. Junior Greg Penn III had 78 tackles and Perkins added 72, and the addition of All-Pac 12 Conference linebacker Omar Speights has thrusted the team's linebacker position into a different light.
LSU's linebackers, which also returns junior West Weeks and added freshman Whit Weeks and Christian Brathwaite, have drawn No. 2 national rankings from both Athlon Sports and Lindy's.
"I'm excited about the potential of that group," LSU defensive coordinator Matt Houston said this spring, "but we have a long way to go. It's still a line of scrimmage league."
LSU has the potential for one of the nation's best front sevens, an element that's taking into account the experience of Penn, Speights and West Weeks and the transformational ability of Perkins, who was chosen Lindy's preseason Defensive Player of the Year.
Perkins earned first team All-SEC honors from the league's coaches and second team acclaim from The Associated Press. ESPN named him to its True Freshman All-American team and both The Athletic and College Football News selected him to their freshman All-American teams.
He was named the nation's Player of the Week for a performance for the ages in LSU's 13-10 road win over Arkansas that helped the Tigers win the SEC Western Division.
Despite playing at less than 100% because of the flu, Perkins recorded eight tackles, 3 ½ sacks and forced two fumbles, including the game-sealing fumble in the fourth quarter. His 13 ½ tackles overall were first nationally amongst true freshman and ranked second in the SEC to go along with 7 ½ sacks.
Perkins, a 2023 preseason All-SEC first team choice by the media, was twice named SEC Defensive Player of the Week in wins over Alabama and Arkansas.
Penn started in all 14 of his team's games, posting 78 tackles which were second to Micah Baskerville last season to go with six tackles for loss. He had eight games of six-plus tackles with four of his most productive games, starting with Arkansas, to close the season.
Not to be overshadowed by Perkins in the win over Arkansas, Penn compiled a career-high 10 tackles with 2 ½ TFLs for a defense that limited the Razorbacks to season lows in points (10), passing yards (116) and total yards (249).
The native of Baltimore, Maryland has started in 15 of 24 games in his career with 89 tackles, 6 TFLs and three passes defended.
Kelly struck it rich in the transfer portal with the addition of Speights, a four-year starter at Oregon State who finished his career as one of the school's top 10 career tacklers. The first team All-Pac 12 selection by the league's coaches had a team-high 83 tackles – including a season-high 13 against rival Oregon – and was a big part in the Beavers' 10-3 record and Las Vegas Bowl win over Florida.
Speights, a graduate student, concluded his 45-game career (39 starts) with 308 tackles, 25 TFLs and five sacks. West Weeks had 28 tackles, 3 TFLs and 1 ½ sacks in 14 games, increasing the career total of the Virginia transfer to 59 tackles, 4 TFLs and 2 ½ sacks.
"So, you know, we've really gone from a position where we were concerned to a position where we feel really strong and Harold, now really getting down the nuances of that linebacker position, actually gives us a lot more in the playbook that we can do with him from that position than just lining them up off the edge," Kelly said.