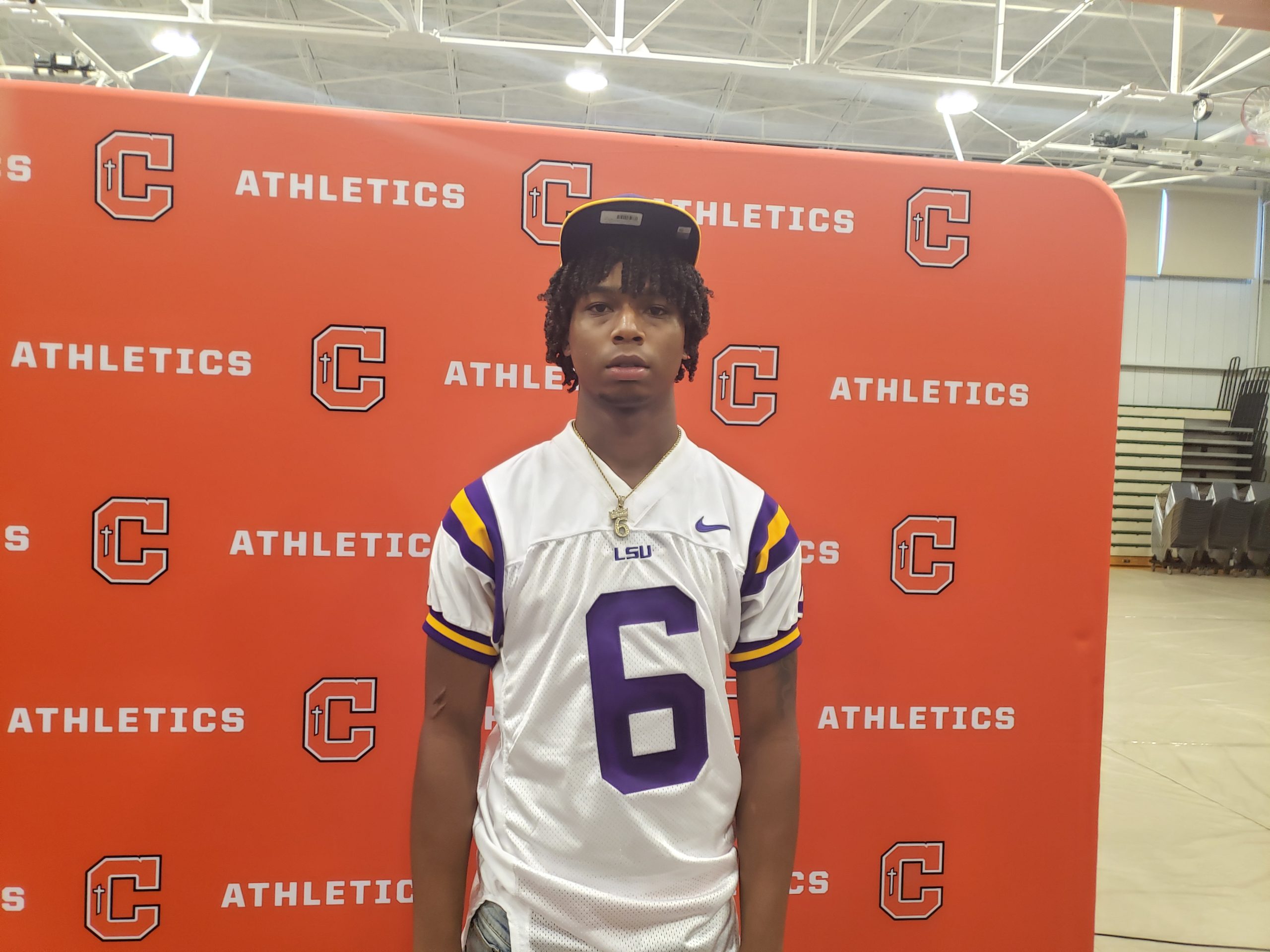 LSU's recruiting class now boasts one of the nation's more dynamic wide receiver combinations, capable of taking the tops off of opposing defenses.
A month after picking up a commitment from Miami's four-star wideout Jalen Brown, the nation's No. 7 player at his position, the Tigers stayed closer to home to get Shelton Sampson Jr. of Baton Rouge-Catholic High, the first five-star prospect in their class and the nation's No. 4 wide receiver.
The 6-foot-4, 180-pound Sampson, the No. 30 player nationally on ESPN's 300, selected LSU during a news conference Saturday afternoon at his school. He chose the Tigers over Alabama, Texas A&M and Florida State.
"I'm from Baton Rouge. The question was, 'Why not?' " Sampson said. "Why not go to LSU? I love how genuine the coaching staff is and I feel like everything's going in the right direction.
"Early playing time played a big role," Sampson added. "I can go in and if I do what I've got to do, then I can get on the field."
Sampson gave LSU its 18th commitment and helped push the Tigers' Class of 2023 to No. 7 nationally per 247Sports. He's the first five-star wide receiver for the program since Kayshon Boutte of Westgate High in New Iberia was part of the Class of 2020.
"They felt if I put in the work, I could help them early," Sampson said.
Brown provided the building block in LSU's current recruiting class for receivers when the Gulliver Prep product committed July 8. Three-star wide out Kyle Parker of Lovejoy High in Lucas, Texas committed June 23.
Sampson, whose father Shelton Sr. was a local standout running back at Redemptorist before going to Northwestern State, was a little more deliberate with his timetable.
"I felt the love, how genuine everybody was," Sampson said in reference to a social media blitz that began two weeks ago with #SheltonStays. "The players, the coaches, the fans, everybody. It was like a movement. It was crazy."
He made official visits in consecutive weeks during June to Florida State and Alabama and followed that with recent unofficial visits to LSU and Texas A&M last weekend, before the NCAA's dead period began.
Sampson also is the No. 5 receiver nationally by both On3Sports and Rivals.com. He's the nation's No. 24 overall player by Rivals.com
Sampson teamed with current LSU freshman offensive guard Emery Jones last season at Catholic High for a 12-1 record and Division I state championship. Sampson earned honorable mention Class 5A All-State honors with 40 catches for 932 yards (23.3 yards per catch) and eight touchdowns in 11 games last season. He returned 10 kickoffs for an average of 19.8 yards.
"It's a dream come true," Sampson said. "I'm from here. What athlete from Baton Rouge wouldn't want to play for LSU?"