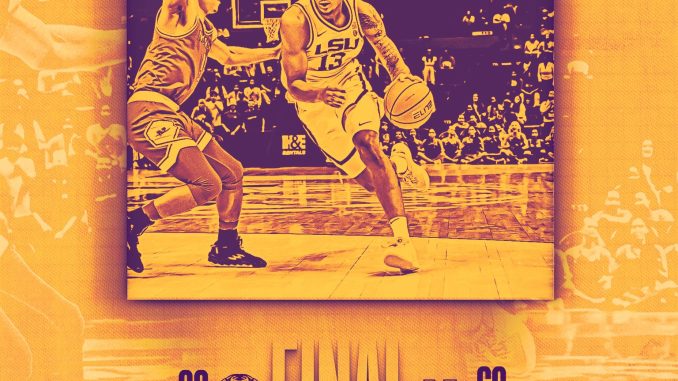 Nicholls' Jalen White put a dagger in LSU's newly rediscovered heart with 1.2 seconds left to play, a 3-pointer that gave the Colonels only their second win ever over the Tigers, 68-66, on Friday night at the Pete Maravich Assembly Center.
Nicholls (1-1) shocked LSU from the start of the game, jumping out to an 11-0 lead with White erupting for three straight 3-pointers in the first three minutes of the game.
LSU fell behind Nicholls by as many as 24 points in the first half and trailed by 19 (44-25) at the end of the first half before reversing the fortunes of the teams and outscoring the Colonels 41-24 in the second half.
LSU (1-1) took its first lead of the game with 5:36 left in the game, 58-57, on a free throw by Jalen Reed. He led the Tigers in scoring with 14 points and added eight rebounds.
Jordan Wright added 11 points for LSU, the only other Tiger to score in double figures.
Diante Smith led Nicholls with 18 points. White finished with 17 points, including five 3-pointers, while Jamal West, Jr. added 14 points and Rob Brown III had 11.
LSU was listless from the start and struggled to gain any traction offensively against Nicholls' zone defense until the second half. The Tigers managed only seven field goals in the entire first half while hitting one of 11 3-point attempts.
After Reed's free throw gave LSU its first lead at 58-57, a layup by freshman starting point guard Mike Williams III gave the Tigers a 60-57 lead with 4:31 left in the game. LSU led by three points two other times late, the last coming with 1:41 remaining on a two-hand slam dunk put back by Daimion Williams that gave the Tigers a 66-63 lead.
Brown hit two free throws with 46 second left to pull Nicholls to within one of LSU, 66-65, but Trae Hannibal missed a jumper with 19 seconds left and then Carlos Stewart's missed three-point attempt with 16 second to go was rebounded by Smith, who quickly pushed the ball downcourt for the Colonels who found White behind the arc on the right side guarded by Wright but he managed to drill the bomb and put Nicholls up 68-66 with .8 seconds showing on the game clock.
Officials adjusted the clock to 1.2 seconds during an LSU timeout and that allowed LSU enough time to work the ball down the court to Will Baker about 10 feet away but he was closely guarded and did not hit the shot.
"I'd really like to start off by saying congratulations to Coach (Tevon) Saddler and the Nicholls State program," LSU coach Matt McMahon said.
"Just a terrific job. Completely outcoached me for 40 minutes. He had his team ready to go and to compete at a high level. They played every possession as if it was going to determine the outcome of the game as it should be. They deserved to win. Really shouldn't have had to work that hard to get the win. For whatever reason I didn't have our team ready to play in the first half. They just spaced us out and whipped us off the dribble. We struggled to communicate defensively and credit to Nicholls State, they made us pay every time," McMahon said.
McMahon said LSU could not crack Nicholls' zone in the first half because the Tigers' offensive spacing was poor and led to bad shot selection. Meanwhile, McMahon said, Nicholls was not running any plays, per se, on their offense but LSU struggled with missed switching assignments defensively that allowed the Colonels more open looks and space than LSU should have allowed.
"With every missed switch, guys stepped up and buried threes. They just played with a lot of energy and fight. That's how they were able to overcome the 20 turnovers that we were able to force," McMahon said.
"I apologize to everyone who came tonight. It's my responsibility to have our team locked in and ready to compete and take great pride in putting that LSU jersey on and I failed miserably in that challenge tonight. We will get back to work this weekend to improve our team."
LSU plays next on Thursday (Nov. 16) in the Charleston (SC) Classic against Dayton.
McMahon promised a "blood bath" of practices between now and next Thursday because he said the way LSU started against Nicholls and played in the first half is not acceptable and because he needed to identify the players who were going to step and earn real playing time moving forward.
"I just have always been a big believer in this, what a privilege to get to represent LSU. You're playing Division One college basketball. People spend their money to come watch you play. You can watch the game on TV or the internet anywhere in the world. It is the opportunity of a lifetime. The price of admission for that is you come out and you play your tail off every second you are on the floor and you compete and you show some passion and some heart. I didn't get it done, I didn't have them ready to play that way," McMahon said.
It was the first win of Nicholls coach Tevon Saddler's career.
The 28-year-old Saddler, the youngest coach in college basketball who also played for Nicholls during the 2017-18 season, said he kept telling the Colonels at halftime that even though they had built a 19-point lead not to think it was over.
He expected LSU to put up a valiant fight in the second half.
"I just kept reminding them at halftime that it was going to be a boxing fight," Saddler said.
"We knew that they were going to come out with a fight, and we just had to sustain the storm. Luckily, we got a big stop at the end. I always preach defense so now they will not be as mad at me for how much defense I make them play at practice. Overall, I'm just so excited," he said.