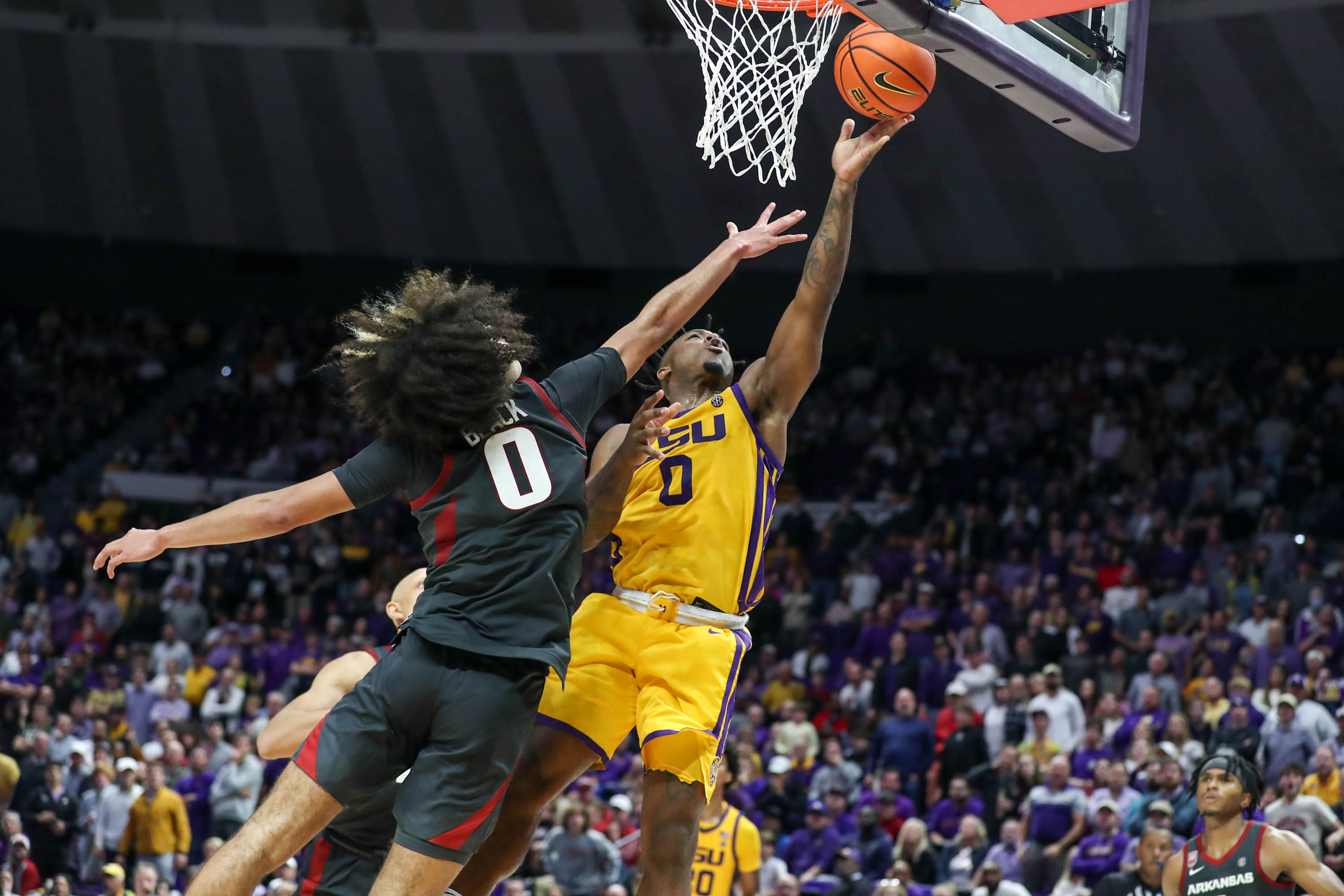 LSU proved it's the real deal on Wednesday night with the start of the Southeastern Conference.
In first-year coach Matt McMahon's SEC opener, LSU outmuscled and forced its will on No. 9 Arkansas, beating the favored Razorbacks, 60-57, before a raucous home crowd in the Pete Maravich Assembly Center and a national ESPN2 television audience to give McMahon his first signature win at LSU.
"Unbelievable atmosphere in here," McMahon said. "Can't thank the fans enough for rallying behind our guys, I thought, (the crowd) really willed them with a lot of great energy in the building tonight. And it got loud in here. I love it."
In fact, LSU forced its will on Arkansas from the outset and never relented the entire game, despite falling behind Razorbacks by as many as six points midway through the second half.
In an ultra-tense, physically bruising defensive slugfest, LSU left no doubt it can play toe-to-toe with the big boys in the SEC. The Tigers proved wrong all their naysayers – the one's who believed the Tigers would wilt after playing a powder-puff, mid-major pre-conference schedule.
LSU's leading scorers so far this season, KJ Williams and Adam Miller, contributed big time, but neither led the Tigers in scoring on Wednesday. Reserve guard Trae Hannibal scored 19 points off the bench to lead the Tigers, as LSU's bench outscored Arkansas, 25-0.
It was LSU's 13th consecutive home win dating back to last year, equaling the ninth longest winning streak in PMAC history.
"A couple of things stand out. No. 1, I'm proud of our players. I thought that they played with great toughness and effort and sustained it for 40 minutes. They deserve all the credit for gutting out a tough and nasty win here," McMahon said.
"The second thing: just walking out of the tunnel and seeing the crowd and atmosphere. The energy in the building on December 28th with a top-10 team in the country on our court was awesome. We're really thankful to the great Tiger fans who came out tonight and we're really proud of our players for beating an outstanding basketball team," McMahon added.
Arkansas coach Eric Musselman also commended LSU's passionate home crowd.
"I think our ball club learned how hard it is to win on the road," he said. "LSU had a phenomenal crowd with no class being in, I was actually surprised on how good and how loud, how energetic their crowd was."
Williams got a key steal late and Miller sank two free throws with 1.8 seconds left to put the Tigers up by three and seal the win.
LSU (12-1, 1-0 in the SEC) went ahead 58-55 with 32 seconds remaining on Hannibal's power drive from the top of the key as he had done all night, hitting a spinning layup to cap off the drive. But Anthony Black pulled down a rebound seconds later and scored on a layup to pull the Razorbacks (11-2, 0-1) within one once again.
Arkansas' Makhi Mitchell blocked LSU's Derek Fountain's layup attempt with about eight seconds left. But Williams stripped the ball from Black as he drove to the basket and Miller was fouled and made two foul shots.
Fountain scored 14 points and had 10 rebounds.
Devonte Davis scored 16 points to lead the Razorbacks. Ricky Council and Jordan Walsh each had 13.
LSU led 24-19 at halftime but Arkansas grabbed its biggest lead of the game at 40-34 midway through the second half. Back-to-back 3-pointers by Walsh and Council gave the Razorbacks their six-point advantage.
LSU, however, fought back and used an 8-0 run to grab a 44-42 lead. Back-to-back layups by Fountain put the Tigers on top with 7:06 to play.
LSU led 54-52 after Fountain's three-point play with 2:28 remaining.
"(Fountain's) his emergence has changed our team," McMahon said. "The things he brings to the table become contagious. All he cares about is winning. He plays his butt off. He makes every extra effort play, every hustle play. He leads us in 50-50 plays, just impacts winning. And just so proud of because he's really playing at a high level for us."
The first half was dominated by defense.
A 3-pointer by Hannibal and back-to-back baskets by Mwani Wilkinson and Fountain put the Tigers on top 17-12.
"The only way they really scored in the first half was a couple of offensive rebounds and a couple of times in transition," McMahon said.
"A big concern of ours coming in was Arkansas is one of the best – a top five team in the country at forcing turnovers and turning those turnovers into points. On their end, we only turned it over 10 times, and they only got four points off those turnovers, and likewise, they turned it over 10 times, and we were able to convert those into 13 points in a one possession game. To take away a strength of theirs like that, really a great credit to our players."
It was only LSU's second win ever against a ranked SEC opponent to open the season. The Tigers are now 2-15 against ranked opponents in SEC openers.
LSU plays at No. 19 Kentucky, an 89-75 loser at Missouri, in Rupp Arena on Jan. 3 at 7 pm..
"I think it's really important for us, No. 1 that our players make good decisions tonight, take care of their bodies, get rested up," McMahon said. "We'll take tomorrow off, do a little film work and hit the road recruiting, and then that'll still leave us a four-day prep going into Lexington and we will start putting that game plan in on Friday."
LSU planned to celebrate its huge win over Arkansas until about midnight, McMahon said. "Then, we'll turn the page and start preparing for Kentucky on Tuesday."